Registration
---
Airman and Family Readiness Center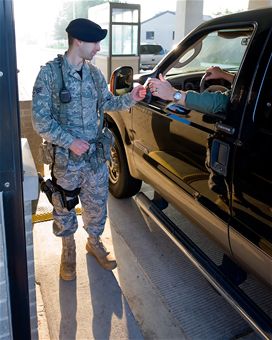 483 N. Aviation Boulevard
Bldg. 272, Room C1-209
61 FSS/FSFR
El Segundo, CA 90245-2808
Phone (DSN) 633-5428
Fax 310-653-8645
Fax (DSN) 633-5111
Mon - Fri 8:00 a.m. - 3:30 p.m.
Sat and Sun - Closed
Holidays - Closed
Registration
Military personnel stationed in California are exempt from payment of the vehicle license fee (VLF) on any vehicle owned or leased and registered in California provided:

The nonresident military owner is shown as a lessee or registered owner of the vehicle.
The vehicle is not operated "for hire."
In order to obtain the VLF exemption, military personnel must complete a Nonresident Military Exemption Statement (REG 5045) form and NATO members are required to complete a North Atlantic Treaty Organization (NATO) Status of Forces Agreement (REG 5046) form.

NOTE: The duty station must be located in California in order to receive a VLF exemption.
Smog

All vehicles registered in California, require a smog inspection certification.

Registering Vehicles on Base

Military ID card, state vehicle registration, a valid state driver's license and proof of insurance are required to drive on base. Drivers without a DoD ID card must obtain a vehicle pass (AF Form 75) for base access. Decals are no longer required.

Vehicle Processing Center (VPC)

The new VPC is located directly off Interstate 110. The New Address: 14611 S. Broadway St., Gardena, CA 90248
Toll Free Phone #: 1-855-389-9499.