Base History \ Arrival
---
The Norfolk Naval Shipyard is the nation's oldest continuously operating shipyard and one of the United States Navy's largest industrial facilities. Specializing in repairing, overhauling and modernizing ships and submarines also makes it the most multifaceted. Norfolk Naval Shipyard, sometimes called the Norfolk Navy Yard and abbreviated as NNSY, is a U.S. Navy facility located in Portsmouth, Virginia.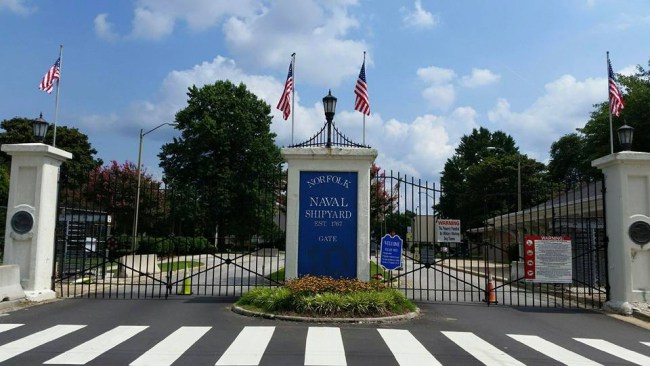 While Norfolk Naval Shipyard can dry-dock, overhaul and repair any ship in the U.S. fleet, it can also perform any technical, fabrication, manufacturing and engineering work your organization might need accomplished. The shipyard's planners and shops are linked by state-of-the-art computer systems to permit computer-aided design (CAD) work, and automated information systems to provide quality services on time and within budget. In fact, NNSY is known for tackling jobs never before performed, and applying unique planning methods and work procedures through modern process improvements.
Currently, the shipyard is composed of several noncontiguous areas totaling 1,275 acres.
Population Served
Norfolk Naval Shipyard is home to approximately 300 naval officers, enlisted personnel and their family members. Norfolk Naval Shipyard employs approximately 9,500 Civilians.
Sponsorship
The sponsorship program is a great way to gather information about your new location. All in-bound personnel will be assigned a sponsor after receiving orders. Each command coordinates their own Sponsor Program and assigns sponsors trained by the Fleet and Family Support Center (FFSC).
During PCS, a temporary duty address or your billeting address can be set up to receive your personal mail until you establish permanent quarters; your Sponsor can assist you with this. Be sure to communicate with your Sponsor and let him or her know the type of information you and your family require. Utilize FFSC's Relocation Assistance Program (RAP) resources as well as Military One Source (MOS) to take moving classes, gather information, and make use of the Lending Locker and to learn about the installation and community.
Driving Directions
Directions from Norfolk International Airport: Exit the airport onto Norview Ave. Take Norview Ave. to I-64 East. Take I-64 East to Exit 264 West. Take Exit 264 toward downtown. Proceed through the tunnel to Exit 7. Take Exit 7 (Portsmouth Harbor Center Pavilion), make a right onto Court Street, (Port Center Parkway becomes Mayo). Turn right onto Berven, make a slight right onto Pennock and a slight right onto Williams - if you've reached Green Street you've gone too far.
The metropolitan area highway system includes I-64, I-264, I-664, I-464, US 13, US 58, and US 460. These major highways provide access to the cities of Norfolk, Portsmouth, Chesapeake, Virginia Beach, Suffolk, Newport News, and Hampton. The Hampton Roads Bridge Tunnel, the Mid-town Tunnel, Monitor-Merrimack Bridge Tunnel, and the Elizabeth River (Downtown) Tunnel join these cities. Interconnecting primary state highways supplement these major routes. The Norfolk International Airport and Newport News/ Richmond International Airport serve the Hampton Roads communities.