Base History \ Arrival
---
Naval Base San Diego (NBSD) is located in the city of San Diego in the Sunshine State of California. San Diego, an all Navy town, has a higher cost of living than most cities in America but it is also known as "America's Finest City." San Diego is beautiful and the near perfect weather is unbelievable. The base operator's phone number is 619-556-1011 or DSN 312-526-1011.
BOOK YOUR LOCAL HOTELS The closest off-base hotels and motels are just east of the Base along I-5. There are more hotels about 5 miles northwest of the Base in downtown San Diego.
History
The property on which NBSD is now located was deeded to the U.S. government by the city of San Diego in 1919, to build a docking and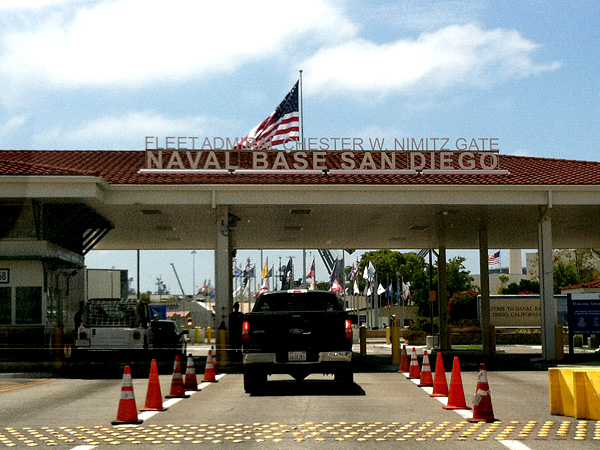 fleet repair base. The property consisted of 21 water acres and 77.2 land acres with the former being mostly tidelands and marsh flats. After World War II, the name of the Repair Base was changed, for the last time, to NBSD. The mission was expanded to support the ships of the Pacific Fleet. NBSD is homeport for a multitude of Navy ships and tenant commands, each with specialized missions and purposes. For more information, please visit our homepage.
Mission
Naval Base San Diego's mission is to deliver the highest standard of support and quality of life services to the Fleet, the Fighter, and the Family.
Population Served
NBSD is home port for approximately 60 Navy ships and home base to 50 separate commands, each having specific and specialized fleet support purposes. It is the workplace for approximately 48,000 military and civilian personnel. Three thousand men and women are housed in modern, attractive bachelor quarters.
Base Transportation
Currently, there is no base transportation on this installation. There is a Transportation Incentive Program (TIP) which issues vouchers so that transportation to and from work is free for active duty personnel. The Transportation Incentive Program (TIP) is all about commuting and saving you money. TIP covers most types of commuting. Members of the TIP program commute at no cost or greatly reduced fares! You can save up to $1,500 or more in annual commuting costs. Visit their website or call: (619)215-3248 for more information.
Sponsorship
You may request a sponsor in several different ways. We cannot stress enough the importance of having a Sponsor in San Diego to assist in your PCS move. Your Sponsor is your link to information regarding your specific needs in the San Diego area. You may contact your new command to request a sponsor (see Major Unit Listings). Once your sponsor is assigned, be sure to ask about your command's specific check-in policy. This is especially important if you will be checking in while the ship is underway. Don't forget to ask your sponsor about options for forwarding your mail while in route, or ask your local Post Office about holding and forwarding your mail.
Directions
Directions to Naval Base San Diego (NBSD)
Airports
Typically, you will fly into the San Diego International Airport / Lindbergh Field (SAN). Located at 3225 North Harbor Drive, the airport is conveniently located three miles northwest of downtown San Diego and approximately 8 miles from Naval Base San Diego (NBSD).
Shuttle Service/USO
The United Services Organization (USO) office is located in Terminal 1 (by Alaska Airlines). Visit the USO Office in Terminal 1 of the airport for availability of discounted shuttles and San Diego information. The USO is staffed 7 days/week 6:00 a.m. - 12:00 a.m. Contact the USO prior to arrival for information on discounted shuttle, advanced reservations may be required. NBSD does not sponsor a shuttle from the airport to the base; however, check with your command to see if a duty driver or your Command Sponsor can provide transportation.
Taxi Service
Taxi rates from the airport to the base vary. It is important that you negotiate the rate for the total cost before you get into the taxi.
Local Bus or Trolley
The Metro Transit System (MTS) travels to and from the airport and downtown San Diego, which can connect you to the trolley, train, and other bus stops. For public transportation and ground transportation, visit the Volunteer Airport Ambassadors at the Information Desks located in the baggage claim area of Terminals 1 and 2.
If you choose, visit the San Diego commuter website to plan which methods of public transportation you will use from the airport to your destination.
Bus routes, fare and schedule information may be obtained by calling 619-233-3004. The San Diego Trolley also serves the Naval Base San Diego and is an excellent form of transportation for day-to-day travel to the base. Review the transportation section for more information.
Driving Directions
From the North:
Take I-15 South.
Take the I-5 N / MAIN STREET exit toward HARBOR DRIVE.
Take the exit on the left toward HARBOR DRIVE.
Merge onto S 32ND STREET and proceed to the Main Gate (6) of Naval Base.
From the South:
Take I-15 North.
Merge onto HARBOR DRIVE via EXIT 11A toward CIVIC CENTER DRIVE.
Turn sharp left onto S 32ND STREET and proceed to the Main Gate (6) of Naval Base.
Entering the Main Gate
All visitors are required to enter the base via the Main Gate. The following basic rules apply: proceed directly to the Main Gate (gate 6) and be prepared to stop, provide a U.S. Department of Defense identification card, and state your business (i.e. "reporting for duty"). Base security can assist you toward your destination or simply ask for the nearest base directory. Visit the nearest NRSW Fleet and Family Support Center (FFSC) to obtain a base map.