Base History \ Arrival
---
Travis Air Force Base is located in Solano County in Northern California near the cities of Fairfield, Suisun City, and Vacaville. This is considered to be a high cost of living area. Travis lies midway between Sacramento, the state capital, and San Francisco, the cultural heart of the West Coast. The base is within easy driving distance of California Wine Country in the Napa and Sonoma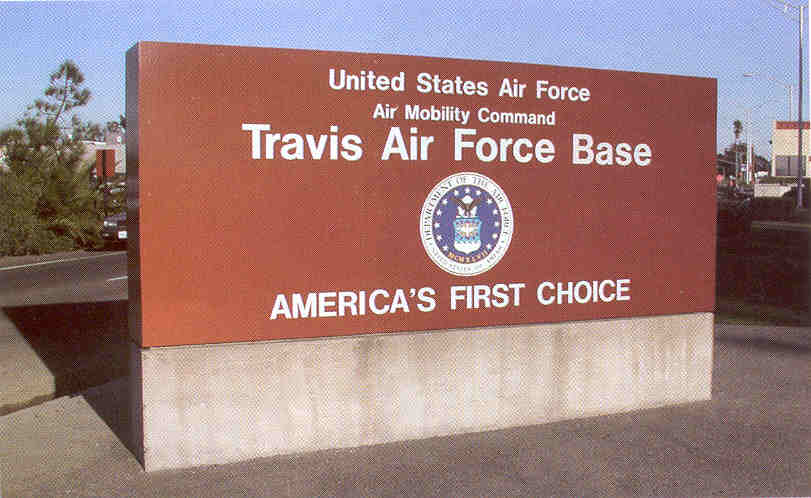 Valleys, as well as the popular tourist destinations Lake Tahoe, Yosemite National Park and Monterey. The base operator's phone number is 707-424-1110 or DSN 312-837-1110.
History
What began as an isolated airstrip on a windswept California prairie, with a few tarpaper barracks and maintenance hangers, is now the site of the largest military aerial port in the United States that provides global mobility through airlift and aerial refueling. The base has also supported humanitarian relief efforts on every continent, as well as provided special airlift support for everything from presidential travel to scientific research conducted by America's space program.
The 60th Air Mobility Wing (AMW) is the largest organization in Air Mobility Command (AMC) and flies the Lockheed C-5 "Galaxy", the C-17 "Globemaster" and the KC-10 "Extender" tanker on a daily operational basis. As host unit for Travis Air Force Base (AFB), the 60 AMW controls more than two billion dollars worth of Air Force resources, including aircraft and support facilities, on more than 6,000 acres of land. The Travis family includes not only the host 60 AMW, but the Air Force Reserve counterpart, the 349 AMW. Also headquartered at Travis AFB is the 621st Contingency Response Group, which provides AMC the capability to meet its global mobility task force commitment anywhere in the world. 60 AMW also consists of four groups: the 60th Operations Group, the 60th Maintenance Group, the 60th Mission Support Group, and the 60th Medical Group (which includes the David Grant USAF Medical Center).
Mission
The primary mission is to provide rapid, responsive, reliable airlift of forces to any point on Earth in support of our national objectives and to fulfill the global logistics needs of the Department of Defense in sustaining its world wide activities.

Population Served
| Population Type | Amount |
| --- | --- |
| Active Duty and Reservists | 10,153 |
| Military Family Members | 7,858 |
| Civilians | 3,415 |
| Retirees and Family Members (within a 50 mile radius) | 110,781 |
| Grand Total | >127,500 |

Base Transportation
Currently, there is no base transportation on this installation.
Directions to Travis AFB
Directions from Airports
San Francisco International Airport
PO Box 8097
San Francisco, CA 94128
Merge onto US-101 N toward San Francisco (11.6 miles). Keep right to take I-80 E via Exit 433B toward Bay Bridge / Oakland / Seventh St / US-101 N (Portions toll) (46.1 miles). Take the Air Base Pkwy / Waterman Blvd exit toward Travis A F B (4.2 miles).
Oakland International Airport
1 Airport Drive
Oakland, CA 94621
Merge onto I-880 N toward Downtown Oakland (6.3 miles). Keep Right to take I-980 E toward CA-24 / Walnut Creek (1.4 miles). Merge onto I-580 W toward San Francisco (5.8 miles). Take I-80 E toward Vallejo / Sacramento (Portions toll) (34.1 miles). Take the Air Base Pkwy / Waterman Blvd exit toward Travis A F B (4.2 miles).
Sacramento International Airport
6900 Airport Boulevard
Sacramento, CA 95837
Merge onto I-5 N toward Woodlandiles). Merge onto E Main toward CA-113 S / Woodland (.7 Miles). Merge onto CA-113 S via the ramp on the Left toward Davis (11.1 miles). Take I-80 W (16 miles). Take the Mason St exit toward Travis AFB (.2 miles). Turn Right onto Mason St (.3 miles).Turn Right onto Peabody Rd (5.4 miles). Left onto Airbase Parkway (.25 miles).
Commercial taxi/shuttle service is available from major airports. If utilizing either service, base entry is simple. Upon arrival at Main Gate (via Air Base Parkway), simply show a valid entry credential for access.
Driving Directions
Travis is located off Interstate 80 approximately 50 miles northeast of San Francisco and seven miles southeast of Fairfield. I-80 runs between San Francisco and Sacramento and goes through Fairfield and Vacaville. The Interstate brings traffic from the east through Reno, NV to Sacramento and 40 miles further to Fairfield. The easiest access to the base is to take the Air Base Parkway turnoff. This leads directly to the front gate.
Traveling from the North
Traveling from the north, the best approach route would be on Interstate 5 to Interstate 505 which will intersect with I-80 in Vacaville, just north of Travis.
Traveling from Los Angeles and Other Southwest/Southern Points
From Los Angeles and other southwest and southern points, the approach would be on Interstate 5 or California Highway 99. Take I-5 14 miles past Stockton to California Highway 12. From there it is approximately 46 miles to Fairfield. Taking Highway 99, turnoff at Lodi onto Highway 12. From Lodi, it is 54 miles to Fairfield. Upon arriving in Fairfield, take Walters Road east to Air Base Parkway.