Base History \ Arrival
---
Naval Air Station (NAS) Corpus Christi located in South Texas on the southeast side of the city. Corpus Christi and the surrounding region is culturally rich and diverse, offers excellent educational opportunities, beautiful climate, land- and sea-based recreation, a strong economy, exceptional healthcare facilities, and affordable living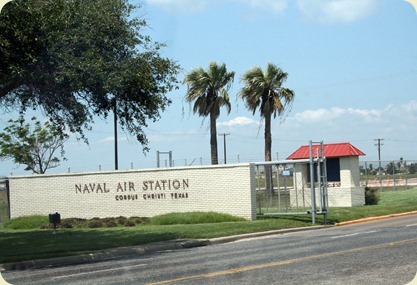 that is "exceptionally friendly" to the military. Base quarterdeck and Officer of the Day phone number 361-961-2383 DSN 312-861-2383.
History
In 1519, on the Roman Catholic Feast Day of Corpus Christi, Spanish explorer Alonzo Alverez de Pineda discovered a lush semi-tropical bay on the southern coast of Texas. The bay, and the city that later developed, took the name of the feast day celebrating the "Body of Christ". Corpus Christi began as a frontier trading post, founded in 1838-39 by Colonel Henry Lawrence Kinney. It remained an obscure settlement until July 1845, when U.S. troops under General Zachary Taylor set up camp at the settlement in preparation for war with Mexico. In the late 1930's, the U.S. was becoming more involved with the war in Europe. More pilots were needed for what seemed an inevitable second world war. The Navy saw a need for a new and larger pilot training facility and its eyes fell on Corpus Christi. Commissioned on March 12, 1941, Naval Air Station Corpus Christi commenced flight operations. For more information see the NAS Corpus Christihomepage. The city is now the largest city on the Texas coast and is the sixth largest port in the nation.
Mission
The mission of Naval Air Station Corpus Christi is to support the aviation training activities and the operations of tenants by operating and maintaining station facilities and providing all services and materials needed to maintain that support .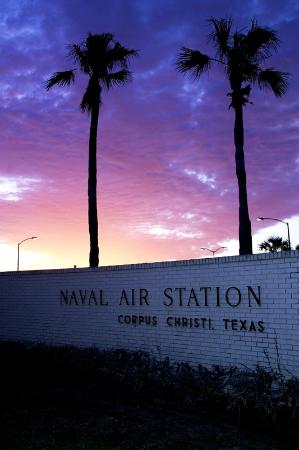 Population:
Active Duty 2,836
Family Members 7,090
Retirees and Family 28,810
National Guard & Reserve, Family 4,148
Civilian Employees 4,403
Area Population: 403,280
Directions to NAS Corpus Christi
Driving Directions

Naval Air Station Corpus Christi is located in the Flour Bluff area, 10 miles southeast of the City of Corpus Christi, and 35 miles south of Naval Station Ingleside, across Corpus Christi Bay.
We are located approximately 45 miles east of Naval Air Station Kingsville, 150 miles south of San Antonio, and approximately 200 miles south of Houston.
Corpus Christi is located approximately 150 miles from the Mexican border. Drivers should follow Texas Highway 358/South Padre Island Drive to the NAS Drive exit (clearly marked with NAS-CCAD signs) just before the causeway that crosses over to Padre Island. . The South (Main) Gate is located one mile from the causeway bridge and is open 24 hours a day. (Ocean Drive provides a beautiful coastline ride from Corpus Christi to the base's North Gate. The North Gate has limited hours from 5:00 am to 5:00 pm Mon - Fri.)
From Portland:
On US 181 travel toward Corpus Christi

Merge into IH 37

Follow the IH 37 signs until you see signs for NAS-CCAD/286

Continue on South Padre Island Drive/SPID approximately 15 miles

Exit on NAS Dr; continue on NAS Dr to NASCC South Gate entrance
From San Antonio:
On IH 37 merge onto TX-358
Take the SOUTH PADRE ISLAND DR/SPID exit (Look for NASCC-CCAD sign)
Continue on South Padre Island Drive/SPID approximately 15 miles
Exit on NAS Dr; continue on NAS Dr to NASCC South Gate entrance
Airport
Limousine and taxi transportation, as well as city bus service, is available from the Corpus Christi International Airport to Naval Air Station Corpus Christi. Driving Directions From the Corpus Christi Airport:
Go towards the Airport Exit on International Blvd

Turn right on service road

Take the TX-44 ramp; merge on TX-44

Take the TX-358 exit; merge on TX-358

Take the SOUTH PADRE ISLAND DR/SPID exit (Look for NASCC-CCAD sign)

Continue on South Padre Island Drive/SPID approximately 15 miles

Exit on NAS Dr; continue on NAS Dr to NASCC South Gate entrance