Base History \ Arrival
---
Location
Fort McCoy is situated on approximately 60,000 acres in the Coulee Region of West Central Wisconsin. It is located on Hwy 21 between Sparta, known as the "Bicycling Capital of America" and Tomah, the "Gateway to Cranberry Country," marked by more than 2,500 acres of cranberry marshes dotting the region. Sparta (pop. 9600) and Tomah (pop.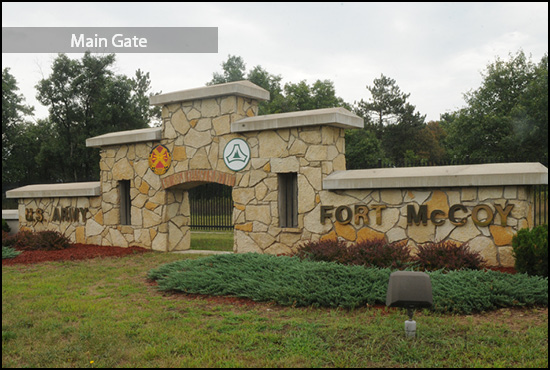 9300) are each about eight miles from the installation. Fort McCoy is approximately 35 miles east of LaCrosse and 105 miles northwest of Madison and is located in a low to moderate income area. The base operator's phone number is 608-388-2222 or DSN 312-280-1110.
History
Fort McCoy is named for Major General Robert Bruce McCoy, a distinguished veteran of World War I. The son of a Civil War captain, McCoy was a prominent local resident who served as a lawyer, district attorney, county judge and mayor of Sparta, Wisconsin. Camp McCoy was founded in 1909. It served as a supply base for the Civilian Conservation Corps (CCC) during the great Depression. It served as a POW and relocation camp during WWII. It housed 15,000 Cuban refugees in 1980. It has been a major mobilization site during Operation Desert Shield/Desert Storm and for the global war on terrorism. For more information, go to the Fort McCoy homepage.
Mission
Fort McCoy's primary mission is to support the readiness of the force by serving as a training center and support site for force generation missions. As a Total Force Training Center, Fort McCoy's primary responsibility is providing quality training facilities for reserve and active-component military forces.
Population Served
The Fort McCoy population consists of 400 military and 2000 civilians working on the installation with an average daily student population for 2014 of 3900 military and 150 civilians. There is a retiree population of 144,152 served by Fort McCoy.
Base Transportation
Fort McCoy provides an on post taxi service for official business. The post taxi can be reached at 608-388-3616.
The nearest commercial airport to Fort McCoy is La Crosse Municipal Airport, located 35 miles west of the installation in La Crosse WI. A courtesy phone to arrange pickup for individuals traveling on official orders is located in the airport lobby. Rental cars are available at the airport. Other commercial airports in the region include Madison WI or Rochester MN, 110 miles; Minneapolis/St Paul MN, 180 miles; Milwaukee WI 185 miles; and Chicago O'Hare in IL, 240 miles. The TMP does not provide transportation to or from these airports.