Base History \ Arrival
---
Naval Support Activity Bethesda is located in Montgomery County Maryland, North West of Washington D.C., situated inside the inner loop of the beltway. Bethesda is one of the most renowned communities in the Greater Washington D.C. area - home to numerous retailers, arts organizations, a thriving restaurant community and extensive downtown workforce.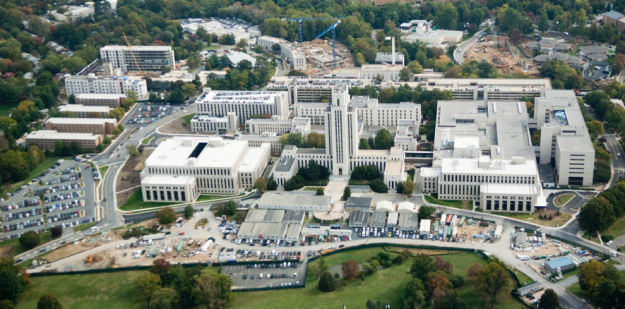 Click here for area map
Click here for base map
Click here for WRNMMC map
History
Naval Support Activity Bethesda's history began with a 2005 Base Realignment and Closure Commission (BRAC) recommendation that resulted in congressional legislation ordering the consolidation of National Naval Medical Center (NNMC) and Walter Reed Army Medical Center (WRAMC).
With NNMC and WRAMC being located in such close proximity to each other, military and congressional leaders recognized the opportunity to reduce duplication of efforts and facilities requirements; better utilization of facilities and infrastructure and consolidation and optimization of existing and future service contract requirements, capable of generating financial savings.
Years of planning, followed by a gradual transition of installation management functions performed by civilian, military and contract personnel at culminated in the smooth transition of base operating support management under a single, Navy-led joint military command.
Since the BRAC legislation was enacted, Army and Navy planners, support personnel and leaders steadfastly worked to ensure a smooth transition to NSAB. The transition was completed on August 27, 2011 when WRAMC closed after more than 100 years of service and integrated with NNMC, forming the new Walter Reed National Military Medical Center (WRNMMC). While keeping patient care and safety at the forefront, the new facility underwent extensive construction and renovation projects to accommodate the expanded services and growing number of patients and personnel. For more history visit Naval Support Activity Bethesda (NSAB) homepage.
Mission
Our Mission: Naval Support Activity Bethesda exists to support the hospital as well as all of its tenant commands in their pursuit of excellence in patient care, medical research and education.
Our Vision: Our Nation's Premier Joint Base and the Installation of Choice in the National Capitol Region.
Population Served
Naval Support Activity Bethesda (NSAB) is responsible for providing installation support to 12,000 military, and civilian employees and their families, 40 tenant units, including Joint Task Force national Capital Region-Medical JTF CapMed),Walter Reed National Military Medical Center, Uniformed Services University of the Health Sciences, and other DOD and federal agencies.