Base History \ Arrival
---
Whiteman Air Force Base is located in central Missouri, an area many think of as the Ozarks, a state made famous by its seemingly endless streams. Others regard Missouri as merely an extension of St. Louis or Kansas City. Actually, it is both and neither. Covering more than 44 million acres, Missouri is larger than all of New England. Whiteman AFB, somewhat removed from dense population, can still yield any product or service imaginable within an hour drive.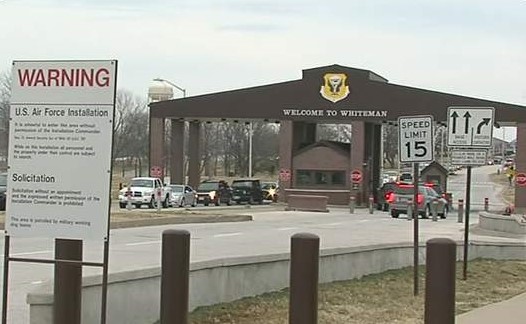 As part of Johnson County Missouri, numerous smaller communities surround the base including Knob Noster, and Warrensburg within two and 12 miles respectively. Sedalia is 20 miles to the east. These communities' affiliations are both historical and meaningful. Other surrounding communities include: California, Clinton, Cole Camp, Concordia, Higgensville, Holden, Independence, Jefferson City, Kansas City, La Monte, Lexington, Lincoln, Marshall, Versailles, Warsaw and Windsor. Residents and merchants from these communities welcome military members and their families with open arms while providing great support through the Base Community Council. Whiteman's Base Operator can be reached at 660-687-1110 or DSN: 312-975-1110.
History
Whiteman's proud heritage dates back to 1942. U.S. Army Air Corps officials selected the site of the present-day base to be the home of Sedalia Army Air Field. Following the end of the war, the airfield remained in service as an operational location for Army Air Force C-46 and C-47 transports. In December 1947, the base was inactivated. In August 1951, SAC selected the base to be a site of one of its new bombardment wings, with both bombers and tankers assigned to the unit. In October 1952, SAC activated the 340th Bombardment Wing. In October 1955, the members of the bomb wing saw their base's name change to Whiteman Air Force Base, in honor of 2nd Lieutenant George A. Whiteman. Whiteman was one of the first American airmen killed in combat during World War II when his P-40 fighter, the "Lucky Me", was shot down. As Whiteman AFB entered the '60s, its mission shifted from aircraft to the Minuteman intercontinental ballistic missile. In June 1961, Air Force officials selected the base to be the location of SAC's fourth Minuteman missile wing, the 351st Strategic Missile Wing. Whiteman's current mission, the B-2, is a dramatic leap forward in technology, and represents a major milestone in the U.S. bomber modernization program.
Mission
The 509th Bomb Wing is part of Air Force Global Strike Command as well as the host wing at Whiteman Air Force Base, MO. The bomb wing and its fleet of B-2 Spirit bombers serve as part of the Air Force's conventional and strategic combat force. The men and women of the wing are capable of flying anywhere around the world from home station and delivering a wide range of precision-guided munitions.
The B-2 Spirit is a multi-role bomber capable of delivering both conventional and nuclear munitions. A dramatic leap forward in technology, the bomber represents a major milestone in the U.S. bomber modernization program. The B-2 brings massive firepower to bear, in a short time, anywhere on the globe through previously impenetrable defenses.
The 509th Bomb Wing is the Nation's only B-2 Force… Visible Deterrence, Invisible Strike-- Anytime, Anywhere. PRIDE, PRECISION, PERFECTION...PEACE
Population Served
Along with four groups within the 509th Bomb Wing-Support, Operations, Maintenance, and Medical-Whiteman is proud to serve as host to a number of associated units. These include: the 442d Reserve Air Force Fighter Wing; 20th Reconnaissance Squadron, 1st Battalion, 135th Aviation Army National Guard, the 495 Fighter Group Det 303, and the 131st Bomb Wing from the Air Force National Guard. With Department of Defense civilians and contract personnel are factored in, substantial growth has occurred.
Whiteman estimated population:
Active Duty: 3,866
Family Members:4,900
Retirees: 5,850
Civilian Employees:617
Reserves and Guard: 2,120
Directions to Whiteman AFB
Driving from the East
People driving to Whiteman normally approach the area on Interstate 70 or U.S. Highway 50. Those approaching the base from the east on I-70 should take the Sedalia exit off I-70 onto U.S. Highway 65 south. In Sedalia, 65 intersects with 50. Turn west on 50 and drive approximately 20 miles to the Whiteman AFB exit. Turn left onto State Highway 23 south and drive approximately two miles to the Spirit Gate entrance to the base, located on the left.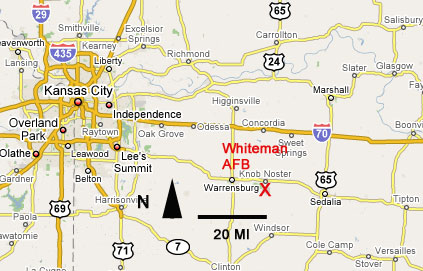 Driving from the West
For those approaching the base from the west on I-70, take the Warrensburg exit off I-70 onto State Highway 13 south. As you approach Warrensburg, 50 passes under 13. Turn east onto 50, just at the end of the 13 overpass, and drive to State Highway 23 south. Travel two miles south to reach the Spirit Gate, located on the left.
Driving from North and South
North and south approaches to the base intersect with I-70 or U.S. 50, respectively.
Airports
Traveling by Plane
People who plan to fly into the area should fly into the Kansas City International Airport. The base is 90 miles southeast of the airport. If you plan to drive from the airport to base take I-435 east toward St. Louis. As you approach I-70, stay in the left land and take I-70 heading east. The trip takes about 1.25-1.75 hours, depending on traffic.
Contact your sponsor if you have no transportation from the airport. If you are unable to reach your sponsor please phone the base operator at 660-687-1110 and ask to speak to your squadron's First Sergeant. There is no base transportation available at the airport. If you are required to take a taxi from the airport to Whiteman, the approximate cost of the taxi will be $200.00. Always ask for a receipt so you can get reimbursed on your travel voucher. You are authorized to put this expense on your Government Travel Card. Please remember that mileage from the airport is also reimbursable on your travel voucher.
Arrival at Whiteman
Whiteman AFB has three gates to access base. Incoming people are encouraged to stop at the Spirit Gate off Hwy 23 for information and directions.
Whiteman AFB currently has 100% ID check for all passengers eligible in the vehicle. You must get all government IDs registered at the Visitor Center. Drivers will be asked to present a copy of their orders, a valid driver's license and military ID card to obtain passes.
The gate guard can direct you to the 24-hour central arrival point at the Whiteman Inn, Bldg. 3011. This office will assist in contacting sponsors.
After checking in at the central arrival point, people should report to their unit orderly room and the Customer Support Section of the Force Support Squadron 330 Ellsworth Lane.