Base History \ Arrival
---
Naval Station Mayport is located 15 miles east of Jacksonville, Florida, at the mouth of the St. Johns River in Duval County. Mayport is a relatively low to medium cost of living beach community area, with a rather large military presence. NS Mayport is one of three major Navy installations in the Jacksonville area. Mayport is home to a busy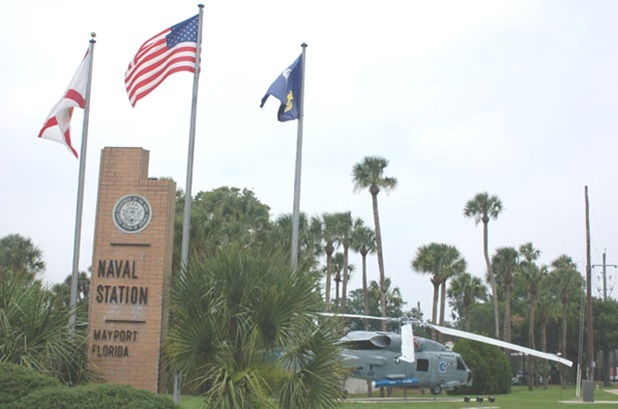 seaport as well as an air facility. The warm climate here makes it ideal for outdoor recreation year round, especially for boating, camping, fishing and water sports. NS Mayport does not have a telephone operator.
History
Since its commissioning in December 1942, NS Mayport has become the third largest fleet concentration area in the United States. Sailors have been flocking to the area surrounding the present site of Naval Station Mayport for more than 400 years. With its ease of access to inland waterways and the open ocean, early Sailors' interest in the region has resulted in an important military base with strong ties to the community. For more information, visit NS Mayport's homepage.
Mission
Mayport's mission is to provide the finest service to the finest fleet. Mayport's operational composition is unique, with a busy harbor capable of accommodating 34 ships and an 8,000-foot runway capable of handling any aircraft in the Department of Defense inventory. With more than 3,400 acres, NS Mayport is host to more than 70 tenant commands, 20 other naval ships, and six helicopter squadrons. NS Mayport is also the operational and training headquarters for the SH-60B Seahawk LAMPS MK III with a primary mission of Anti-Submarine Warfare.
Population Served
Jacksonville has nearly one million residents, and a quarter of them are affiliated with the Navy. Total active duty at NS Mayport is 15,150 with approximately 32,000 family members. DoD personnel and contractors also make up a significant portion of the workforce assigned to NS Mayport.
Base Transportation
The naval station operates two shuttle buses along a predetermined route with an average interval of 25 minutes. The average time to complete one circuit on base is 45 minutes. One bus runs the on base route continually. One bus includes off-base stops at the Navy Exchange and Commissary at specific times, otherwise it too runs the on-base route continually. An additional shuttle runs daily from the squadrons to the main Galley.
Hours of Operation

Monday - Thursday: 6:00 a.m. - 12:00 a.m.
Friday and Saturday: 6:00 a.m. - 1:00 a.m.
Sunday and Holidays: 4:00 p.m. - 12:00 a.m.
Arrival times at Navy Exchange and Commissary
Saturday: 9 a.m./11 a.m./1 p.m./3 p.m./5p.m.
Sunday and Holidays: 4:30 p.m./5:30 p.m.
For questions about the naval station's shuttle bus service, call 904-270-5304. For help on Sunday and holiday's call the Trouble Desk at 904-270-5149.
Sponsorship
When you receive orders for Mayport, you will be assigned a sponsor from your gaining unit to assist with settling into your new location. If you have not been assigned a sponsor, or have not been contacted, you may request one by contacting the commander of your new command or by going to Sponsor Assignment Aid on the Stay Navy web site.
Before you arrive at NS Mayport, you may want to have your mail stopped and/or held pending your new address.
Your sponsor may be able to supply you with a command address until you have obtained a permanent address. After you arrive at Mayport, report immediately to the base Quarterdeck located in Naval Station Headquarters, Building 1. Those reporting to a tenant command should report to that command's Quarterdeck. Personnel whose orders are to a ship, should report directly to their ship if it is in port. If the ship is not in port, check in with the Naval Station Quarterdeck for assistance at phone 904-270-5401.
The base Post Office does not have P.O. Boxes available. We recommend that you forward your mail to your new command's mailing address, or call the Mayport Rd, Atlantic Beach, FL 32233 Post Office at 904-241-2026 for more information.
Directions
Massey Avenue
Building 1
Mayport, FL 32228-0042
Phone 904-270-6600
Phone (DSN) 312-270-6600
Fax 904-270-5094
Fax (DSN) 312-270-5094
Driving to NS Mayport
Traveling by Car
The Naval Station is located at the end of Mayport Road. To get here from the north, take I-95 South to the 9A exit
. Get off on Atlantic Boulevard and drive east until you cross the Intracoastal Waterway. After crossing the waterway, take the first exit on the right to Mayport Road. Continue for approximately five miles. You will enter the Naval Station through the main gate.
Traveling from the South
Take I-95 North to J. Turner Butler Boulevard. Go east to the San Pablo exit and turn left. Drive across Beach Boulevard, continuing to Atlantic Boulevard and turn right on to Atlantic at the light. After crossing the Intercoastal waterway, follow the above directions.
From Interstate I-10 East
Continue to I-95 South, exit at US Highway 90 (Beaches) until it splits into Atlantic Boulevard and Beach Boulevard. Take Atlantic Boulevard and follow the above directions.
Airports
Jacksonville International Airport, 35 miles northwest of the naval station, services most major airlines. Taxi and limousine services are available from the airport to Naval Station Mayport. Fares range from $25-$42. If you are traveling under orders the fare is reimbursable, but you must get a receipt from the taxi driver and submit it with your travel claim. If you have any problems, you may call the Naval Station Mayport quarterdeck using the toll-free courtesy phone at the information desk in the baggage claim area. Dial 270-5401 for the duty office.
To reach Naval Station Mayport from the Airport
Follow the airport access road to I-95. Turn right on I-95 south. The second exit will be 9A. Follow 9A until you reach the Atlantic Boulevard exit. Turn left on Atlantic (east); stay on Atlantic until you see the Mayport exit on your right (right after crossing the Intracoastal Waterway bridge); and follow that road five miles directly to the base.
Traveling by Bus/Train
Greyhound Bus services are located at 10 North Pearl Street in downtown Jacksonville near the BellSouth Tower. Dial 356-9976 for information. Local buses or taxis provide transportation from downtown to the naval station. The Jacksonville Transportation Authority bus information telephone number is 904-630-3100. Amtrak also provides limited service in the Jacksonville area. Amtrak's toll-free number is 1-800-872-7245.
Pass and Decal Office
Before entering NS Mayport, you must visit the Pass and Decal Office to obtain decal/temporary base visitor pass.
Documents Needed to Obtain Decal/Temporary Pass
Military I.D. Card
Drivers License
Vehicle Registration
Insurance Card