Base History \ Arrival
---
Fort Riley is located one hour west of Topeka, Kansas (state capitol). The two primary local towns are Junction City (mostly a military town) and Manhattan (mostly a college town home to Kansas State University). There are a number of small country towns and a great deal of farm land in this area. Kansas City is about 2 ½ hours away and is home to the Kansas City Chiefs. There is a lot of history at Fort Riley and within the state of Kansas for those that like to travel and see what Kansas has to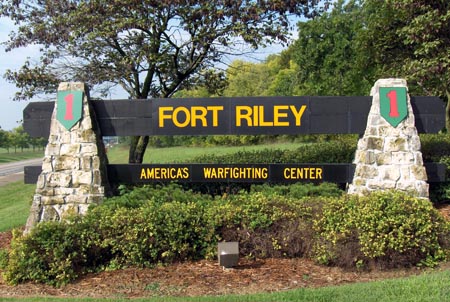 offer. The area is "laid back" and a slower live style pace that is great to raise children in and the people are friendly and helpful. Many military families have enjoyed the area enough that they retire in the local area.

HISTORY: The early history of Fort Riley is closely tied to the movement of people and trade along the Oregon and Santa Fe Trails. These routes, a result of the United States perceived "manifest destiny" in the middle of the 19th century, extended American domination and interests into far reaches of a largely unsettled territory. During the 1850s, a number of military posts were established at strategic points to provide protection along these arteries of emigration and commerce. This location, approved by the War Department in January 1853, offered an advantageous location from which to organize, train and equip troops in protecting the overland trails. On June 27, 1853, Camp Center became Fort Riley -- named in honor of Maj. Gen. Bennett C. Riley who had led the first military escort along the Santa Fe Trail in 1829. The "fort" took shape around a broad plain that overlooked the Kansas River valley. The fort's design followed the standard frontier post configuration and buildings were constructed of current resource materials - in this case, native limestone. Anticipating greater utilization of the post, Congress authorized appropriations in the spring of 1855 to provide additional quarters and stables for the Dragoons. Fort Riley is full of more history that includes "Bleeding Kansas", General Custer, the Buffalo Soldiers, World War I and II, the Korean Conflict, the Cold War, Vietnam, the Gulf War up until today. If you are interested in the historical information that Fort Riley has to offer, then please visit the Fort Riley Homepage.

MISSION: 24th Infantry Division and Fort Riley provides ready forces as directed by FORSCOM, through 1st and 5th Armies and III Corps, to meet Combatant Commander's requirements across the spectrum of current and future operations. Supports homeland defense operations and/or civil authorities, as directed. The commanding General's Vision is also important for it works with the mission. Fort Riley is to Provide mission ready, deployable forces, who are fit-to-fight, disciplined, and imbued with the Warrior Ethos. Mission is first, never accept defeat, never quit, and never leave a fallen comrade. This all goes into the Army Values that Fort Riley encompasses.

Base Operator: 785-239-3911 or DSN 312-856-1110-3911.
Directions to Fort Riley
Traveling by Plane and Shuttle
If you are arriving by air you need to book through to Manhattan, KS or Kansas City, MO. You will need to make arrangements to use one of two ground shuttle services from KCI; whose toll free numbers are: 1-800-826-8294 or 1-800-747-2524. For more information on schedules, check the website.
Fort Riley is located north of Interstate 70, at exit 301, 125 miles west of Kansas City, Kansas.
Directions from Kansas City International Airport (KCI)
After you exit the airport area, locate the sign showing 435 South. Travel on 435 South until you see the exit for I-70 west, which will take you onto the Turnpike (the Turnpike does have a small fee). Stay on the Turnpike until you get to the Topeka Exit (there are only two and it does not matter which one you take). Look for signs showing I-70 west (some city names that will be mentioned: Manhattan, Salina and Denver) and stay on the Interstate until you find exit 301. (Towns you will pass and/or just pass their exit signs while on the Turnpike: Bonner Springs, Lawrence; Interstate: Paxico, Wamego, Manhattan, Ogden.)
Arriving from the East of Fort Riley
If you travel by vehicle, please note that Kansas City is a 3-hour drive and Topeka is an hour away. Main roadways to travel on: Turnpike from Kansas City (there is a small fee for using the Turnpike) and Interstate (I-70) from Topeka. For direction that is more specific, refer to the paragraph above.
From Salina , One Hour West
Take I-70 East until you reach exit 301. (Towns you will pass by while on the Interstateare Solomon, Abilene, Enterprise, Chapman and Junction City.)
From Wichita 2 hours Southwest of Fort Riley
Take I-135 North out of Wichita until you reach I-70 east until you reach exit 301. (When following I-135 out of Wichita you will pass the towns of Newton and McPherson. Before you reach the I-70 east exit, you will be passing along the edge of Salina.) For more specific directions while on I-70 east refer to the paragraph above this one.
Important Note: All newcomer's can access the installation by using exit 301, off of I-70. The gate is open (24/7). Fort Riley Welcome Center is temporarily moved to the Army Community Services building at Building 7264 Normandy and can be reached at (785) 239-9435.