Base History \ Arrival
---
Fort Buchanan
Located by Guaynabo City, Puerto Rico. We are near the capital of San Juan. Puerto Rico boasts fabulous ocean views, tropical weather, and lush green mountains. The island is approximately 100 miles by 35 miles and similar in size to Connecticut. For a variety of reasons, Puerto Rico is a high cost of living area. The base operator's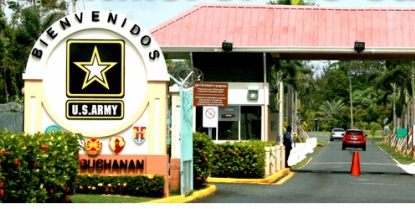 phone number is 787-707-3403 or DSN 312-740-3403.
History
Fort Buchanan, the only active Army installation on Puerto Rico and in the Greater Antilles, was named after BG James A. Buchanan, the first commander of the Puerto Rican Regiment/1st U.S. Volunteers that was formed by Theodore Roosevelt during the Spanish-American War. After defending the Canal Zone during WWI, the regiment was officially designated the 65th Infantry Regiment in 1920. A tract of 300 acres on the south shore of San Juan Bay was obtained in 1923, and designated as Camp Buchanan. In 1940, Camp Buchanan was renamed Fort Buchanan and, during WWII, became a general depot and induction center/training area for the Antilles command, while expanding to its current 1500 acres. For more information, visit the Fort Buchanan homepage.
Mission
The mission of Fort Buchanan is to provide Caribbean-wide support to the Department of Defense, support SOCSOUTH restationing, serve as a Power Support, Power Projection Platform by planning, preparing and executing mobilization, receive and integrate U.S. Army South, provide Base Operations support, and develop and execute contingency plans.
Population Served
Ft. Buchanan serves and supports Active Duty, Reserve, and National Guard soldiers, Air Force and U.S. Navy Reserve personnel, DoD civilians, veterans, retirees, and military family members. The installation also supports some 32 federal agencies stationed in Puerto Rico and the U.S. Virgin Islands.
Things to know when traveling to Fort Buchanan
Location: Puerto Rico is located 1,000 miles southeast of Miami - approximately 2- hour by plane. Approximately 4 hours by plane from Boston and 3 hours from New York.
Note: Since Spanish is the national language of Puerto RIco, knowing the following translations of traffic signs will help you get around:
Pare - Stop
Ceda - Yield
Salida - Exit
Norte - North
Sur - South
Este - East
Oeste - West
Airport Arrival
When you arrive to Luis Munoz Marin International Airport you can use the taxi services located right outside the arrival section of the terminal. The cost of the trip is reimbursable (if on orders). Obtain a receipt from the taxi driver if the fare is in excess of $25.00. If you need help at the airport contact the Military Personnel Office at Fort Buchanan at 787-707-3938 during duty hours or the Military Police desk sergeant, 787-707-3337, after duty hours.
Traveling with Pets: Pets may be picked up at the traveling airline cargo area.
How to get to Fort Buchanan from the airport:
As you exit the Airport need to stay on your far right lane, make a right turn at the exit to Highway 26 (the sign reads "Isla Verde/San Juan"), also known as Baldorioty De Castro Highway.
You will enter a service road and then Highway 26 to your left and follow signs towards San Juan.
After about 1 1/2 miles, stay on your far right lane and follow signs towards Bayamon/Caguas.
Once you take that (Bayamon/Caguas) exit you will enter a tunnel (Minilla Tunnel), stay on that Highway for 1/2 mile until you see the sign towards Bayamon (Highway 22), take the road to your right.
You will be heading west for about 1 mile. Stay on the right lane, you will see a sign for Fort Buchanan exit, it will say Fort Buchanan 28 and Catano 165. NOTE: before that exit on your left hand side there is another sign to Fort Buchanan, DO NOT take that exit.
You will take the exit for Road 165 (Sign will be on your right).
Once on Road 165, you need to switch to the far left lane before you reach the first traffic light. At that intersection you will make a left turn into Road 28 (you will see the Federal Prison on your left at the traffic light).
After you make the left turn you will pass in front of the Federal Prison, after that you will see on your left some of the Fort Buchanan Bldgs.
On the second traffic light you need to make a left turn to the Fort Buchanan's Front Gate entrance. Important notice, a 100% ID card is required at the check-up point.