Base History \ Arrival
---
Naval Construction Battalion Center (NCBC) Gulfport is located in Harrison County in the city of Gulfport, Mississippi on the Gulf of Mexico. The area is pro-military and heavily populated with active duty Navy and Air Force personnel as well as Reservists and retirees. Gulfport is a medium income community and in comparison with some duty stations will be much less expensive to live. Gulfport, along with Biloxi, Pascagoula, Ocean Springs and Bay St. Louis, is one of the cities that line the beachfront of Mississippi. New Orleans, Louisiana is only 90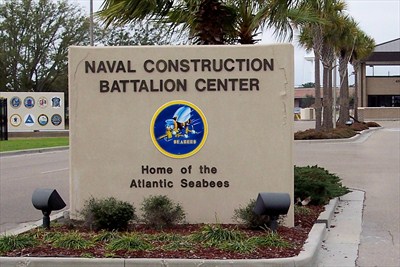 miles west. The base operator's phone number is 228-871-2555 or the DSN 312-868-2555.
History
The Seabees have been the military construction arm of the U.S. Navy since 1942. The first Seabees were civilian construction workers who enlisted early in World War II to continue building for the Navy in the Pacific Theater and in Europe. Their accomplishments during the war are legendary. On August 17, 1990, 10 days after the commencement of Operation Desert Shield, the first Seabees arrived in Saudi Arabia. By October 18, 1990, the entire mobilization of Seabees was complete and encompassed 2,410 Seabees, 1,131 pieces of equipment, and 12,000 short tons of materials. Three full Reserve Seabee battalions and portions of two others were reactivated in support of the Persian Gulf War. They served in Operation Iraqi Freedom in 2003 and are still stationed in Southwest Asia in support of Operation Iraqi Freedom II.
Seabees deployed to Pensacola, Florida in September of 2004 in response to Hurricane Ivan's destruction to the Naval Air Station. The Seabees were greeted with cheers as they arrived with heavy equipment and chainsaws to clear away hurricane debris, repair roads, erect tents and help their fellow service members. Learn more at the installation homepage.
Mission
The center supports operating units of the Naval Construction Force and other tenants. The Center prepares for and supports all facets of the mobilization of construction forces including Reserve units.
Population Served
The Center serves 4,451 active duty personnel and their families and 6,400 retirees and their families. There are also 780 DoD Civilians.
Base Transportation
Currently, there is no base transportation on this installation.
Sponsorship
When you receive your orders, you will be assigned a sponsor from your gaining unit. Your sponsor will contact you and provide you with information about the unit and your destination. If you have not been assigned a sponsor by the time you are several weeks from departure, please contact the Quarterdeck of your Command and request a sponsor. You will find help by calling the Fleet and Family Support Center (FFSC) at 228-871-3000 OR DSN 312-868-3000. If you are checking in after hours, call 228-871-2555.
Mail
NCBC Gulfport does not have post office rental boxes. The closest US Post Office is located on Hwy 49 at 13th Street. Call 800-275-8777 for additional information.
3502 East 8th Street at Pass Road
Gulfport, MS 39501
Phone 228-871-3000
Phone (DSN) 312-868-3000
Fax 228-871-3610
Fax (DSN) 312-868-3610
Directions
Directions to Naval Construction Battalion Center, Gulfport

Local Airports

The closest commercial airport is the Gulfport-Biloxi Regional Airport. Airlines servicing Gulfport-Biloxi Airport include: Airtran, Delta, Continental, and Northwest. Taxi Cabs do service NCBC Gulfport from the airport and will cost an average of $15-$20. There is also an airport in New Orleans approximately one hour west of NCBC, Gulfport. Most major carriers including American, United, and Southwest Airlines serve New Orleans Airport (MSY).

Mobile, AL also hosts a regional airport and is approximately 1 hour east of NCBC, Gulfport

Shuttle Service

Coastline Transportation is a local company providing shuttle transportation to NCBC, Gulfport, from both Gulfport-Biloxi and New Orleans Airports.

Please contact your sponsor and advise them of your estimated arrival time and flight information if applicable prior to your arrival at NCBC, Gulfport.

Driving Directions

Take the I-10 Exit 34A to HWY 49 South towards HWY 90 (the beach) turn right on HWY 90. Go to the third traffic light (Broad Ave) turn right on Broad. This road (Broad Ave.) dead ends at the main gate. The Visitor and Pass office is located at the Pass Road gate. If you need a visitor pass you must go to Pass Road gate.

From the Airport:

Take HWY 49 South until the Naval Construction Battalion road sign is seen. Take a right on Pass Road and this will lead you into Gate #2. The Visitor and Pass office is located at the Pass Road gate. If you need a visitor pass you must go to Pass Road gate.
Pass Road: 24 hours, 7 days a week
Broad Avenue: 5:00 a.m. - 5:00p.m., Monday - Friday, 9:00 a.m. - 5:00 p.m., Sat/Sun and Holidays
28th Street: 5:00 a.m. - 5:00 p.m., Monday - Friday 5:00 p.m. - 7:00 p.m., Outbound Only
The gate is closed on weekends and Federal Holidays.