Base History \ Arrival
---
McAlester Army Ammunition Plant is located in Pittsburg County, Oklahoma a few miles outside of McAlester on US highway 69. The Indian Nation Turnpike also serves the area and Interstate 40 is only 40 miles to the north. Located 85 miles south of Tulsa and 120 miles southeast of Oklahoma City, McAlester is within easy driving distance to major metropolitan areas. McAlester and the surrounding area have become the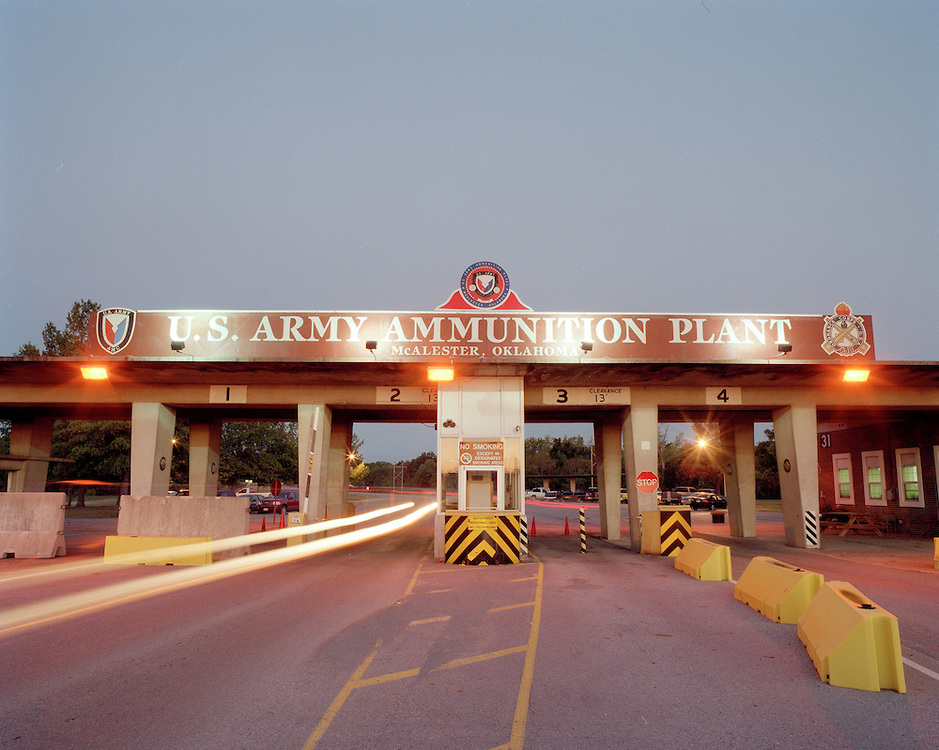 regional center for commerce, retail trade, culture, recreation and heritage for Southeast Oklahoma. To contact the McAlester Army Ammunition Plant the phone number for the base operator is 918-420-7200 or DSN 312-956-7200.
History
MCAAP was originally commissioned as McAlester Naval Ammunition Depot on May 20, 1943. The plant was transferred to the Army on 1 October 1977 under the single manager for Conventional Ammunition and became the McAlester Army Ammunition Plant (MCAAP). The workforce is comprised of 1400 plus employees performing mission ready related operations. The U.S. Army Defense Ammunition Center (DAC) was relocated to the McAlester Army Ammunition Plant from Savanna IL. In 1998 due to the 1995 Base Realignment and Closure (BRAC) Commission's decision to close the Savanna Army Depot Activity. DAC traces its roots back to 12 June 1917, when the Savanna Army Depot Activity was established in Savanna, IL. to increase the facilities for the proof and test of Field Artillery and Ammunition. From 1917 to present, DAC's mission has dramatically developed and adapted to encompass growing customer needs. In 1999, the Red River Munitions Center (RRMC) in northeastern Texas joined MCAAP and is fully integrated as a part of Team McAlester. For more information, you may visit the installation homepage.
Mission
Team MCAAP's mission is to provide goods and services to ensure the war fighter is persuasive in peace and invincible in war.
Population
There are approximately 1968 civilian personnel, 31 military personnel, area veterans, Army Reserve and National Guard.
Base Transportation
There is no base transportation for the public at present time.
Sponsorship
Request a sponsor for you or family members by contacting the Army Community Service Office Building 31 or call 918-420-6249/6271.
Relocation Assistance
The Army Community Service (ACS) Relocation Readiness Program would like to assist you in helping make your move less stressful. You may contact us at 918-420-6249/6271 and a welcome packet will be sent to you before you move. You may request information you would be particularly interested in at that time. When you arrive visit the ACS office where a full range of programs are available to provide information and assist with all your relocation matters. We provide newcomers orientation, for you and your family to help you become familiar with the installation, its activities and to help you get acquainted to the community.
DIRECTIONS
McAlester Army Ammunition Plant is located in Southeast Oklahoma at the crossroads of US Highwasy 69 north and south and US highway 270 east and west. The Indian Nation Turnpike also serves the area and Interstate 40 is only 40 miles to the north.

AIRPORTS:

Tulsa International Airport, Tulsa, Oklahoma approximately 104 miles (about 1 hour 46 minutes) north of McAlester Army Ammuniton Plant.

Will Rogers World Airport, Oklahoma City, Oklhoma approximately 139 miles (about 2 hours 8 minutes) east of McAlester Army Ammunition Plant.

Dallas Fort Worth International Airport (DFW) approximately 176 miles ( about 3 hours ) south of McAlester Army Ammunition Plant.