Base History \ Arrival
---
Location
Patrick AFB is located on the East Coast of central Florida. Patrick is 3 miles south of Cocoa Beach and approximately 12 miles north of Melbourne in Brevard County.
History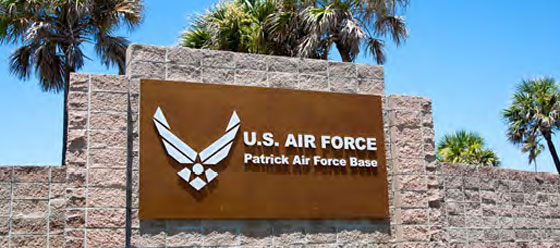 Patrick AFB was established by the Navy during WWII and named for MG Mason Patrick. Developed as a Long Range Proving Ground in 1950, it is now dedicated to launching missiles. As the Department of Defense's East Coast Space Port and providers of launch support services, the 45th Space Wing is a far-reaching organization. Its Eastern Range includes over 10,000 miles from the Florida mainland through the South Atlantic into the Indian Ocean. The Eastern Range includes the launch head at Cape Canaveral Air Station and a network of downrange instrumentation stations including Malabar and Jonathan Dickinson Tracking annexes, Antigua Air Station and Ascension Auxiliary Air Field.
The Major Command is the Air Force Space Command. There are several Tenants Units at Patrick AFB. Namely. DEOMI, ACC, AFAA, AFTAC, AFOSI, 333rd Recruiting Squadron, and U.S. State Department Bureau of International Narcotics and Law Enforcement. In addition there are 39 Geographically Separated Units that support the Southeast USA and Caribbean.
Mission
The 45th Space Wing provides spacecraft processing, launch, tracking, safety, and data services. The wing manages launch operations for all DoD space programs.
Population Served
Patrick AFB serves Air Force, Navy, Army, Coast Guard, Marines, active and reserve personnel, DoD civilians, retirees and their eligible family members.
Sponsorship
Sponsors are assigned by their gaining unit. Please make sure you have a sponsor assigned prior to departing from your last base. Make sure you request from your sponsor a PSC box at the Post Office. This will ensure your mail is not interrupted during your PCS move. If you are coming to Patrick AFB/Cape Canaveral AFB and do not have a sponsor assigned to you, you may contact your servicing Command Support Staff. You may also contact the Patrick Airman and Family Readiness Center (A&FRC), 321-494-5676 or DSN 312-854-5675.
Your first stop after arriving in the local area should be your Command Support Staff (CSS). If you arrive after normal duty hours, report to the base lodging office, the Space Coast Inn, Building 720. The next morning, you will be required to report to your Command Support Staff (CSS).
Directions to Patrick AFB
Driving to Patrick AFB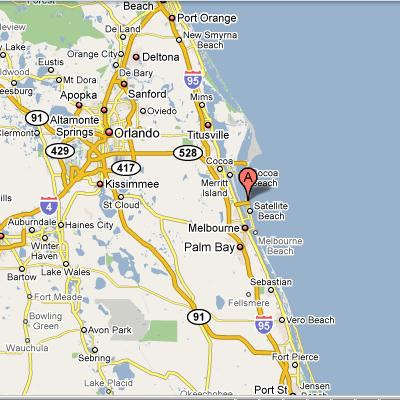 Driving to Patrick AFB will normally involve Interstate 95. Headed south on I-95 take exit 188 and follow State Road (SR) 404 (Pineda Causeway) EAST which will bring you to the south entrance to Patrick AFB. If you are headed south on Interstate 75 (western side of Florida) take the Florida Turnpike. From the turnpike you will exit in Orlando at SR 528 East (Beachline Expressway). This is a toll road. Follow the above directions for SR 528 to I-95 South to Patrick AFB.
Airports
Driving Directions from the Melbourne International Airport to Patrick AFB
Upon exiting the airport, turn left onto Nasa Blvd. Continue straight on Nasa Blvd. to U.S. Route 1. Turn left on U.S. 1 and proceed 8.1 miles to the Pineda Causeway (State Road 404). Exit right onto the Pineda Causeway and travel the entire length of the Causeway to State Road A1A. Turn left onto SR A1A and proceed approximately four miles to the main gate of Patrick AFB.

Transportation from Melbourne International Airport
A passenger shuttle service to Patrick AFB is located on the ground level adjacent to the baggage claim. Make advance reservations by calling 321-724-1600 at least 24 hours in advance. The cost varies but is approximately $25.00 per person.

Driving Directions to Patrick AFB from Orlando International Airport
Coming out of the airport, stay to the right and look for the sign that says "Beachline", SR528 East, Cocoa Beach/Cocoa/Port Canaveral. Take this exit onto SR 528. You will pass through a toll booth, $1.50 Fee. Stay on SR 528 for approximately 45 miles. Follow the signs to Cocoa Beach/Port Canaveral. After crossing the causeways (bridges) to the islands, SR 528 curves to the right and becomes State Route A1A. Follow SR A1A and you will come directly to the main gate of Patrick AFB located on Highway A1A.
Transportation from Orlando International Airport
Several shuttles go to Patrick AFB hourly. Pick-up is at ground level - Space #18. The cost to Patrick AFB varies but is approximately $40.00 per person, one way.

Bus Station Information
Greyhound Bus Lines have terminals in Cocoa, and Melbourne. For information call the terminals in either Cocoa, located at 302 Main Street, at 636-6531 or the Melbourne terminal, located at the Airport terminal, telephone 321-723-4323.