Base History \ Arrival
---
Fort Leonard Wood, a military community located in the beautiful south central Missouri Ozarks and covers more than 61,000 acres. The fort is located in Pulaski County, which has a population of nearly 38,320. Bordering the installation to the north are the towns of Waynesville and St. Robert, with an estimated combined population of 4,937. The post is two miles south of Interstate 44. St. Louis is a 2-hour drive to the east along I-44 and Springfield, MO, is a little more than an hour's drive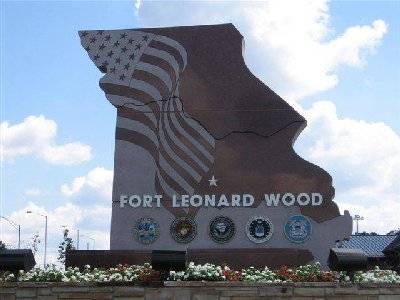 to the west. This vicinity is not a high cost living area, with all the mom and pop shops and great sightseeing areas.

HISTORY

To learn and explore the history of Fort Leonard Wood there is a great historic museum located on post. You can also visit Fort Leonard Wood home page for more information.

MISSION

Fort Leonard Wood Garrison Command is proud to have 1st Engineer Brigade, 3rd Training Brigade, 14th Military Police Brigade and many more on the installation to make Fort Leonard Wood the #1 training.
For further information on units look onward to Major Unit Listings.
Population Served
Fort Leonard Wood is home of the U.S. Army Maneuver Support Center, where all chemical, engineer and military police soldiers, plus many marines, airmen, sailors, coast guardsmen and international students from allied nations receive training. The post is also the home of the 3rd Chemical Brigade, where thousands of new recruits receive their basic training every year.
Getting to Fort Leonard Wood
Fort Leonard Wood is located in the heart of the Ozarks off Interstate 44. The post is approximately 130 miles west of Saint Louis and 90 miles east of Springfield.
Airports
Driving Directions
From St. Louis (East) - Drive west on I-70 about 4 miles, go south on 270 approximately 15 miles, drive west on I-44. Drive west bound on I-44 about 135 miles. Exit interstate on 161. At the stop light turn left onto Missouri Avenue. Drive approximately 3 miles at the end of the public road will be the Fort Leonard Wood Main gate. MAP AND DIRECTIONS
From Springfield (West) - Drive Northeast on West Kearney, turn left onto US-160 Northwest Bypass and merge eastbound onto I-44. Drive approximately 86 miles west toward St. Louis. Exit on 161 and make a right onto Missouri Avenue at the stop light. Drive approximately 3 miles at the end of the public road will be the Fort Leonard Wood Main gate. MAP AND DIRECTIONS
Transportation
Ground - There is a Greyhound bus station in the city of St. Robert, Mo; just outside the main gate that make routine stops at this location. Rental car agencies are available at both Lambert and Springfield Airports. Air - Most major carriers fly into both Springfield, and Lambert-St. Louis