Base History \ Arrival
---
Norfolk Naval Station (NS)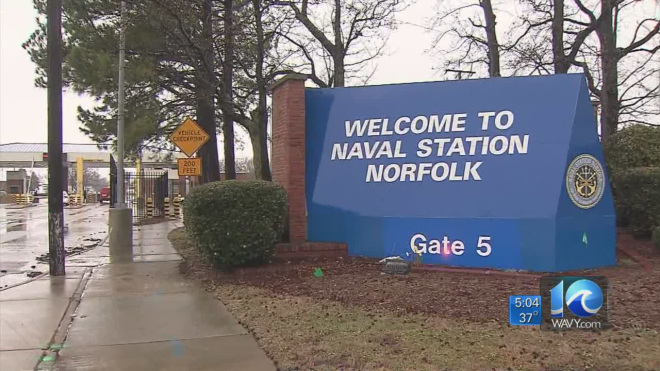 is geographically located in the Southeastern corner of the Commonwealth of Virginia. Hampton Roads is a region including the cities of Williamsburg, Newport News, Hampton, Norfolk, Portsmouth, Virginia Beach, Chesapeake, and Suffolk. Hampton Roads is considered to be a military town with the cost of living being slightly higher than average. The base operator's phone number is 757-444-0000 or DSN 312-564-0000.
Norfolk's attractions include the Battleship U.S.S. Wisconsin and Nauticus, The National Maritime Center, an interactive science and technology center.
History
The land on which Naval Station is located was originally the site of the 1907 Jamestown Exposition. During this exposition, high-ranking naval officers agreed that this site was ideal for a naval activity. A bill was passed in 1908 proposing Congress to allow $1 million for the purchase of the property and buildings, but it died when the Assistant Secretary of the Navy was given a choice between this property and a new coal ship. He replied that a new ship was an absolute necessity. However, immediately after the United States entered World War I in April 1917, the Secretary of the Navy was persuaded to buy the property.
That property is where today's NS Norfolk is situated in the Sewells Point area of the City of Norfolk, near the site of the Civil War battle of the Monitor and Merrimac (CSS Virginia). It is the largest naval installation in the world based on support population and is the home of the U.S. Atlantic Fleet. For a thorough history of the installation visit the installation'shomepage.
Mission
Naval Station Norfolk supports the operational readiness of the US Atlantic Fleet, providing facilities and services to enable mission accomplishment. We are committed to safety, security, and continuous improvement in quality of life and quality of service for our Sailors and families.
Population Served
The region has over 1.6 million people and serves a very large community of active duty, retirees, family members and dependents, reservists, DoD civilians and Joint Forces.
Base Transportation
Shuttle buses are free to military and civilian personnel. The buses drive in a continuous loop around the base at approximately 30-minute intervals. In addition to shuttle services, taxi service and local bus transportation is available.
Sponsorship
When you receive your orders to NS Norfolk, immediately contact your gaining command to request a sponsor. The sponsor will assist you with your transition.
If you are unsure where you should check in at Norfolk Naval Station, call Personnel Support Detachment (PSD) 757-445-9927 for directions and guidance. If you are arriving after working hours you will report to Carter Hall (building A48). All mail should be forwarded to your gaining command's address. Your sponsor can make arrangements for holding your mail until your arrival.
Directions to Naval Station Norfolk
Hampton Roads has 2 major airports:
Airports
Personnel flying in to Hampton Roads should make arrangements with their sponsor for transportation from the airport to the command.
In the event the service member arrives and previously arranged transportation is not available, he or she should report to the Military Information Booth. Military Booth staff will call the command for transportation. If the booth is not staffed, the service member should proceed upstairs to the USO where USO staff will contact the command for assistance. Taxi fees from the airport to Naval Station Norfolk are as much as $30.00.
Contact numbers and hours of operation for Norfolk International Airport:
Military Booth -- 757-444-8040; Hours are Mon-Fri 10:00 a.m. - 5:00 p.m.
USO -- 757-233-0567; Hours are 9:00 a.m. - 9:00 p.m., 7 days a week. If you need assistance after 9:00 p.m., call to verify a volunteer will be there.
Personnel flying into the Newport News/Williamsburg International Airport should report to the airport Information Booth for directions to Naval Station Norfolk. Taxi fees to Naval Station Norfolk from the Newport News/Williamsburg airport are as much as $60.00.
Contact Number and hours of operation for Newport News/Williamsburg International Airport:Information Booth -- 757-877-0221; Hours vary with staffing. Public transportation does not run to or from the airports.
Driving Directions
From Richmond
Take I-64 East through the Peninsula consisting of Williamsburg, Newport News, and Hampton. Interstate I-64 will continue to the Southside through the Hampton Roads Bridge Tunnel. Naval Base exit 276 is approximately 4 miles after the tunnel. Take I-564 3 miles to Admiral Taussig Blvd to the base. Gates 1 and 2 of the Naval Base are located at the intersection of Admiral Taussig Blvd. and Hampton Blvd.
From Philadelphia
Take I-95 South to US 13 South from the Southside of Wilmington Delaware. Follow US 13 down the length of the Delmarva Peninsula to the Chesapeake Bay Bridge and Tunnel. Cross the Bay Bridge and Tunnel and you will be in Norfolk. Take US 13 to I-64 West to I-564 West to the base. The cost of the Chesapeake Bay Bridge Tunnel is $12.00 one way.
From Washington DC
Take I-95 South to I-295 South (exit 84) go approximately 15 miles to I-64 West (exit 28) follow for approximately 76 miles to I-564 and you are at the base.
From the South
Take I-95 North into Virginia to US 58 in Emporia (exit 11). US 58 will bring you into Norfolk take I-64 for approximately 25 miles to (exit 276) to the base.
Prior to entering the base, you will need a temporary base pass or permanent decal. To obtain one, stop at the Pass and ID office located on Hampton Boulevard and Seabee Road. You will need:
Proof of insurance

Vehicle registration

Identification
When you arrive at the main gate show your pass or decal and military identification to the gate guard. If everything is in order, access to the Naval Station will be permitted.