Base History \ Arrival
---
Carlisle Barracks is located in Cumberland County in South Central Pennsylvania, near the state capital at Harrisburg. Agriculture, tourism, industry and services all play vital roles in the local economies. Harrisburg, and nearby Hershey, combine to form a nucleus of culture, education, healthcare, and government. Carlisle Barracks, is one of the oldest active military posts in the United States. The cost of living in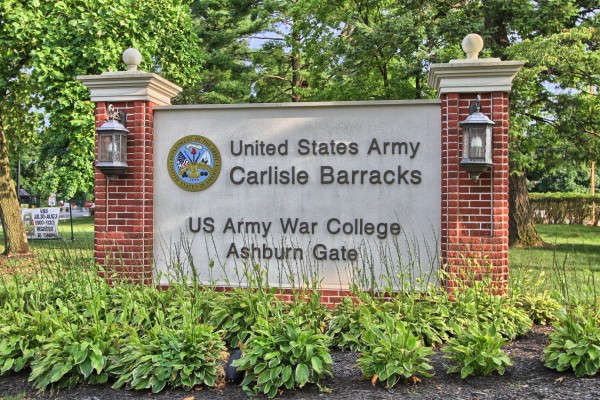 Cumberland County compares favorably to those of the metropolitan areas and adjacent counties. Housing costs run about fifteen percent less, health care costs are about five percent less, and grocery costs are about two percent less than surrounding areas. The base operator's phone number is 717-245-3131.
History
Carlisle Barracks is the second oldest army installation, dating back to 1745, when British soldiers created the "Camp near Carlisle." In December 1776, the Continental Congress authorized establishment of an ordnance center at Washingtonburg, as the Barracks was called during the Revolutionary War. Carlisle Barracks was the home of the Indian Industrial School where the All-American football halfback Jim Thorpe attended. Carlisle Barracks is now an Installation Management Agency installation supporting the U.S. Army War College, a field operating agency of the U.S. Army, which educates and prepares military officers for leadership at the highest levels. For more information, go to theCarlisle Barracks homepage.
Mission
The U.S. Army Garrison provides quality infrastructure and services to support Carlisle Barracks units' mission readiness and execution while enabling the well-being of the regional military community.
Driving Directions
Carlisle Barracks is located approximately 18 miles west of Harrisburg, on US-11 and I-81. Main gate is on Ashburn Drive, 2 miles off exit 16 of I-76 (Pennsylvania Turnpike).
From Philadelphia
Take PA Turnpike (points east I76) to exit 16 South on Route 11 toward Carlisle 3 miles
Left onto post road
1st right onto Claremont Road
Left into security checkpoints
From Baltimore
Take route 70 to route North; from Washington DC
route 270 to route 15 North; Pass Gettysburg, at Dillsburg,
left turn onto route 74 NW (York Rd) into Carlisle
When in Carlisle at Y intersection make left onto 641 for one block
Right onto Spring Garden Street (at Taco Bell) for two blocks
Continue right onto N. St, over RR tracks
Turn right at "Carlisle Barracks" sign.
From PA Turnpike
Take old Exit 16
After the Toll Booth, bear to your right - follow Route 11 (South)
Turn left at the second stoplight (Sheetz / Turkey Hill) onto Harmony Hill Road
At the stop sign turn right onto Claremont Road
The turn left at the security clearance gate located on the left prior to the gate
Follow the directional signs to enter Carlisle Barracks
From Interstate 81 North
Take Exit 52 old Exit 17
Turn right onto Route 11 (South)
Follow Route 11 to the fourth red light - this is light located at the exit (only decal POV's may enter) to the Carlisle Barracks
Follow the directional signs to enter Carlisle Barracks
Airports
If you're traveling by air, Harrisburg International Airport serves the Cumberland Valley with more 120 flights daily and is just a thirty minute drive from Carlisle. For more information visit the airport's website.
From Harrisburg International Airport
Take connector road from airport north to 283 North
Take 283 North to 83 North. Follow 83 North to 81 South
Take 81 South to Exit 17. Turn right onto Route 11 South
At the fourth red light turn left into the front entrance of the Carlisle Barracks