Base History \ Arrival
---
Kings Bay Naval Submarine Base, a state-of-the-art home to the Atlantic Fleet's Trident II Submarines. Kings Bay borders the cozy historic town of St. Marys, Georgia in the southeastern corner of Coastal Georgia, just north of the Florida border. Kings Bay is approximately three miles from Georgia State Highway 40; five miles from Interstate 95; and 30 miles north of the Jacksonville, Florida Airport.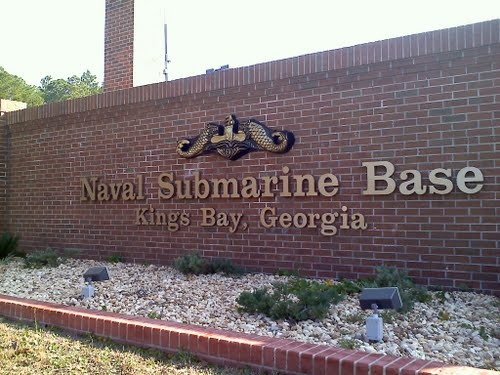 Naval Submarine Base Kings Bay is the east coast homeport for the Ohio-class fleet ballistic-missile and guided-missile submarines. It is the only naval base in the Atlantic fleet capable of supporting the Trident II (D-5) missile. The base operator's phone number is 912-573-2000.
History
Established in 1978, the base is home to Submarine Group 10, Submarine Squadrons 16 & 20, Trident Training Facility, Trident Refit Facility, Strategic Weapons Facility Atlantic, and other support-providing commands.
In addition to being an integral part of our nation's strategic deterrence program, Kings Bay has attained and sustained award-winning results unsurpassed in Navy Region Southeast or other submarine and shore commands in the U.S. Navy. In 2007, Kings Bay was named the top naval installation in the Department of Defense when it received the Commander-in-Chief's Installation Excellence Award for its ability to sustain its mission, increase productivity and enhance quality of life. The award also recognized the base's creative management, new ideas and leadership. Furthermore, Kings Bay received the Occupational Health and Safety Administration's highest safety rating in the Voluntary Protection Program and the Secretary of the Navy and Chief of Naval Operations Safety Ashore Award for the third consecutive year.
The dynamic military and civilian team continues to be active in the community. Kings Bay takes great pride in its mission and dedication to service; a base recognized for total commitment to innovation, quality of life, environmental awareness and community relations. Please visit our website or become a fan of our Facebook page.
Mission
NSB Kings Bay' mission is to provide support to the Fleet, Fighter, and Family. Naval Submarine Base Kings Bay has three major commands: Trident Training Facility (TTF), Trident Refit Facility (TRF), and Strategic Weapons Facility, Atlantic (SWFLANT). In addition, this installation is the homeport of five Ohio-Class TRIDENT submarines and two guided missile submarines, the USS Florida and the USS Georgia.
Population Served
The Kings Bay community consists of DoD personnel and their families, civilians, contractors, and visitors from NATO countries.
Base Transportation
Naval Submarine Base (SUBASE) Kings Bay Transportation Department utilizes 15-passenger vans to transport personnel to various locations on the base. A phone call to a dispatcher records your name and location requesting a pickup, and is radioed to one of the van operators.