Base History \ Arrival
---
Location
Joint Base Andrews is located in the Prince Georges County in the state of Maryland, approximately 10 miles outside the Washington, D.C.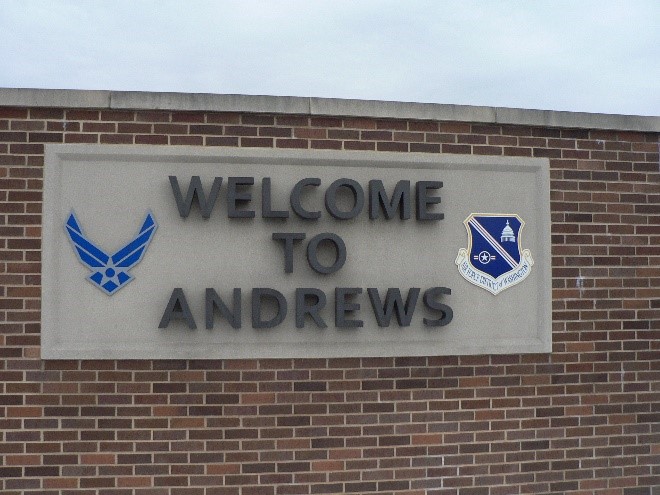 city limits and 15 miles from the state of Virginia. The base is physically located in the town of Camp Springs MD, and is bordered by three other towns (Clinton, Morningside, and Forestville). If you are not able to live in military housing at JB Andrews, urban, suburban, small town, and country housing options are all within reasonable commuting distance of JB Andrews.
History
During the Civil War, Union troops occupied a small country church near Camp Springs, MD. That church is still used on-base and is known as Chapel Two. Later, on August 25, 1941, Camp Springs Army Air Field was established and Andrews' flying history began. The base became operational May 2, 1943. The name of the base was changed to Andrews Field on March 31, 1945, in honor of Lt. Gen Frank M. Andrews, Commander of European Operations for all Army Air Forces. In July 1961, Andrews became the home of the official presidential aircraft, known as "Air Force One" when the president is on board. In 1963, Naval Air Facility (NAF) Anacostia, originally established on the Potomac River at Anacostia Naval Air Field near Bolling AFB in 1919, moved to the east side of Andrews AFB. At that time the name was changed from NAF Anacostia to NAF Washington. NAF handles Naval VIP flight operations and is home for a Marine Corps detachment that flies the FA-18 Hornet. With more than 10 AMC units, 60 tenant units the Naval Air Facility housed on the base, and Malcolm Grow Medical Clinic (3rd largest hospital in the Air Force), we're a busy community proud of our history.
Temporary Housing
Temporary Lodging Facility
Billeting Office POC
Attendant on duty, Location: Building 82 ,Telephone: COM 580-481-7356 DSN 312-866-7356 Hours: 24 Hours daily.
Availability
The Lodging Office is the 24 hour arrival point for all newly arriving military members and their families. The Red River Inn Lodge (Billeting) has 30 temporary facilities. Provided space is available, there is a maximum stay of 15 days for incoming personnel on Permanent Change of Station (PCS) status and 7 days for outgoing personnel on PCS status.
Reservations
Reservations for these quarters are made on a first come, first serve basis. Reservations can be made in advance once you are aware of your arrival or departure dates.
Temporary Living Expenses (TLE)
Temporary Living Expenses (TLE) certificates are issued by lodging if quarters are not available on base. However, personnel are required to check with our front desk prior to making arrangements with downtown motels in order to acquire a TLE certificate. We can not issue TLE's to personnel on their first or last base assignments.
Contact Information

If further information is required, please contact the Red River Inn lodge at COM 580-481-7356 DSN 312-866-7356.
Directions
Directions to JB Andrews
Location of JB Andrews
JB Andrews is in Prince George's County, Maryland, 10 miles Southeast of Washington, D.C., and accessible from the Capital (I95/495) Beltway. See specific directions on how to get to JB Andrews from various locations below:

(Due to increasing fuel costs, the fares listed may be no longer current)
Airports

To JB Andrews from Washington Metropolitan Area Airports
The Washington Metropolitan Area is serviced by three airports; Ronald Reagan National (often referred to as Washington National or just National- DCA), Dulles International (IAD), and the Baltimore-Washington International Airport (BWI). Ronald Reagan National Airport is closest to Joint Base Andrews. The Air Force cannot provide government transportation to the base from airports, bus terminals or train stations however, commercial taxi service is available. Taxi fares from Baltimore Washington International Airport to JB Andrews are approximately $50 - $65; from Reagan National, $45 - $55; and from Dulles, $60 - $75.
Newcomers traveling on a government-issued transportation request (TR) or making their own travel arrangements and being paid mileage will be reimbursed for ground transportation costs. A receipt must be provided for costs over $75. These should be included when filling out your travel voucher.

Ronald Reagan National Airport (AKA Washington National or just National)
Located in Virginia, just minutes from Washington D.C. The telephone number for the information desk is 703-419-8000. It is approximately 20-30 minutes from JB Andrews. National can be reached by METRO rail or bus, taxi, cab or car. Short and long-term parking lots are available, with shuttle service to the terminals.
Dulles International Airport
Located in Northern Virginia. The main telephone number is 703-661-2700. It is about a 60-90 minute drive. It is accessible by car, taxi or the Washington Flyer shuttle from National Airport and other METRO locations.

Baltimore-Washington International Thurgood Marshall Airport (BWI)
The telephone number is 301-261-1000. It is approximately 25 miles and a45 minute drive to BWI. BWI has ample parking with free shuttle service to the terminal. MARC train service is available between BWI and the New Carrolton train station, where a taxi can be taken to JB Andrews. BWI is also an AMC gateway and has the largest active USO facility in the continental US.
Driving Directions
Directions to JB Andrews by Car
JB Andrews is located in the Southeast corner of the Washington Capital Beltway (I95/495). The exits to JB Andrews are well marked approaching from both directions. Once on-base, you can get directions to the newcomers 24-hour arrival point, the Presidential Inn, from the security police guard at the gate. There is a 100% ID check done at all base entry points.

Traveling by Train to JB Andrews

Two Metro train stations service Joint Base Andrews. Branch Avenue station on Metro's Green Line is closest, and the other is New Carrollton on the Orange and Blue lines. The New Carrolton station is also a hub for AMTRAK, and the MARC commuter train. If traveling by commercial train, book passage on AMTRAK to the New Carrolton station, rather than Union Station in downtown Washington D.C. The New Carrolton station is a few miles north of the base, off Capital Beltway exit 19. It is more convenient for newcomers who arrange for their sponsors to meet them on arrival, and less expensive if using a taxi. For more information on train fares and routes, please visit the websites. The MARC schedule can be found here , and information on Metro can be found here.