Base History \ Arrival
---
Fort Knox encompasses 109,000 acres in three Kentucky counties, Bullitt, Hardin, and Mead Counties and is located 35 miles south from Louisville, and north of Elizabethtown. Fort Knox is a certified Kentucky city. It is the sixth largest urban community in the Commonwealth. Fort Knox is adjacent to the city of Radcliff, 15 miles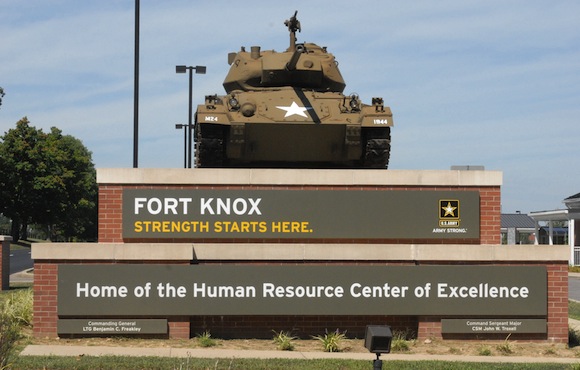 north of Elizabethtown, and approximately 35 miles south of Louisville. The surrounding communities house hundreds of military retirees and active duty families. The base operator's phone number is 502-624-1181 or DSN 312-464-1181.
History
As the Army's Human Resource Center of Excellence, Fort Knox is now positioned to continue its central role in the front ranks of military installations in the United States, recruiting, training and supporting warfighters for the challenges of the twenty-first century. The Human Resource Center of Excellence is responsible for all Soldier career management, from swearing in to departing service. Its units include Accessions Command, Human Resources Command, Army Recruiting Command and Army Cadet Command. Fort Knox is also the home of the General George Patton Museum which is open year round. The U.S. Department of Treasury's Kentucky Bullion Depository is adjacent to Fort Knox; however it is closed to visitors. Units located on Fort Knox are considered "Partners in Excellence" and include active duty Army organizations, Army Reserve, National Guard and the U.S. Marine Corps. For additional information visit theFort Knox homepage.
411 Eisenhower Avenue
Building 1477
Fort Knox, KY 40121
Phone 502-624-6291/8391
Phone (DSN) 312-464-6291/8391
Fax 502-624-6223
Fax (DSN) 312-464-6223
Directions to Fort Knox
Directions from the Airport by Car
If you are traveling by car from the Louisville International Airport, you will take I-65 South to the Gene Snyder Freeway West (KY 841) until you reach the 31W Fort Knox exit. 31W will take you to the entrance gates of Fort Knox. This is approximately a 30 minute ride.
Driving from the South
If you are driving and coming from the South, take I-65 North to Elizabethtown. You will exit on Hwy 62 Mulberry Street exit. You will turn right on to Ring Road to 31W; Dixie Hwy. Fort Knox is approximately 15 miles north. You will travel through the town of Radcliff in doing this. You will reach the first Fort Knox entrance Bullion , which is open 24-hours. The second entrance would be Brandenburg entrance to Fort Knox.

Note: There is a Seat Belt Law in Kentucky and on Fort Knox (includes passengers) and a requirement for child restraint seats for children 40 inches and under. This is strictly enforced.
Taxi Service from Airport
You will have to take a taxi from the airport (502-351-TAXI, 502-352-0619, 502-352-0163) to Fort Knox. There is no Fort Knox shuttle to and from the airport. If you have any questions about transportation to the installation while you are at the airport, go to the USO airport office and they will provide you with additional information. When you arrive you should go to Military Personnel Division In/Out Processing Building 2020, 159 Black Horse Regiment Road. Enter in the Chaffee Gate and get directions at the Welcome Center. After duty hours all Soldiers should report to the Directorate of Emergency Services (DES), Building 298 on Gold Vault Road, (502) 624-6847.