Check In \ Processing
---
One Stop Processing (In/Out)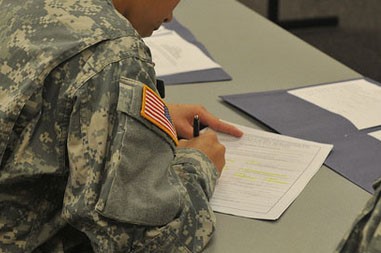 Building 2020
159 Black Horse Regiment Road
Fort Knox, KY 40121-6202
Phone 502-626-0183
Phone (DSN) 312-536-0183
Mon - Fri 7:30 a.m. - 4:30 p.m.
Sat and Sun - closed
Federal Holidays - closed
Inprocessing Procedures
IN/OUT Processing (IOPC) is located in building 2020, 159 Black Horse Regiment Road. You may sign-in in Civilian clothes, but when you come back for yorn processing appointment you must be in BDU or Class B uniform. If you have a sponsor, contact him/her and let him/her know when you are arriving. This will be especially helpful if you need transportation All Soldiers assigned to Fort Knox as permanent party report to building 2020 prior to reporting to their unit. If the Soldier is on PTDY, they should report to family Housing located in building 1383 prior to reporting to IOPC. Soldiers will report to IOPC for processing from 7:30 a.m. to 4:30 p.m. Monday, Tuesday, Wednesday and Friday and 8:30 a.m. to 4:30 p.m. on Thursday. Soldiers signing in from leave during duty hours should have their DA FM 31 (Request and Authority for Leave), and reassignment orders to include all amendments. Processing includes confirmation of assignment, publication of amendments (if applicable), updating personnel files and scheduling in-processing appointments. All personnel register for housing during their in processing. This applies to Family Housing and Transient Housing. If you plan to live off post, you may go to the CHRRS office located in building 1383 before you sign in to inquire about off post housing.
You must bring your personnel records, orders, and leave form. It is important that you hand carry your medical records, will, school records (if possible), any other pertinent documents you will need before your shipment arrives, and of course, many copies of your orders.
Housing
You will sign in to Family Housing, Single Soldier Quarters, or Transient Billeting as a part of your inprocessing. You do not have to inprocess to go to Housing; however, you do have to sign in before going there.
School Liaison Office
If you have children you must inprocess with the School Liaison Office located in the basement of Bldg 1384. This is also the Child and Youth Service Central Registration Office. For additional information you may call 502-624-6703.
TDY
If you are coming here in a TDY status, you will report directly to the unit stated on your orders. The unit will schedule you for any necessary appointments.
After Hours Arrival
ALL Soldiers arriving after duty hours are required to sign in at the Directorate of Emergency Services, DES, building 298 on Gold Vault RD phone (502) 624-6847.
Billeting for Single Soldiers
The DES will coordinate billeting with Garrison for Single Soldiers Private thru Staff Sergeant. All officers, Senior NCOs and all married Soldiers, upon signing in with the DES, will report to New Garden Inn, 406 North Knox St, building 1327. New Garden Inn can be reached at (502) 943-1000.
What to do if you Get Married Enroute?
If you get married before you PCS, you must inform your commander and follow the procedures exactly as you are given them. The military will not pay for travel and housing for your spouse if you do not follow proper procedures.