Base History \ Arrival
---
Location
Pope Army Airfield, one of the busiest bases in the military, located in the Fayetteville, North Carolina area.
The base is nestled at the northern tip of Fort Bragg, approximately 12 miles northwest of Fayetteville. It is within easy access to many historical and unique sites. For instance, to the west are the Appalachian Mountains, and to the east are the "Outer Banks" and the North Carolina National Seashore. Within the state's borders, there are many recreational areas and activities to satisfy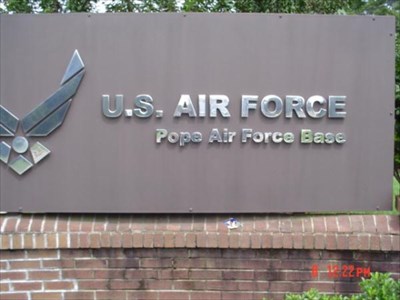 everyone's interests. The temperate climate is conducive to year-round outdoor activities.
History
Pope has played a leading role in the development of U.S. airpower, with missions ranging from providing airlift and close air support to American armed forces, to supporting humanitarian missions worldwide. On March 27, 1919, the area was officially established by the War Department as Pope Field, making it one of the oldest installations in the Air Force. The base is named after 1st Lt. Harley Halbert Pope, who was killed on Jan. 7, 1919, when the JN-4 Jenny he was flying with Sgt, Walter W. Fleming, crashed into the Cape Fear River near Fayetteville. The transfer of Pope Field to the Army's control is certainly a major event and was the result of the 2005 Base Closure and Realignment Commission. Pope will continue to put the "air" in airborne for Fort Bragg missions by providing airlift and close air support to American armed forces and to humanitarian missions flown all over the world.
Mission
The 440th Air Reserve Wing with it's C-130E Hercules aircraft continues to provide total forces mission ready combat airlifter and equipment, anywhere and anytime to the Fort Bragg community. The 440th Airlift Wing will also works side-by-side with the 43rd Airlift Group.
Population Served
Pope Army Airfield is home for approximately 2,100 active duty members and their families. Pope also has approximately 300 plus civilians, non-appropriated fund and contract personnel supporting the mission of the 43 Airlift Group. Fort Bragg's population is over 60,000 active duty troops.
Base Transportation
Fort Bragg offers the Sustainable Shuttle Bus with various stops on Fort Bragg and Pope Army Airfield. Please call 910-396-1992 or visit www.bragg.arm.mil/Directorates/logistics/ITOfor shuttle schedule or go to www.facebook.com/fortbraggshuttle for more information.
Directions to Pope Army Airfield
Pope Army Airfiled NC is located on the norther edge of the city of Fayetteville and adjacent to Fort Bragg, NC. It is approximately sixty miles south-southwest (SSW) of Raleigh and one hundred miles east of Charlotte.
Arriving by Plane, Bus, Train or Commercial Transportation
If you are arriving by airplane, bus train or any commercial transportation, there will be an information sign posted in the terminals. If you arrive at the Fayetteville Airport late at night, there is generally a taxi available for a $20 fee to Pope. Keep your receipt if you use a taxi. The best idea is to inform your sponsor or unit orderly room to have someone to pick you up at the airport.
Driving to Pope Army Airfield
If you are driving, the roads are well marked with directions to Fort Bragg and Pope AFB:
I-95 Going North- Take the business loop and turn onto Owen Drive. This will turn into an expressway known as the All American Freeway. Take the Reilly Rd/Pope Army Airfield exit and follow Reilly Road until you see The Carolina Inn on the right side of the road. You will go through a gate but it is no longer manned.
I-95 Going South - Take the I-95 business loop/301 exit and turn right on to Grove Street. Grove will turn into Rowan Street. Continue on Rowan until you come to Bragg Blvd. Take a right on Bragg Blvd continuing until you reach Butner Drive. Turn left and continue on Butner until you reach Reilly Road. Turn right on Reilly Road and Follow Reilly Road until you see the Carolina Inn on the right. Turn right and check in.
Hwys 24, 87, 210. Continue on 24 to the south edge of Spring Lake. Turn right on Manchester Road, following the road signs until you reach the Manchester gate. Ask the Security Policeman for directions to the Base Billeting Office.