Base History \ Arrival
---
Fort Wainwright
History
It was first established in 1939 as United States Air Force base Ladd Field, a cold weather station to test aircraft under arctic conditions. In 1961 it was transferred to the Army and redesignated Fort Wainwright in honor of World War II general Jonathan M. Wainwright. From 1963 to 1972 it was home to the 171st Infantry Brigade, mechanized until 1969, then light. During that time, the 172nd Infantry Brigade was at Fort Richardson, in Anchorage. From 1986 to 1994 Fort Wainwright was the home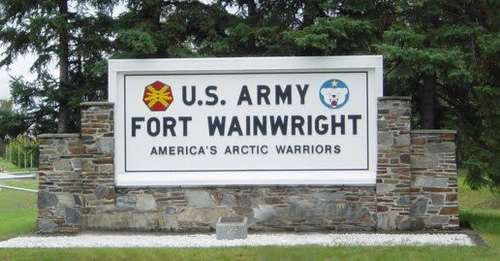 of the 6th Infantry Division (Light), including serving as the division's headquarters from 1990 to 1994 . From 1998 to 2006, it was home to the 172nd Infantry Brigade, which was reorganized in 2003 as the 172nd Stryker Brigade Combat Team (SBCT), part of the U.S. Army's transition program to include six SBCTs. In 2006, the 172nd was re-flagged as the 1st brigade of the 25th Infantry Division. In 2006, 4/123 Aviation Battalion was deactivated and reflagged as the Task Force 49 Aviation Brigade. In 2009, Task Force 49th Aviation Brigade was reflagged as the 16th Combat Aviation Brigade. The 16th CAB provides logistical air support for U.S. Army Alaska. Fort Wainwright is also home to Bassett Army Community Hospital (BACH), 9th Army Band, 65th Explosive Ordnance Disposal (65EOD), 507th Signal Company (Network Enterprise Center-FWA), and the Northern Warfare Training Center (NWTC).
Location
Fort Wainwright is located adjacent to Fairbanks in the interior of Alaska. Fairbanks, Alaska is ranked in the top 100 growing cities in the United States. Fort Wainwright is located in the North Star Borough. A borough in Alaska is equivalent to a county in the lower 48 states. Fairbanks, the second largest city in Alaska, is located 365 miles north of Anchorage, Alaska. You'll find that the cost of housing and other living expenses in the Fairbanks area is higher than in the lower 48 states. The weather in Fairbanks has the largest swing in the world. It can reach up to 90 degrees in the summer and possibly as cold as minus 65 degrees in the winter. Soldiers and their families assigned to Fort Wainwright will be able to enjoy breathtaking scenery abundant hunting, fishing and camping, regal mountains, diverse wildlife and the friendly independent people who will be their neighbors.
Population:
7,358 soldiers
8,858 command sponsored dependents
1,435 civil service employees
722 non-appropriated employees
Base Operator
The base operator's phone number is 907-353-1110 or DSN 317-353-1110.