Base History \ Arrival
---
Marine Corps Logistics Base Albany
History
On March 1, 1952, the Marine Corps Logistics Base (MCLB), Albany was commissioned as the Marine Corps Depot of Supplies. By 1954 the station was sufficiently complete with warehouses and administration buildings to assume supply support for Marines east of the Rocky Mountains and in the Atlantic area. In 1967 the Center became a Storage Activity and Depot Maintenance Activity. On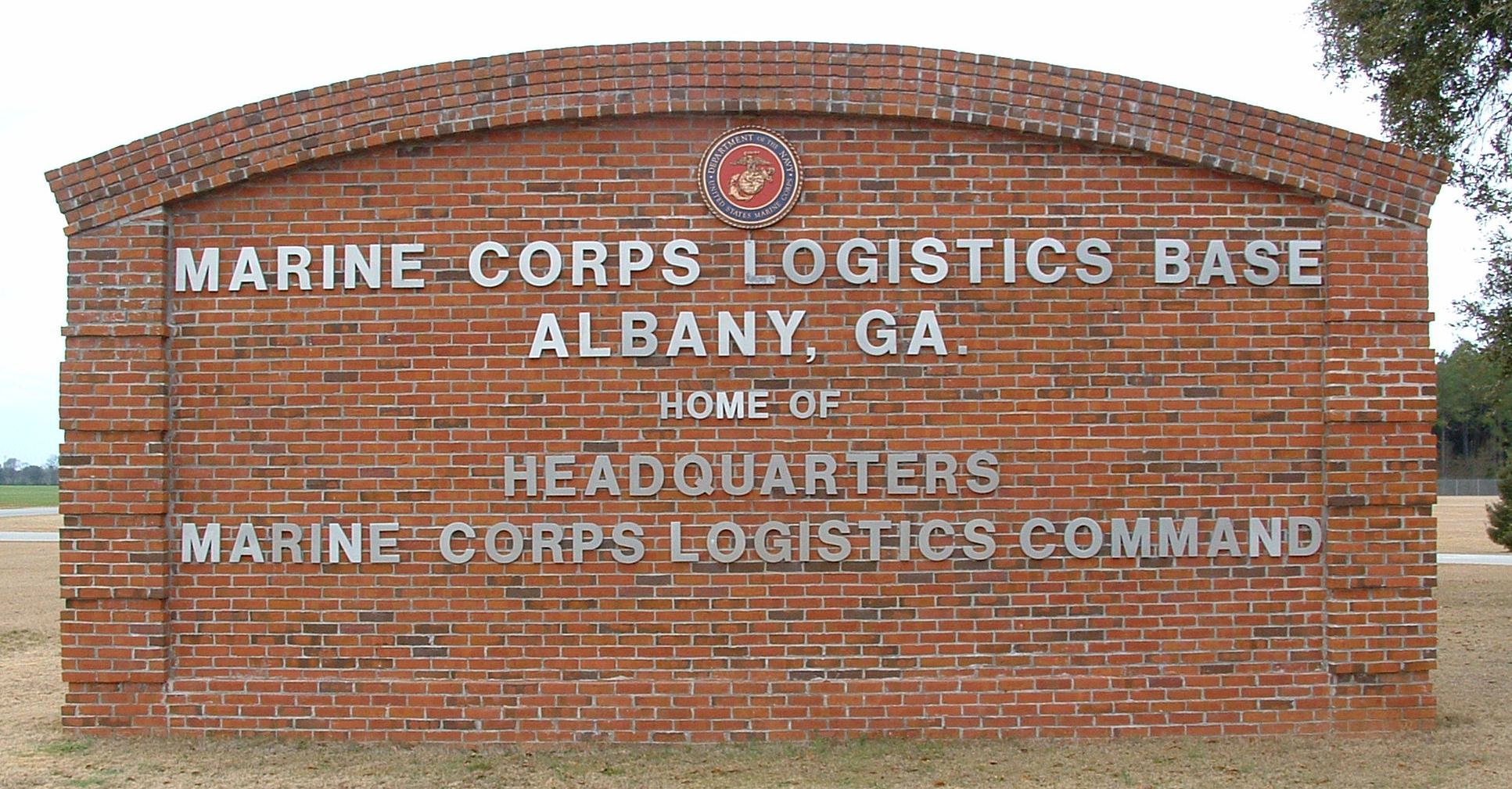 January 17, 1990, the Commandant of the Marine Corps designated the Commanding General, Marine Corps Logistics Base, Albany to also be Commander, Marine Corps Logistics Bases. The reorganization placed control of Marine Corps Logistics Base, Barstow, California; Blount Island Command, Jacksonville, Florida, as well as Marine Corps Logistics Base, Albany under this single command. In response to emerging changes, the Commandant approved the merger of the Marine Corps Material Command and the Marine Corps Logistics Bases to form a single command the Marine Corps Logistics Command creating MarCorLogCom on May 8, 2003. In conjunction with this realignment, the Marine Corps Systems Command was realigned as a separate field command under Headquarters, U.S. Marine Corps.
Location
The Marine Corp Logistic Base is located in the southwest section of the state known as Plantation Trace in Albany, Georgia. Albany is approximately 3 hours south of Atlanta, 1.5 hours north of Tallahassee, FL. and 2 hours east of Montgomery, Alabama. Macon, Columbus, and Valdosta are each approximately 1 hour away. You'll find that the cost of housing and other living expenses in the Albany area is low/moderate. It is not a military town, but has a large military Retiree population in the surrounding communities. The weather is mild, the golf is great, and Southern hospitality is alive and well.
Base Operator
The base operator's phone number is 229-639-5000.
Mission
The mission of MCLB Albany is to provide worldwide, integrated logistics/supply chain and distribution management; depot level maintenance management; and strategic pre-positioning capability in support of the operating forces to maximize their readiness and sustainability and to support enterprise and program level total life cycle management (TLCM).
Population Served
Average Daily Population
| | |
| --- | --- |
| Military | 370 |
| Civilian | 2,785 |
| On-Post Family Members | 302 |
| Off-Post Family Members | 2,295 |
| Civilian Family Members | 4,638 |
| Retired Military | 7,448 |
| Retiree Family Members | 7,225 |
| TOTAL | 22,295 |
Base Transportation
For Base Taxi Service, Call GME at 229-639-5606.