Base History \ Arrival
---
Fort Meade
Located midway between the cities of Baltimore, Washington DC, and Annapolis, Fort Meade is home to approximately 9,350 military personnel as well as 31,669 civilian employees. Approximately 5,959 family members reside on post. The installation lies four miles east of Interstate 95 and one-half mile east of the Baltimore-Washington Parkway, between Maryland State Routes 175 and 198. Fort Meade is situated within the communities of Odenton, Laurel, Severn and Columbia.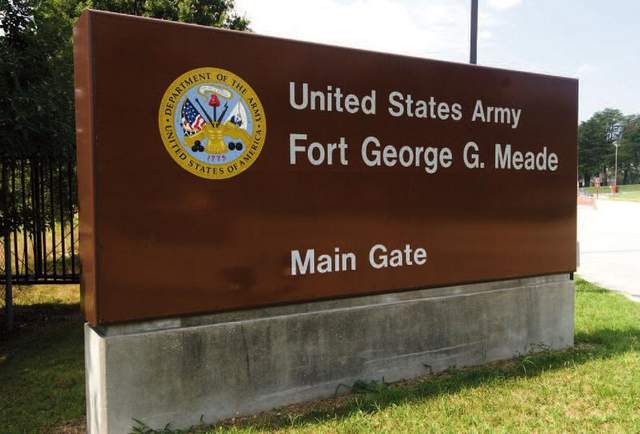 HISTORY:

Fort George G. Meade became an Army installation in 1917. Authorized by an Act of Congress in May 1917, it was one of 16 cantonments built for troops drafted for the war with the Central Powers in Europe.

The present Maryland site was selected on June 23, 1917. Actual construction began in July. The first contingent of troops arrived here that September.

The post was originally named Camp Meade for Major General George Gordon Meade, whose defensive strategy at the Battle of Gettysburg proved a major factor in turning the tide of the Civil War in favor of the North.

During World War I, more than 100,000 men passed through Fort Meade, a training site for three infantry divisions, three training battalions and one depot brigade.

In 1928, when the post was renamed Fort Leonard Wood, Pennsylvanians registered such a large protest that the installation was permanently named Fort George G. Meade on March 5, 1929. This action was largely the result of a rider attached to the Regular Army Appropriation Act by a member of the House of Representatives from the Keystone State.

Fort Meade became a training center during World War II. Its ranges and other facilities were used by more than 200 units and approximately 3,500,000 men between 1942 and 1946.

The wartime peak-military personnel figure at Fort Meade was reached in March 1945 - 70,000.

With the conclusion of World War II, Fort Meade reverted to routine peacetime activities, but later returned to build-up status. Many crises, including Korea, West Berlin and Cuba, along with Vietnam-related problems, were to come.

One key post-World War II event at Fort Meade was the transfer of the Second U.S. Army Headquarters from Baltimore, on June 15, 1947. This transfer brought an acceleration of post activity because Second Army Headquarters exercised command over Army units throughout a then seven-state area.

A second important development occurred on January 1, 1966, when the Second U.S. Army merged with the First U.S. Army. The consolidated headquarters moved from Fort Jay, N.Y. to Fort Meade to administer activities of Army installations in a 15-state area.

In August 1990, Fort Meade began processing Army Reserve and National Guard units from several states for the presidential call-up in support of Operation Desert Shield. In addition to processing Reserve and National Guard units, Fort Meade sent two active duty units - the 85th Medical Battalion and the 519th Military Police Battalion - to Saudi Arabia. In all, approximately 2,700 personnel from 42 units deployed from Fort Meade during Operation Desert Shield/Desert Storm. Fort Meade personnel are currently serving in Operation Iraq Freedom.

MISSION:

A federal campus providing world class service, Fort Meade is a part of the Northeast Region Installation Management Activity (NERO) with the mission of providing support, in all forms, to all military-affiliated personnel assigned to Fort Meade or located in the Baltimore-Washington corridor, including National Security Agency and the Defense Information School.
Population: Every day over 100,000 people seek the services Fort Meade has to offer.
10,000 military personnel
40,000 civilian employees
8,100 family members
150,000 military retirees in the area
Over 6,000 Family members reside on Fort Meade


Base Operator: 301-677-6261 or DSN 312-622-6261