Base History \ Arrival
---
Point Loma Naval Base is one of the oldest communities in San Diego, and certainly one of the finest. Surrounded by the ocean on one side and beautiful San Diego Bay on the other, Point Loma's prestigious neighborhoods boast incredible skyline and water views. San Diego, an all Navy town, has a higher cost of living than most cities in America but it is also known as "America's Finest City." The base operator's phone number is 619-553-1011 or DSN 312-553-1011.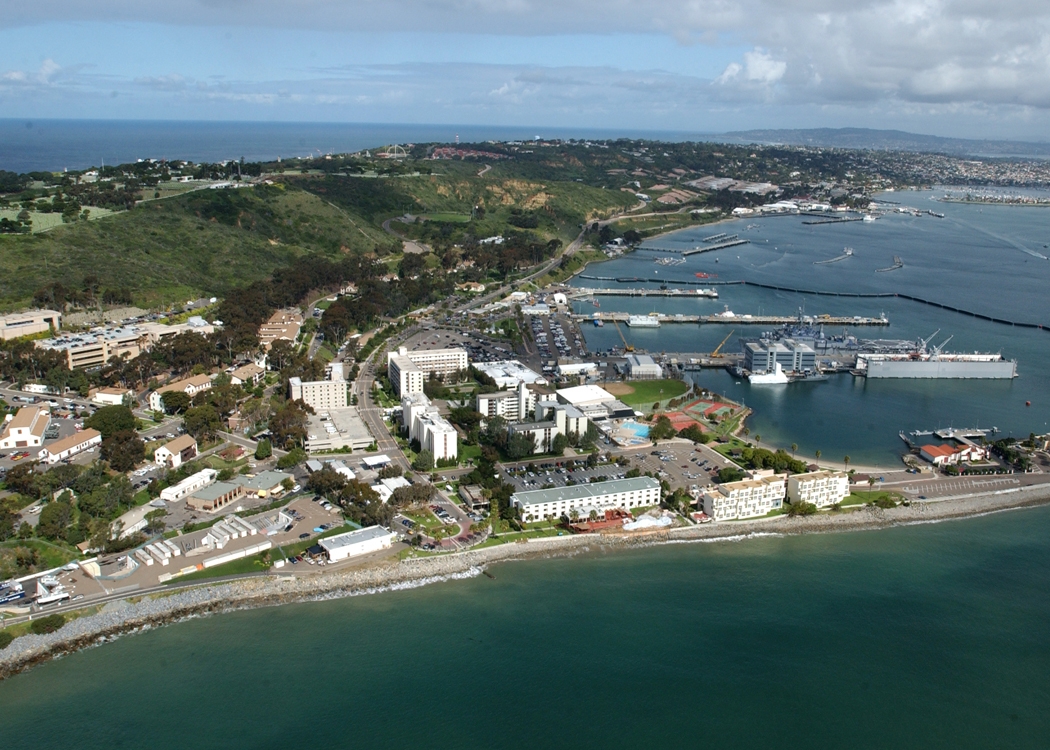 History
The history of Point Loma began thousands of years ago when prehistoric peoples and Native Americans inhabited the area. Archaeological sites have been dated to as far back as 7000 years. In 1959, Fort Rosecrans was turned over to the U.S. Navy and the Navy Submarine Support Facility was established in November 1963, on 280 acres of the land. In 1974, the base was re-designated as a shore command, serving Submarine Group Five, Submarine Squadron Three, Submarine Development Group One, the Submarine Training Facility and later, Submarine Squadron Eleven. In 1981, the base was designated as Naval Submarine Base. Starting in 1995, several commands were decommissioned or their homeports were changed to meet the down-sizing requirements of the Navy. Commands throughout San Diego were regionalized in an effort to provide equal or better base services while managing a reduced budget. The six naval installations on Point Loma were consolidated as Naval Base Point Loma on October 1, 1998. For more information, please visit our homepage.
Mission
Our mission is to provide direct day-to-day operation of base support functions and to ensure that the base best serves the Fleet and tenant commands. Naval Base Point Loma is a regional team dedicated to providing the highest level of base operating support and quality of life services for all operating forces and shore activities on Naval Base Point Loma.
Population Served
Point Loma is broken up in to several installations. NBPL is homeport to five submarines, a floating dry dock (ARCO), and the Navy's Substance Abuse Rehabilitation Department (SARD). Other installations are COMTHIRDFLT, Space and Naval Warfare Systems Command (SPAWAR), SPAWAR Systems Center, Fleet NMASW Training Center, Fleet Intelligence Training Center Pacific, and Fleet Combat Training Center Pacific. Point Loma's population consists of DoD personnel, Military Families, and Civilians.
Base Transportation
Currently, there is no base transportation on this installation. There is a Transportation Incentive Program (TIP) which issues vouchers so that transportation to and from work is free for active duty personnel. Please visit the Transportation and Incentive program websiteto fill out an application and return it to the Naval Base Coronado POC. Please contact the Installation Coordinator at 619-532-4921 for current information or to apply please visitwebsite.
Sponsorship
You may request a sponsor in several different ways. We cannot stress enough the importance of having a Sponsor in Point Loma to assist in your PCS move. Your Sponsor is your link to information regarding your specific needs in the Point Loma area. You may contact your new command to request a sponsor (see Major Unit Listings). Once your sponsor is assigned, be sure to ask about your command's specific check-in policy. This is especially important if you will be checking in while your command is underway. Don't forget to ask your sponsor about options for forwarding your mail while in route, or ask your local Post Office about holding and forwarding your mail.
Directions to Naval Base Point Loma
Airport
Typically, you will fly into the San Diego International Airport / Lindbergh Field (SAN). Located at 3225 North Harbor Drive, the airport is conveniently located three miles northwest of downtown San Diego and approximately 4 miles from Naval Base Point Loma (NBPL).
From San Diego International Airport (Lindberg Field)
Take the Point Loma exit. At the stoplight turn right onto North Harbor Drive. Follow North Harbor Drive to Rosecrans. Turn left on Rosecrans and follow to the main gate.
Shuttle Service/USO
The United Services Organization (USO) office is located in Terminal 1 (by Alaska Airlines). Visit the USO Office in Terminal of the airport for availability of discounted shuttles and San Diego information. The USO is staffed 7 days/week 6:00 a.m. - 12:00 a.m. Contact the USO prior to arrival for information on discounted shuttles, advanced reservations may be required. NBPL does not sponsor a shuttle from the airport to the base, but, check with your command to see if a duty driver or your Command Sponsor can provide transportation.
Taxi Service
Taxi rates from the airport to the base vary. It is important that you negotiate the rate for the total cost before you get into the taxi.
Local Bus or Trolley
The Metro Transit System (MTS) travels to and from the airport and downtown San Diego, which can connect you to the trolley, train, and other bus stops. For public transportation and ground transportation, visit the Volunteer Airport Ambassadors at the Information Desks located in the baggage claim area of Terminals 1 and 2.
If you choose, visit the San Diego commuter website to plan which methods of public transportation you will use from the airport to your destination.
Bus routes, fare and schedule information may be obtained by calling 619-233-3004. The San Diego Trolley also serves the San Diego region and is an excellent form of transportation for day-to-day travel to the base. Review the transportation section for more information.
Driving Directions
From I-5 South or I-8 West
Exit on Rosecrans Street. Stay on Rosecrans to the Naval Base Point Loma (NBPL) Main Gate (Post 6).
From I-5 North
Exit onto Pacific Hwy and proceed to the Barnett Street Exit. Go straight on Barnett, which turns to the right and becomes Lytton Street. Stay on Lytton to the first traffic light - Rosecrans Street. Turn left onto Rosecrans Street. Stay on Rosecrans to the Main Gate (Post 6).
Entering the Main Gate
All visitors are required to enter the base via the Main Gate. The following basic rules apply: proceed directly to the Main Gate (Post 6) and be prepared to stop, provide a U.S. Department of Defense identification card, and state your business (i.e. "reporting for duty"). Base security can assist you toward your destination or simply ask for the nearest base directory. Visit the nearest NRSW Fleet and Family Support Center (FFSC) to obtain a base map.