Base History \ Arrival
---
Creech AFB is located about 50 miles northwest of Nellis AFB and takes an hour to commute from Nellis to Creech. Nellis AFB provides daily round-trip shuttle bus service between bases for dorm residents. A park-and-ride facility is located on U.S. 95 in northwest Las Vegas for car pool use and many personnel participate in a mass transit benefit program (vanpool) available at Creech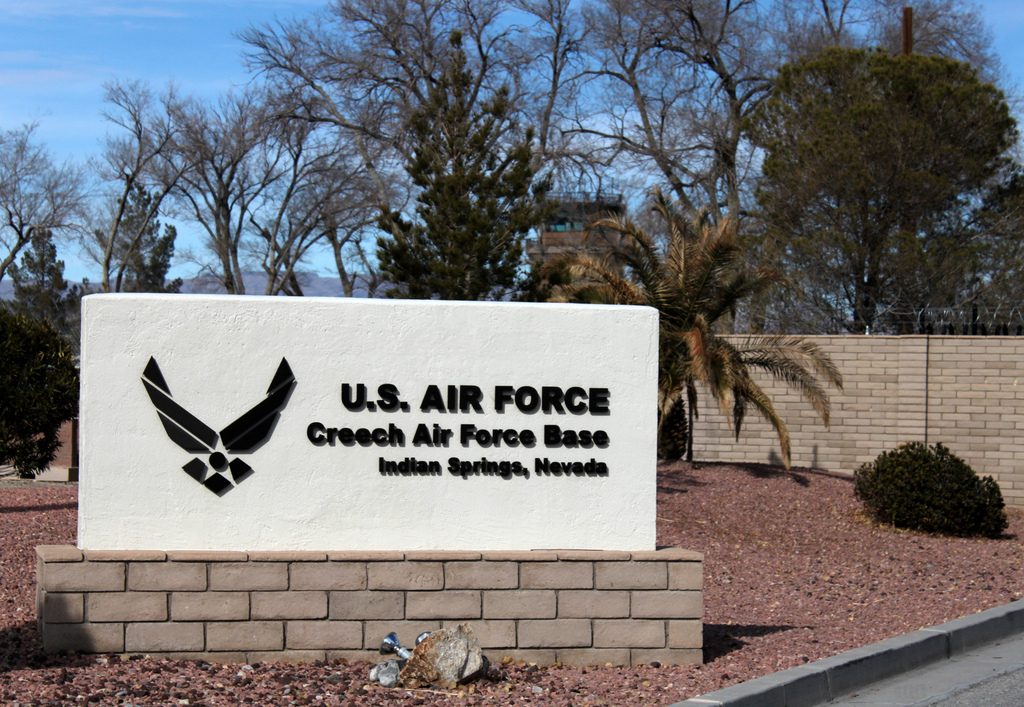 AFB. The local area has an annual humidity of 27 percent. Summer temperatures average from the mid-80s to mid-90s and nights are pleasantly cool. Winter temperatures average from the mid-30s to upper 50s. High velocity wind storms and accompanying dust storms occur occasionally.
History
On June 20, 2005, Indian Springs Air Force Auxiliary Field officially changed its name to Creech Air Force Base in honor of Gen. Wilbur L. "Bill" Creech. As the commander of Tactical Air Command from 1978 to 1984, General Creech shaped the Air Force of today with a call for new weapons and tactics. He revolutionized the Air Force by espousing a philosophy of decentralized a uthority and responsibility. He was also known as the "father of the Thunderbirds," the Air Force's premiere air demonstration squadron.
The airfield that now bears General Creech's name was originally built by the Army in the early 1940s to support the war effort during World War II. A month after the December 7, 1941, attack on Pearl Harbor, the Army began building a training camp near the community of Indian Springs, Nev. By the end of 1942, the service had contracted for regular facilities and by the end of February 1943 the base was being used as a divert field and base for air-to-air gunnery training. The little post was in service supporting B-17s and T-6s until March 1945 when the Army put the base in stand-by statu
s maintained by a small housekeeping staff. When Las Vegas Army Air Field inactivated in January 1947, Indian Springs also closed down. The base re-opened in January 1948 and two years later received its first permanently assigned Air Force unit. In August 1951, the base became an auxiliary field and in July 1952 transferred from Air Training Command to the Air Research and Development Command, reporting to the Air Force Special Weapons Center in Albuquerque, N.M.
The base transferred to the Tactical Air Command in 1961. It officially became Indian Springs Air Force Auxiliary Field during the 1980s. Following the inactivation of Tactical Air Command in 1992, the base became a component of Air Combat Command. On May 1, 2007 the 432nd Wing stood up and is now home to the MQ-1 Predator and MQ-9 Reaper unmanned aircraft systems. Along with being home to the 432nd Wing "Hunters," Creech AFB is also home to the Joint Unmanned Aircraft Systems Center of Excellence, 99th Ground Combat Training Squadron, and 98th Southern Ranges Support Squadron. The 432nd Wing was also designated an Air Expeditionary Wing in May 2008.
Mission
432nd Wing consists of combat-ready Airmen who fly the MQ-1 Predator and MQ-9 Reaper aircraft to support American and Coalition warfighters. The unmanned aircraft systems provide real-time reconnaissance, surveillance, and precision attack against fixed and time-critical targets. The Hunters conduct unmanned aircraft system initial qualification training for aircrew, intelligence, weather, and maintenance personnel.
Population Served
Creech AFB has approximately 3,500 personnel comprised of active-duty, Guard and Reserve Airmen as well as Department of Defense civilians and contractors assigned to Creech AFB. The 432d AEW has command and control over one active duty unit and more than 250 Air National Guard personnel flying the MQ-1 Predator that are a part of units in California, North Dakota, Texas and Arizona.
Base Transportation
Transportation is available for permanent party personnel for official use. For more information and policies contact Vehicle Dispatch at 702-652-8305 or DSN 312-682-8305.
Sponsorship
Air Force Permanent Party personnel should contact your unit for a sponsor. If you did not receive a sponsor, contact the Creech AFB Airman and Family Readiness Center for assistance at 702-404-0864/0285 and DSN 312-384-0864/0285.
Department of Defense civilians should contact your selecting official or personnel office for a sponsor. If you did not receive a sponsor, contact the Creech AFB Airman and Family Readiness Center for assistance at 702-404-0864/65 and DSN 312-384-0864/65 or visit theAFPC PCS webpage.
Until you get a permanent address your mail may be forwarded to: Last Name, First Name, MI, 3500 Postal Service Center, Nellis AFB, NV 89191. Upon arrival, pick up mail at the Nellis Postal Service Center co-located with the U.S. Post Office in Bldg. 320. To confirm your mail arrangement with the Nellis Postal Service Center, contact them at 702-652-2112 or DSN 312-682-2112.