Base History \ Arrival
---
Elmendorf AFB (Joint Base Elmendorf-Richardson)
History
The military's long and important history in the Great Land began at the very moment Alaska became American soil, Oct. 18, 1867. Elements of the Army's 9th Infantry were on hand as the Russian Golden Eagle was lowered and the Stars and Stripes was raised in Sitka, which became headquarters for the U.S. Military District, Alaska. The military has had a presence, even if very small at times, ever since. Fort Richardson, named for Wilds P. Richardson, was built in 1940-1941 near Anchorage. Construction of the base began on June 8, 1940. The first Army Air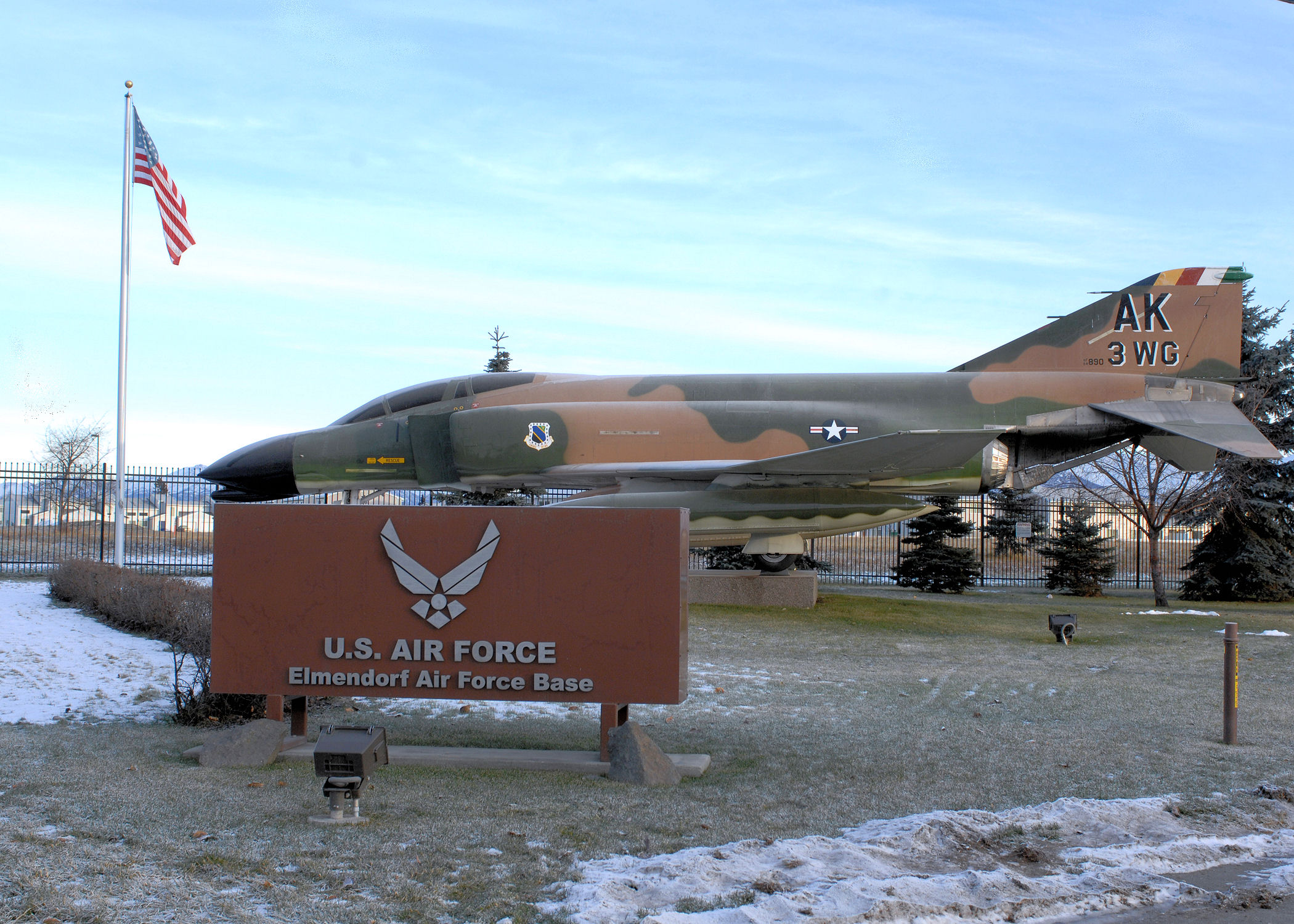 Corps personnel arrived on Aug. 12, 1940, led by Maj. Everett S. Davis. On Nov. 12, 1940, the War Department formally designated the installation Fort Richardson. The air facilities and flying field on the post were named Elmendorf Field in honor of Capt. Hugh M. Elmendorf. In 1947 the Army planned to move its operations to a new site named Fort Richardson, adjacent to the WWII installation. The Air Force assumed control of the original Fort Richardson and re-named it Elmendorf Air Force Base. The two installations combined in October 2010 and became Joint Base Elmendorf-Richardson.
Location
Joint Base Elmendorf-Richardson (JBER) is located in Southcentral, Alaska, amid picturesque, majestic, snow-capped mountains, lakes, rivers and glaciers. The area abounds with wildlife. Many northern tier states such as Montana, Minnesota, Wisconsin and Michigan have shorter but much colder winters than south central Alaska. JBER is 2,090 miles north of Seattle, Washington, and 300 miles south of Fairbanks, Alaska. The Anchorage community has a military presence of over 42,000 people and accounts for more than 10 percent of the population and is very military friendly! Come prepared to be awed by this beautiful base, and state. There's nowhere else like Alaska!
JBER and the adjacent area, is considered a high cost area. The national average is 100 and Anchorage is at 117. The base operator's phone number is 907-384-1110 or DSN 317-384-1110.
Base Operator
The base operator's phone number is 907-384-1110, DSN 317-384-1110.
Mission
The mission at Joint Base Elmendorf-Richardson is to support and defend U.S. interests in the Pacific and around the world by providing units capable of worldwide air power projection and to meet Pacific Command's theater staging and throughput requirements.
JBER also provides early entry battle command capability and acts as the Joint Force Land Component Commander for homeland defense and civil support in Alaska. It is prepared to deploy rapidly in the Pacific theater and elsewhere in support of contingency operations, Pacific Command objectives and U.S. national interests.
Population Served
Active Duty Population
| | |
| --- | --- |
| Joint Base-Elmendorf | 8059 |
| Joint Base-Richardson | 8083 |
Combined Populations for Joint Base-Elmendorf and Joint Base-Richardson
| | |
| --- | --- |
| Family Members (not service specific) | 28,000 |
| Civilians (not service specific) | 3040 |
| Retirees (not service specific) | 6136 |
Base Transportation
There is limited on post transportation offered by the Armed Services YMCA. To schedule a ride, call 907-384-3733. Operating hours are 0700-2000, Monday through Friday, and the cost is $1.00. There are also taxi services available by calling an off post taxi company, 907-222-2222.
Sponsorship
You should always have a sponsor before arriving at your new duty station.
If you are on assignment with the U.S. Air Force and have not been contacted by your sponsor, please call Base INTRO at 907-552-8722 for assistance. Upon arrival to the base, you must in-process no later than the next duty day at 0800. Base INTRO is located in the People Center, Bldg 8517 20th Street, Rm 118. They are open Monday - Friday.
Forwarding Mail
Dorm residents will receive mail at the dorms. Your sponsor may open a dorm mail box for you by providing a copy of your PCS orders and/or pertinent information (name, rank, unit, and reporting date) to the dorm manager. After you arrive on base and are residing in the dorm you need to contact your dorm manager to get your box combination. The General Delivery Address may be used if advanced dorm/box assignment cannot be arranged, Name, 8111 Craw Ave. Unit 3000, JBER, AK 99506-3510.
Non-dorm members can forward their mail to the following address:
Member's Name, General Delivery, 8111 Craw Ave., JBER, AK 99506
The North Star Inn lodging facility will not accept mail for its guests.
If you are on assignment with the U.S. Army and have not been contacted by your sponsor, please call 907-384-9341, DSN 317-384-9341. If you are not being met by your sponsor, report to the Welcome Center, Bldg. 600, In/Out Processing, Room 103. If arriving after 1600 hours or weekends, report to the Replacement Center, Bldg 649.
You may forward your mail to: "Your Name, General Delivery/HOLD MAIL)", 724 Quartermaster Road, JBER, AK 99505. They will hold your mail for 30 days. For more information, call the Mail & Distribution office at 907-384-0307.