Base History \ Arrival
---
Davis-Monthan Air Force Base is located in Tucson, Arizona (Pima County). The area has a large population of military and retired personnel. The aerospace industry is present as well as those associated with flight (e.g. Pima Air and Space Museum and Evergreen Air Center). Davis-Monthan AFB is located in an average cost of living area for the state of Arizona. The mountains and desert scenery juxtapose to provide a beautiful backdrop for this dynamic base. The base operators can be reached at 520-228-1110 or DSN 312-228-1110.
History
Davis-Monthan was activated in 1924. Charles Lindbergh officially conducted the base opening ceremonies. The base was named for two local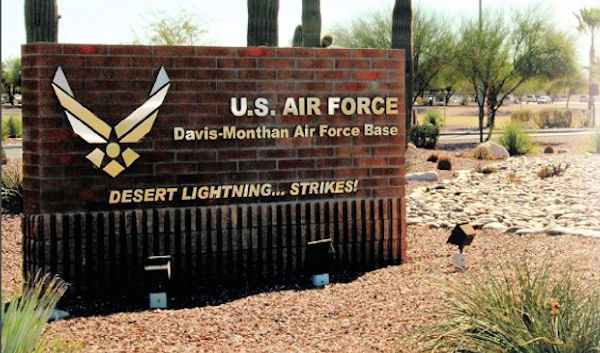 early aviators, who died in separate flight accidents: 1st Lt Samuel H. Davis, killed December 22, 1921, and 2nd Lt Oscar Monthan, killed March 27, 1924. For more history visit Davis Monthan's homepage.
Mission
The 355th Fighter Wing falls under the 12th Air Force, headquartered at Davis-Monthan Air Force Base, Arizona and Air Combat Command, headquartered at Langley Air Force Base, Virginia.
The wing's mission is to deploy, employ and sustain expeditionary combat and combat support forces while enabling critical JFACC and HLS operations.
Population Served
Davis-Monthan Air Force Base is surrounded by a very supportive and friendly community of retirees and supporters of airpower. As a host to the 12 AF, we have active duty members of all ranks, from General down to Airman. We also have a large and active corps of civil service employees who diligently support the active duty members on the base through their day-to-day efforts.
Joint service events are becoming more popular with Navy, Marine Corps and Army detachments nearby. The Air Force ROTC unit from the University of Arizona is attached to Davis-Monthan.
Base Transportation
Please note, all vehicles are stopped at all DMAFB gates and 100 percent identification checks are in progress at all times. Please stop at the visitors' center at the Craycroft gate if you do not already have access to the base to prevent adding to the congested front gate area.
Sponsorship
Davis-Monthan has a very active sponsorship program. The 355th Fighter Wing commander directs that every member inbound to Davis-Monthan has a sponsor, and that the sponsor is a supervisor level member. This ensures adequate and accurate information to the joining member. All of our sponsor personnel are required to obtain sponsorship training. Please feel free to contact the Airman & Family Readiness Center if you have any sponsorship questions – i.e. about training, have not received a sponsor, etc.
The unit should contact you with your sponsor's information as soon as they learn you are coming. If you have not received your sponsor's information contact the Relocation Manager at the Airman and Family Readiness Center , 520-228-5690 or DSN 312-228-5690. We highly recommend having a sponsor so that you can learn as much about the base and your unit as possible before arriving.
All personnel should report to the 24-hour arrival point at the Inn on Davis-Monthan, billeting, before going to their unit orderly room, as soon as the duty day allows. The Inn on Davis Monthan, 3375 S. 10th Street, can be contacted at 520-748-1500. There you can make arrangements for leave, housing, etc. with your unit's assistance. Forward all mail to: General Delivery, PSC Box 80001, Tuscon, AZ 85707-0001.
Directions
Airports
Directions from Tucson International Airport
From the airport, head North on Tucson Boulevard, make a right turn on Valencia Road headed East. Make a left turn on Alvernon Way headed North. Alvernon Way will merge with Golf Links. Continue on Golf Links until you come to Craycroft Road. Make a right turn on Craycroft Road headed South. You will approach Davis-Monthan AFB main gate and visitor center.
The Tucson International Airport is located approximately 10 miles from the center of town. Transportation options include rental cars, shared ride vans, taxis, and the city bus. All departing shuttles, vans, buses, and taxis are located on the commercial roadway on the lower level in front of the terminal.
Rental Cars
Seven rental car agencies are located at TIA.

| | | |
| --- | --- | --- |
| Rental Cars | Reservations | Local |
| | 1-800-327-9633 | 520-573-4740 |
| | 1-800-331-1212 | 520-294-1494 |
| | 1-800-527-0700 | 520-573-8475 |
| | 1-800-800-4000 | 520-573-4733 |
| | 1-800-736-8222 | 520-573-5250 |
| | 1-800-654-3131 | 520-573-5201 |
| | 1-800-227-7368 | 520-573-8050 |
| | 1-800-847-4389 | 520-807-2467 |
Shared-Ride Van Service
Arizona Stagecoach operates shared-ride van service for each arriving flight. Service includes transportation to hotels, resorts, the University of Arizona, and business or residence locations.
Rates to residences, contracted hotels and businesses range from $12 to $54 per person depending on location. Group and family rates are available. The reservation desk is located in the center corridor of the baggage claim level. Price includes two bags per person in luggage area - $10.00 charge for every large bag after the two per person allotment is reached. The maximum extra luggage charge is $30.00.
Bus Service
Sun Tran, Tucson's public bus system, provides service to/from TIA every hour. Check with the Airport Information Centers or call 520-792-9222 for schedules.
Services for Disabled
Please call the specific ground transportation company ahead of time to assure that properly equipped vehicles are available.
Driving Directions
Directions from I-10 East or West
Exit 265 onto Alvernon Way headed North. West bound I-10 leads you right to it. East bound I-10 you must turn left under I-10. Alvernon Way will merge with Golf Links. Continue on Golf Links until you come to Craycroft Road. Make a right turn on Craycroft Road headed South. You will approach Davis-Monthan AFB main gate and visitor center.