Base History \ Arrival
---
Location
Fort Belvoir is located in Fairfax County in Northern Virginia approximately 20 miles South of Washington, D.C. The base operator's phone number is 703-545-6700.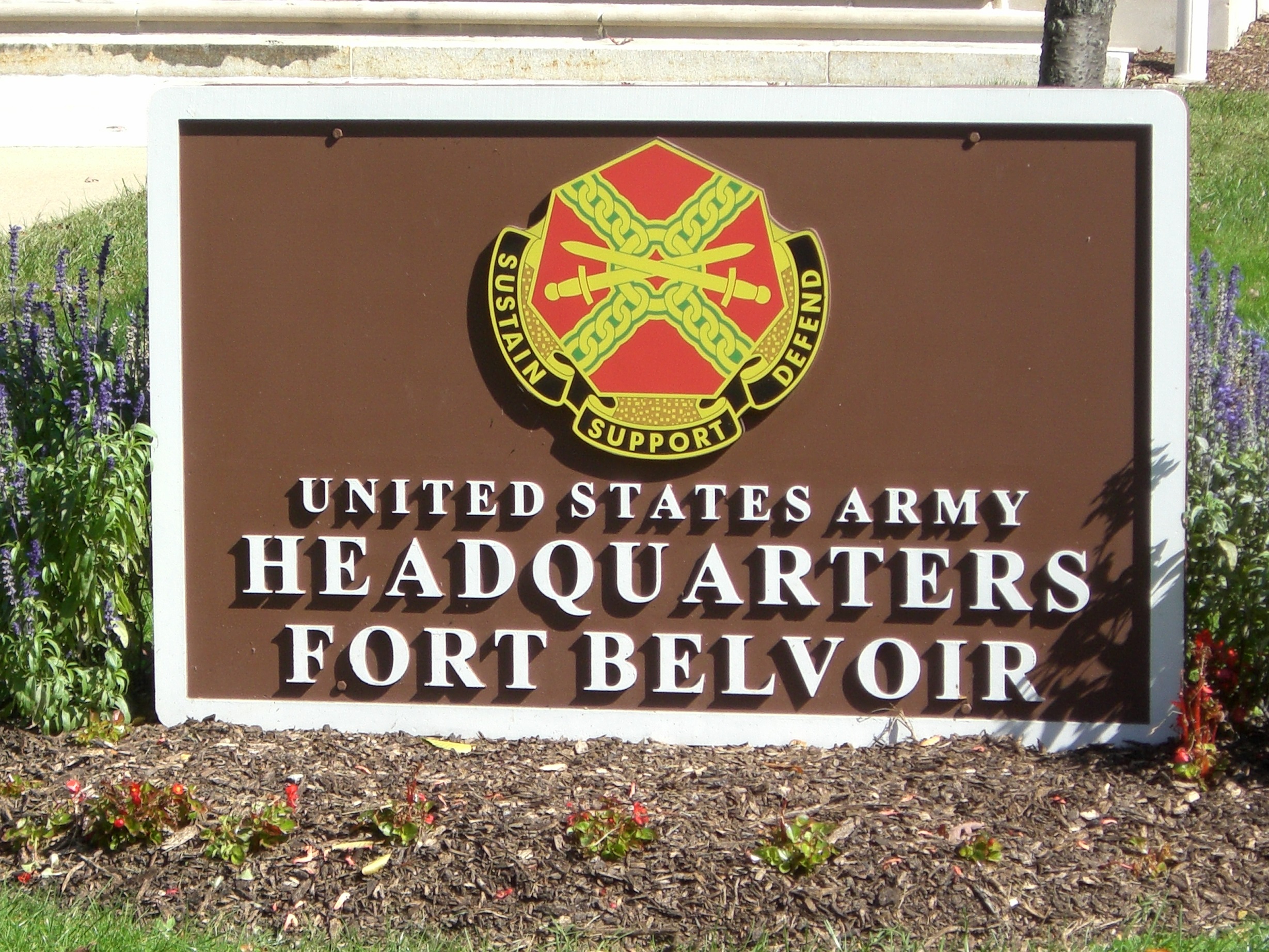 History
Fort Belvoir's history is interwoven with the birth of our nation, as well as the founding of Fairfax County, Virginia. Like most land in colonial America, the 8,656-acre tract along the Potomac River that is now Fort Belvoir was part of a grant from a 17th-century English king. The land was handed down through the Culpepper family to Thomas, the sixth Lord Fairfax, who in 1734, persuaded his cousin, Col. William Fairfax, to come to Virginia and oversee the family's holdings. Col. Fairfax built his home on 2,000 acres of what is now much of South Post and named the estate Belvoir, which means "beautiful to see."
In 1912, the land was transferred to the War Department. In 1915, engineer troops from Washington Barracks, now Fort McNair, established Camp Belvoir as a rifle range and training camp. The name was changed to Camp A.A. Humphreys in 1917, when a major camp was constructed during an unusually bitter winter to train engineer replacements for World War I. The post was renamed Fort Humphreys in 1922, to indicate its permanent status, and became Fort Belvoir in 1935. For more information, visit the Fort Belvoir Homepage.
Mission

Fort Belvoir is unlike any other Army installation in the world. It has a diverse, modern-day mission of being a strategic sustaining base for America's Armed Forces. A list of organizations at Fort Belvoir reads like a "Who's Who" in the department of Defense. No other Army installation in the world can compare with our diverse, modern-day mission of providing logistical and administrative support to over 120 diverse tenant satellite organizations.
Fort Belvoir is home to several Army command headquarters, units and agencies of nine different Army major commands, 16 different agencies of the Department of the Army, eight elements of the U. S. Army Reserve and Army National Guard and nine DOD agencies. All these agencies play important roles in Fort Belvoir's global mission to provide worldwide logistical and administrative support to all the armed services.
Population Served

In addition to U.S. Army forces, the U. S. Navy construction battalion, a Marine Corps detachment, one U. S. Air Force unit, and an agency of the Department of Treasury are also located at Fort Belvoir.
Fort Belvoir also houses the headquarters for Army Material Command, Defense Logistics Agency, Defense Technical Information Service, Defense Contract Audit Agency, Defense National Stockpile Center, and the Defense Fuel Supply Center.
Phone 1-866-786-8664 / 703-805-4590
Phone (DSN) 312-655-4590
Directions
Airports
If you are traveling by airplane, Reagan National Airport is located 12 miles from Fort Belvoir. One of the busiest airports in the country, Reagan National Airport has daily flights throughout the continental United States as well as overseas. Dulles International Airport is approximately 35 miles from Fort Belvoir.
An Amtrak station is located just six miles from Fort Belvoir's main gate.
Driving Directions
If you are driving to Fort Belvoir from the North (Washington D.C.), take Interstate 95 South. Exit the Fairfax County Parkway/Backlick Road (7100) exit 166A. Take the Fairfax County Parkway to its end at Richmond Highway (U.S. Route 1). Turn left onto Route 1. At the first light, on the right, is the entrance for Tulley Gate on Fort Belvoir. This is the main entrance to the installation and is open 24/7 everyday including weekends and holidays.
If you are traveling from the South (Richmond), take I-95 North to U.S. Route 1/Richmond Highway, Exit 161 B which will be Fairfax County Parkway. Continue on the Parkway until it ends at Route 1. Turn left at the traffic light onto Route 1. At the next light, Tulley Gate entrance will be on your right. (For weekends, holidays, and after-hours see the information above.)
All military personnel should report to the unit to which they are assigned upon arriving at Fort Belvoir. Once they report, they will be given two check-lists. The first is an in-processing checklist for their unit and the second is for the installation. These lists cover all of the facilities that the service member needs to visit.