Base History \ Arrival
---
HISTORY Of LITTLE CREEK

History and Background: The Naval Amphibious Base, Little Creek, the largest base of its kind in the world, is the major operating station for the amphibious forces of the United States Atlantic Fleet. Commissioned in 1945, the Naval Amphibious Base, Little Creek grew out of four bases constructed during World War II--the Amphibious Training Base, the Naval Frontier Base, and Camps Bradford and Shelton. It consisted of three annexes named for the former owners of the property--Shelton on the east, Bradford in the center, and Whitehurst to the west. A Secretary of the Navy letter in July 1945 disestablished the separate bases and established the Naval Amphibious Base, Little Creek with a commissioning date of July 30, 1945. In 1946 Little Creek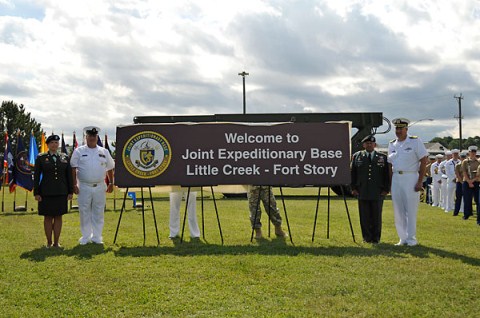 HISTORY FORT STORY
Fort Story is 1,451 acres of sandy trails, cypress swamps, grassy dunes and soft and hard sand beaches. Our beaches are wide, gently sloped and washed by the waters of the Chesapeake Bay on one side and get pounded by the surf of the Atlantic Ocean on the other. It is the Army's only training base for logistics-over-the-shore operations. Fort Story was named after Gen John Patten Story in 1914, one of the most noted coast artilleryman at that time. It is the site of three historical landmarks; the Cape Henry Lighthouse built by the Federal Government in 1791; the First Landing Cross which memorializes the landing of English settlers in 1607 before they proceeded to Jamestown; and the Admiral de Grasse statue honoring the French Fleet which prevented the British from reaching Yorktown during our War for Independence. (It's one of the Army's best kept secrets!)
Location: Joint Expeditionary Base Little Creek-Fort Story is sited at the extreme northwest corner of the city of Virginia Beach and extends to the city of Norfolk. The Hampton Roads Region has a high population of military members due to the many different military installations including Army, Air Force and Marines. JEB-Little Creek is the major operating station for amphibious forces of the United States Atlantic Fleet. Little Creek homepage. JEB Ft. Story is the Army's only training base for Logistics-Over-The-Shore (LOTS) operations to train troops on amphibious equipment and to practice the transfer of military cargo from ship to shore.
Cost of Living: Higher than the average for all major U.S. cities.
Base Operator: 757-444-0000 Little Creek Base Quarter Deck: 757-462-7386 or DSN 312-253-7386 Ft. Story Base Operator: 757-422-7305 or DSN 312-438-7305.
Population:
JEB Little Creek
10,000 military personnel
1,800 civilians
JEB Ft. Story
2300 military personnel
290 civilians
Area Population: Virginia Beach: 437,994
2600 Tarawa Court
Building 1602
Quarter Deck (Joint Expeditionary Base Little Creek – Fort Story)
Virginia Beach, VA 23459-3297
Phone 757-462-7385 / 757-462-7386
Phone (DSN) 312-253-7385/312-253-7386
Fax 757-462-7300
Fax (DSN) 312-253-7300