Base History \ Arrival
---
Location
Kirtland AFB would like to welcome you to New Mexico, the "Land of Enchantment." Kirtland AFB is located in Bernalillo County, in the southeast section of Albuquerque, and is the third largest installation in the Air Force Material Command (AFMC). The base occupies over 52,000 acres and employs about 22,280 people. Albuquerque is considered a lower cost area to reside in than the east or west coast. The sun shines more than 300 days a year in Albuquerque creating weather that is ideal for any outdoor activity.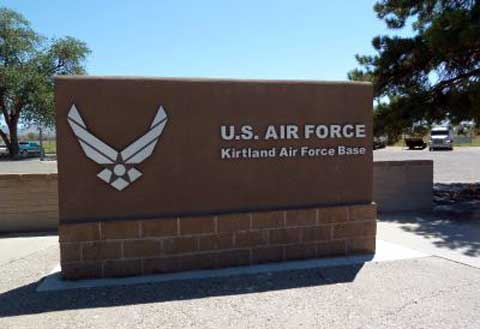 History
The story of Kirtland AFB is really the story of three bases, since the merger in 1971 of Kirtland, Manzano and Sandia Bases that brought the three installations together under one command. Sandia Base was originally created in 1942 as Albuquerque Air Depot Training Station for aircraft maintenance personnel. By late 1943, however, Sandia was in a caretaker status. A year and a half later, the Manhattan Engineering District created the Armed Forces Special Weapons Project at Sandia Base to coordinate military special weapons activity.
Armed Forces Special Weapons Command (AFSWC) also constructed two operational sites. One was known as Site Able, located in the foothills of the Manzano Mountains, just east of Sandia Base. On February 22, 1952, Site Able was renamed Manzano Base and came under operational control of the Air Force.
In December 1949, Kirtland AFB became headquarters for the newly created Special Weapons Command. The nucleus of this organization was composed of pioneering Air Force agencies that had located here to determine future employment of special weapons. The command became the Air Force Special Weapons Center (AFSWC) on April 1, 1952, and was a unit of the Air Research and Development Command ARDC). The Special Weapons Center assumed management of Air Force Systems Command's (AFSC) test and evaluation facilities at Holloman AFB, near Alamogordo, New Mexico, during the summer of 1970. And, just one year later on July 1, 1971, Kirtland merged with Manzano and Sandia Base's, its neighbors to the east, creating a sprawling military complex known as Kirtland Air Force Base.
The 377th Air Base Wing (host wing) was activated on January 1, 1993, when the Air Force Material Command acquired responsibility for operating the base from the Air Mobility Command.
Mission
The primary mission of the 377th Air Base Wing, Kirtland's host organization, is to provide world-class nuclear surety, expeditionary forces, and support to base operations. Visit the Kirtland AFB official homepage to obtain more information about the mission at Kirtland AFB.
Population Served
| DoD Personnel | Families | Civilians | Joint Services |
| --- | --- | --- | --- |
| 4,123 | 2,498 | 23,224 | 5,091 |
Base Transportation
Kirtland AFB offers a military taxi service for official business. There is no fee for this service.Call 505-846-TAXI (8295).
Sponsorship
Sponsors are assigned by the Unit Intro Monitor which is normally in the Command Support Section of your unit (formerly the Orderly Room). Your sponsor is probably the most important person at Kirtland AFB in assisting with preparations for your move. They can help you locate temporary and permanent housing, and assist with in-processing. Your sponsor should send you pertinent information about the base and local communities including the base guide, base newspaper, housing information, maps and their phone number and address. If you have not heard from your sponsor within 30 days of your reporting date, contact your unit or the Military Personnel Section (Customer Service) at DSN 312-246-5459 or 505-846-5459. International students if you have not heard from your sponsor, please call 505-846-9812 or DSN 312-246-9812. The sponsor and the newcomer will confirm the meeting arrangements.
An important item in any move is maintaining uninterrupted mail service. If you are being assigned to Kirtland and have a sponsor, he/she will need a copy of your orders to provide you with an advance mailing address, no earlier than 90 days prior to your arrival. If you are a single enlisted member and plan to reside in one of the dormitories, you can obtain a Postal Service Center (PSC) box address through your sponsor.
Directions
Airports
The Albuquerque International Airport (about 6 miles from the base) services Kirtland Air Force Base, which is located in the southeast quadrant of Albuquerque adjacent to the Albuquerque International Airport (which shares its runways with the base).
If planning to arrive by commercial air arrange with your sponsor to assist with transportation, or rent a car, or take the bus or take a taxi to the base. There are no scheduled military shuttles to the base.
Driving Directions to Kirtland AFB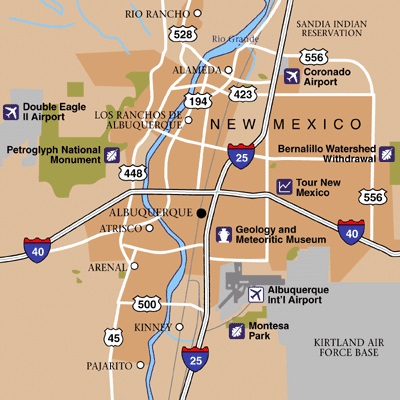 Driving Directions from Albuquerque International Airport:
To the Kirtland Inn (open 24 hrs) on Kirtland AFB:
Take Yale North to Gibson.
Take Gibson East (turn right) to Wyoming (on base).
Take Wyoming North (turn left) to Club Road (just before the gate).
Take Club Road East (turn right).
Follow the signs to the Kirtland Inn (on right side after MVC).
You can reach the base via Interstate 40 (east/west), Exit 164 South (Wyoming Boulevard) or via Interstate 25 (north/south) at Exit 222 (Gibson Boulevard).
Driving directions from nearest major highways:
To Kirtland Inn:
From I-25:
Take the Gibson Exit East.
Follow Gibson to Wyoming (on base).
Take Wyoming North (turn left) to Club Road.
Take Club Road East (turn right just before gate).
Follow the signs to the Kirtland Inn.
From I-40:
Take the Wyoming Exit South.
Follow Wyoming (on base) to Club Road (just inside the gate).
Take Club Road East (turn right).
Follow the signs to the Kirtland Inn.
When you arrive at the Kirtland AFB gates Security Forces will check your military ID. At this time ask them for directions, if needed. Remember always have the following updated documents in your car to include: car registration, proof of insurance, and drivers' license.
The base is divided geographically into Kirtland East and Kirtland West.
Kirtland AFB has two visitor control gates open 24 hours a day-the Gibson Gate (on east side), and Truman Gate (on west side). The Wyoming Gate (on east side) is open 5:30 a.m. - 7:00 p.m., Monday-Friday. The Wyoming Gate Visitor Center will be open from 9:00 a.m. – 7:00 p.m., Monday - Friday. The Eubank gate (on east side) is open 5:30 a.m. - 12:00 (midnight), Monday - Sunday. Also the Maxwell Gate into privatized housing, off Gibson Blvd, is open 24 hours. The Carlisle Gate (on west side) is open 6:00 a.m.– 6:00 p.m., Monday – Friday and the South Valley Gate is open 6:00 a.m. - 8:30 a.m. and 3:30 p.m. – 5:30 p.m., Monday – Friday.
Major organizations on the west side include the 58th Special Operations Wing, Space Development and Test Wing, New Mexico Air National Guard, Air Force Research Laboratories, and base operations.
Kirtland East major organizations include the Air Force Nuclear Systems Wing, 377th Air Base Wing, Air Force Operational Test and Evaluation Center, Sandia National Laboratories, Department of Energy, Defense Threat Reduction Agency, Air Force Safety Center and Air Force Inspection Agency. Kirtland AFB is home to more than 100 federal government and private-sector mission partners.