Base History \ Arrival
---
Marine Corps Air Station Yuma is located in the southwest corner of Arizona bordering California and Mexico. Yuma is exactly 178 miles from San Diego, CA and Phoenix, AZ. Yuma has become one of the fastest growing cities. Military personnel assigned to Yuma will find the community both supportive and friendly. Cost of living is moderate.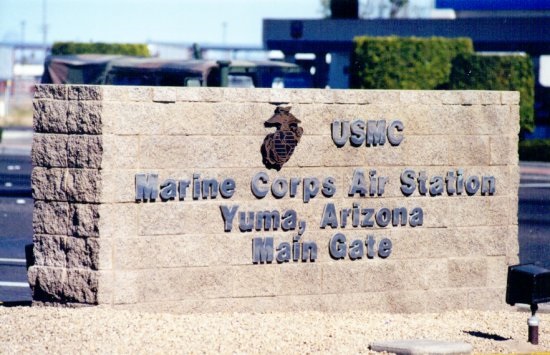 HISTORY

Yuma is one of the oldest cities in the Southwest. MCAS Yuma was established in 1928. During World War II, 1943, an air base was erected with the astounding speed which characterized the war effort. The base became one of the busiest flying schools in the nation, training pilots of AT-6 single engine trainees, T-17 multi-engine trainers and B-17 Flying Fortresses. At the end of the war, all flight activity here ceased and area was partially reclaimed by the desert. On July 7, 1951, the Air Force reactivated the base, and the 4750th Air Base Squadron resumed training as part of the Western Air Defense Forces. The airfield was named Yuma Air Base.

The facility was signed over to the Navy Jan. 1, 1959, and nine days later, Col L. K. Davis became the first commanding officer of the newly designated Marine Corps Auxiliary Air Station. On July 20, 1962, the designation was changed to Marine Corps Air Station.
Mission
Primary mission is to support aerial weapons training for the Atlantic and Pacific Fleet Marine Forces and Navy, and to serve as a base of operations for Marine Aviation Weapons and Tactics Squadron-1 and Third MAW units, including Marine Aircraft Group-13.
Population Served
MCAS Yuma serves Marines, families, DoD employees and retirees. There are currently 14 commands that serve aboard MCAS Yuma, 15 commands by the end of 2015, for a total of 4292 military, with at least 5531 family members and 2172 Civilian Personnel, a total population onboard station of 11,995.
MCAS Yuma is a desert town with plenty of sunshine (350 days out of the year). Average temperatures range from a low of 36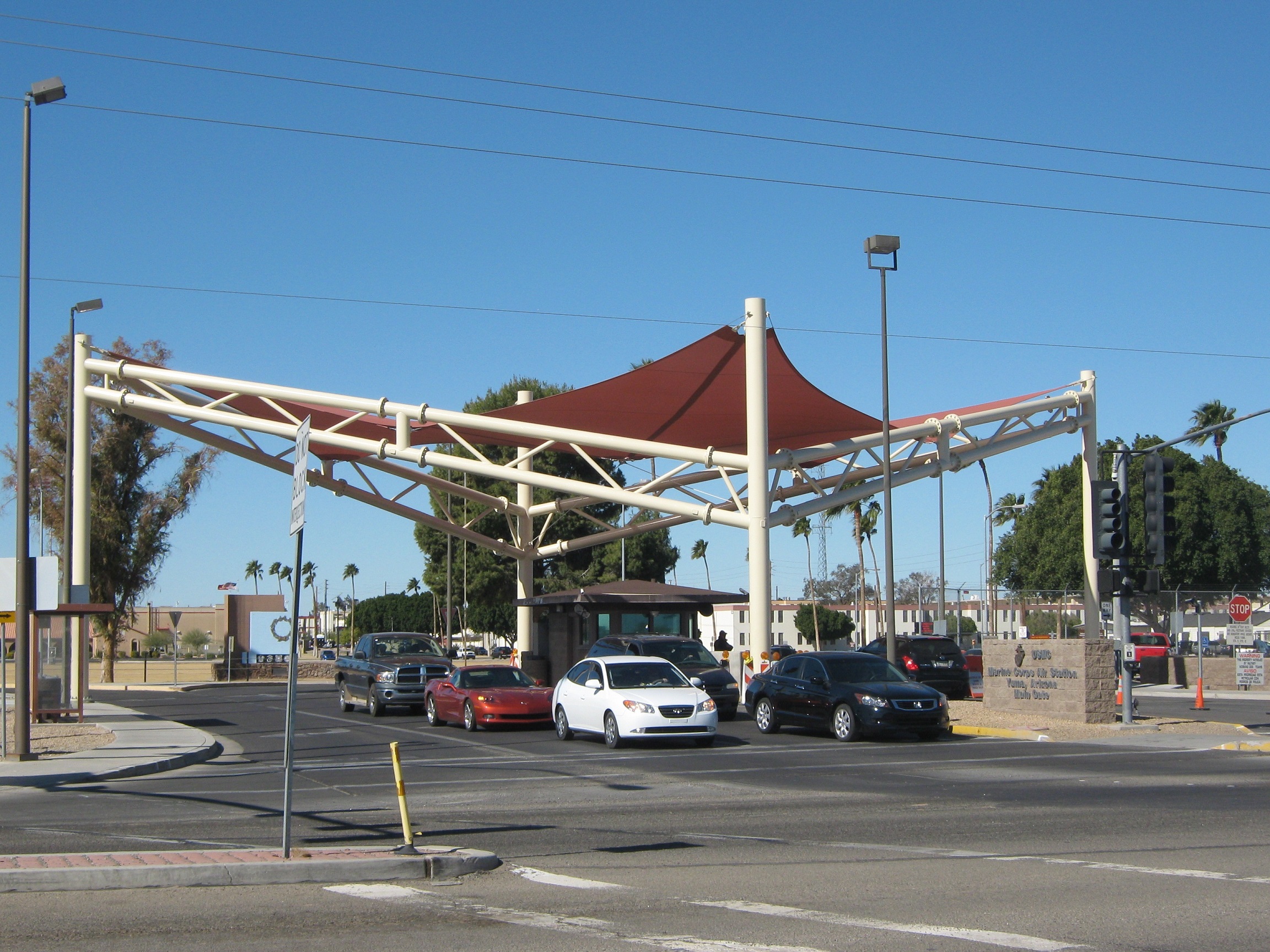 degrees to a high of 107. Since Yuma has ideal weather, snow birds like to visit from October through March to enjoy the sunshine. Snow birds are retirees that live up north and want to fly south for warmer weather during the winter months. During this timeframe, our population doubles and traffic is slow moving. Population of Yuma County (year-round) is 94,361. During the Summer months, starting in May, Yuma will be over 100 degrees and July through September can heat up when the humidity increases.
Housing rentals in the community become scarce during October through April, due to the increase of population. If you are interested in buying a home, the market is great.
Contact a local Certified Military Relocator Agent who could also assist you in all you off base housing needs.
Two domestic pets are allowed per household. Animals must be registered with the Station Veterinarian and must be under control of their owner at all times. Call 928-269-2888, Pet Registration, located in Bldg. 952.
All firearms must be registered at the Pass and ID Office within three days of arriving at MCAS Yuma.
No public city transportation with exception of commercial taxi.
SAFETY/SECURITY PRECAUTIONS: Motorcycle and moped course required. Contact Ground Safety at 928-269-5769. Helmets required on motorcycles. SECNAVINST 6055.4 of 22Nov94 requires helmets to be worn when bicycling aboard DoD installations. Other restrictions: walkers and joggers must be at least three feet off roadway.
Cell phones cannot be used while driving on base; only hands free devices may be used.