Base History \ Arrival
---
Rock Island Arsenal
History
The importance of the island was identified as early as 1809, when it was set aside as a federal military reservation by an Act of Congress. It has played key parts in every major US conflict dating back to the Black Hawk War of 1832. In 1969, the arsenal was placed on the National Register of Historic Places. In 1989, the original arsenal buildings were designated as National Historic Landmarks. A complete history of the installation, along with a mini virtual tour is available on the Rock Island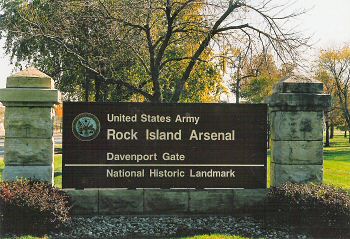 Arsenal.
Location
Rock Island Arsenal Garrison (USAG-RIA) is an active U.S. Army facility located in Rock Island County on a 946-acre island in the Mississippi River, between Davenport, Iowa and Rock Island, Illinois in an area known as the 'Quad Cities'. As a once thriving riverboat community, the Quad Cities have embraced their history in the form of many summer festivals and the home of Riverboat Gambling. Today, Rock Island Arsenal is our nation's largest government owned and operated arsenal.
Base Operator
The base operator's phone number is 309-782-6001 or DSN 312-793-6001.
Mission
Rock Island Arsenal Garrison provides quality facilities and excellent base operations support and services to all installation tenants in the areas of law enforcement, crime prevention, security management, fire, safety, information management, facilities engineering, housing, maintenance of buildings and roads, and transportation. The Garrison maintains telecommunications facilities and common resources, as well as community amenities and necessary services for morale, welfare, and recreation. A high quality of living and working ensures equal opportunity for all civilian employees, war fighters, and family members.
Population Served
Rock Island Arsenal Garrison is an Army base that serves all branches of service, including our National Guard and Army Reserve Troops. We are primarily a civilian installation with over 8170 civilian employees located here. Our Active Duty military population is around 817. RIA-G also hosts a handful of Active Duty Marines, Navy and Coast Guard in the Navy Marine Corps Reserve Center located on the West end of the installation. Major commands on the installation include First Army, Army Sustainment Command (ASC), Joint Munitions Command (JMC) and the Joint Manufacturing and Technology Center (JMTC).