Base History \ Arrival
---
Fort Rucker and Army Aviation trace their origins back to earlier eras, as both were products of World War II. During World War II, America conducted a manpower mobilization unprecedented in its history in terms of total numbers. The United States put into uniform over 16 million men and approximately 333,000 women. This mobilization called for the creation of new training camps and military bases, including Camp Rucker, named in honor of Colonel Edmund W. Rucker, a Civil War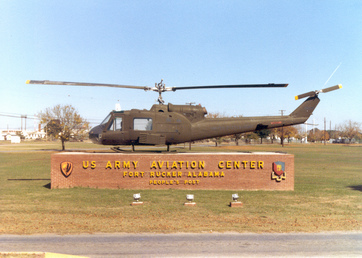 Confederate Officer, who was given the honorary title of "General." With the consolidation of all Army Aviation flight training at Fort Rucker in 1973, the post became the Mecca for Army aviators. Air Force helicopter pilots have also trained here since 1971, as have students from more than 60 foreign countries. For more information, go to the Fort Rucker homepage.
Location
The Army Aviation Warfighting Center, Fort Rucker, Alabama, is located in the southeast corner of Alabama. The post is located in Dale County. Fort Rucker is approximately 80 miles south of Montgomery and 20 miles northwest of Dothan. Florida's Gulf Coast lies 80 miles to the south. The communities of Enterprise, Daleville, and Ozark are west, south and east of the post, respectively and serve as our three main gates. The post covers about 64,500 acres of countryside in an area known as the "Wiregrass," named for a wild grass peculiar to the region. The area is known for its lower cost of living, making it a prime target for real estate investments.
Popultation:
Post Population: 24,045
Military: 5,728
Civilian: 9,711
Military Family Members: 8,606
Base Operator
The base operator's phone number is 334-255-1110 or DSN 312-558-1110.
Entering Fort Rucker Post
An excellent road network makes it easy to drive to the post from any direction. Entry to the post is through three main gates: the Ozark Gate from the east, the Daleville Gate from the south and the Enterprise Gate from the west. If you are coming from Ozark via Highway 231, turn onto Alabama 249 westbound (also known as Andrews Ave.) and continue driving until you reach the Ozark Gate. If you are traveling from Enterprise, take Rucker Boulevard, to the Enterprise Gate. From Dothan, take Highway 84 West, turn right at the Daleville exit, continue driving on Daleville Ave. for about two miles and then enter the post at the Daleville Gate. The Faulkner and Newton Gates are only open from 4:30 a.m. - 8:30 p.m., Monday to Friday from 6:00 a.m. to 2:00 p.m. on Saturday and Sunday, and closed on the holidays.
Soldiers Service Center: Located on Novosel St., between Andrews Ave. and 5th Willie Ruf Ave., across the street from the U.S. Army Aviation Museum, the Cribbins Soldiers Service Center, Bldg. 5700, is a one-stop shop for all military and civilian personnel services. The in-processing signs posted at each of the three main entrances to Fort Rucker point permanent party Soldiers to the Soldiers Service Center
The area code for the Fort Rucker area is 334.