Base History \ Arrival
---
Hunter Army Airfield (HAAF) is located in Savannah, GA. The cost of living is low, and houses range in price depending on the area in which you choose to live. Savannah has a large trained workforce, little traffic congestion, a year-round ideal climate, all the amenities of a large city. The installation's base operator is 912-767-1411 or DSN 312-870-1411.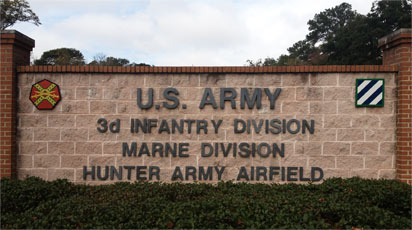 Mission
Hunter Army Airfield mission is to provide command, control, training, administration, logistical and civilian-military support to assigned and attached non-divisional units stationed at Fort Stewart.
History
When the Air Force closed their base at Hunter Field in Savannah, in 1967, the Army promptly assumed control and the U.S. Army Flight Training Center was developed in conjunction with the flight training being conducted at Fort Stewart. The helicopter pilot training was rapidly accelerated and pilots were trained and soon sent to duty all over the world, with a large percentage seeing active duty in Viet Nam. After a brief closure at the end of the war in Viet Nam, HAAF was reopened when the 1st Battalion, 75th Infantry Regiment (Ranger), parachuted into Fort Stewart and reactivated it. Hunter Army Air Field assumed an important role supporting the training and activities of the Rangers. On October 30, 1998, the new Departure/Arrival Airfield Control Group (DAACG) facility, named the Truscott Air Terminal, was dedicated at HAAF.
Population:
Active Duty 5,709
Active Duty Family Members 5,212
Retirees 6,004
Retirees' Family Members 9,177
Civilian 737
Driving Directions
From Savannah/Hilton Head International Airport to Fort Stewart, follow the signs from the airport to I-95 South. From 95, take the exit for GA Hwy 144 (Fort Stewart and Richmond Hill). Turn right at the off-ramp stop sign, and stay on 144 through post. Follow the signs to the Marne Reception Center.
Fort Stewart is located about 41 miles southwest of Savannah and readily accessible by way of the major East Coast Highways (U.S.17, I-16 and I-95). The major highway passing through Hinesville is U.S. 84. The routes to Fort Stewart from the east and west edges of town are clearly marked on this road.