Base History \ Arrival
---
MCAGCC Twenty Nine Palms Location
Marine Corps Air Ground Combat Center is located in San Bernardino County in Southern California. MCGACC covers more than 998 square miles of the high desert, which makes it larger than some small countries. The premier training facility is nestled in the quie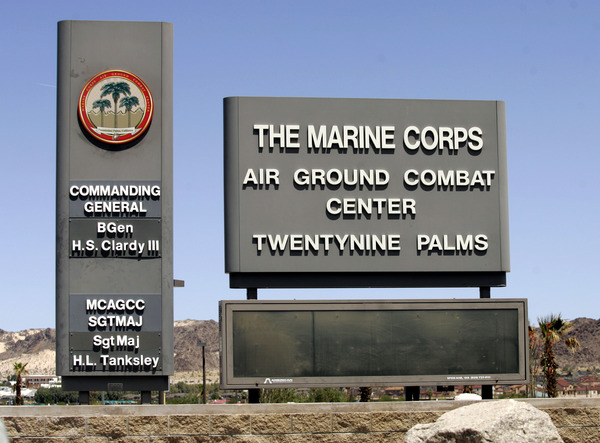 t desert paradise of Twentynine Palms, and together, makes up one of the most unique living environments in the western United States. The small military community of Twentynine Palms boasts a moderate cost of living, clean air and acts as the Gateway to the great California Outback.
History
The land has a history of military use dating back to 1940, when the Army used the area for training glider crews. Glider training ended in 1943, when the Army switched to training fighter pilots. At the end of World War II, the Navy used the area as a bombing range until 1945, when it was transferred to San Bernardino County. In 1952, the Marine Corps took charge and was designated Headquarters Marine Corps Training Center. In 1957, it was commissioned as a Marine Corps Base. In 1979, the Base finally became what we know it as today, Marine Corps Air Ground Combat Center.
Population: The population of Twentynine Palms is quite large. It includes
12,500 active duty
24,000 family members
21,000 DoD/Contractors
1,200 retirees
Area Population: Twentynine Palms has a population of 24,646.
Supporting Units
HQ Battalion, Marine Corps Communication-Electronics School, 7th Marine Regiment, Combat Support Battalion 10, Marine Wing Support Squadron 374, Marine Unmanned Aerial Vehicle Squadron-1, 'D' Company, 3rd Assault Amphibian Battalion. 1st Tank Battalion, 3rd Battalion, 11th Marines, 3rd Light Armored Reconnaissance Battalion
Base Operator
760-830-6000 DSN 312-230-6000.
Main site http://www.29palms.marines.mil/