Base History \ Arrival
---
Location
*Holloman AFB is located about 9 miles west of Alamogordo, New Mexico on Highway 70/82; 90 miles north of El Paso, Texas, and 60 miles east of Las Cruces, New Mexico. Holloman is in Otero County. Alamogordo's cost of living ranks even with the national average. Because employment opportunities and wages in Alamogordo may be less than where you currently reside, a big financial impact can be felt by relocating families dependent on a second income.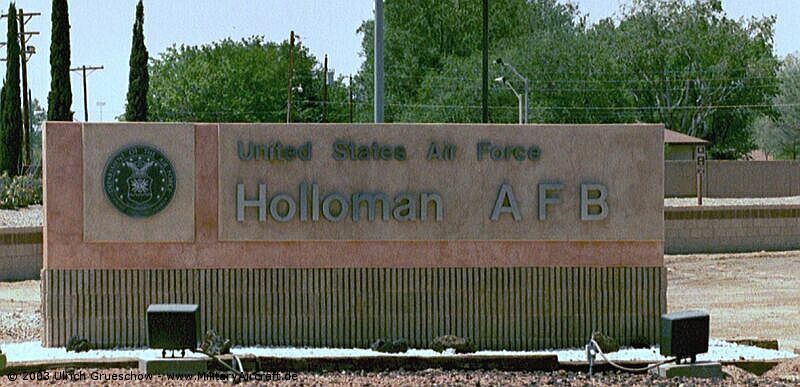 History
*The history of the 49th is one of distinction. Initially designated the 49th Pursuit Group (Interceptor) in 1940, the unit was among the first to deploy from the United States to the Pacific Theater of Operations during World War II. Redesignated the 49th Fighter Group, the unit played an important role in halting the Japanese advance in the southwest Pacific. During four years of World War II combat, the group was very successful in providing air defense from Australia to the Philippines. On July 15, 1968, the 49th began arriving at Holloman becoming the first dual-based tactical fighter wing. On May 9, 1992, the first four F-117 stealth fighters from Tonopah Test Range, NV, arrived at Holloman. The move of the F-117s was completed July 7, 1992. The F-117 was retired on 22 April 2008 and Holloman has received it's new jet the F-22 Raptor. In addition to the Raptor, Holloman is home to T-38 Talons, the MQ-1 Predator, the MQ-9 Reaper both of which are Unmanned Aircraft Systems, the QF-4 Drone, the F-4 Phantom II and the German Air Force Tornado.
Mission
The Major Command at Holloman is Air Combat Command (ACC). The F-117 Stealth Fighter has been retired and the F-22 Raptor reassigned. The 49th Wing supports national security objectives as directed by the Joint Chiefs of Staff. The Wing maintains its rapid mobility capability with the F-16 Fight Falcons.
Population Served
| | |
| --- | --- |
| Active Duty Officer | 392 |
| Active Duty Enlisted | 2,956 |
| Family Members | 6,657 |
| Retirees | about 4,500 |
| Civilian Employees | 864 |
| Non-Appropriated Funds | 257 |
Base Transportation
Currently, there is no base transportation on this installation.
Sponsorship
Temporary mailing address is: Name, General Delivery, Holloman AFB, NM 88330. Before using temporary mailing system, you must call DSN 572-3842 (575-572-3843 commercial) and ask to be placed on list to hold mail. You must also provide an approximate arrival date. Mail will held and can be picked up at the U.S. Post Office on Holloman after arrival using ID
Directions
Directions to Holloman AFB

If driving, Holloman AFB is located on Highway 70, approximately 9 miles west of Alamogordo and is clearly marked. If arriving at the Alamogordo Airport, take Airport Road to Highway 70, turn left (west) and follow the signs to Holloman AFB, approximately 5 miles however, we highly recommend arriving via El Paso International Airport in El Paso, Texas. If arriving by bus, you must travel from Alamogordo west on White Sands Blvd, which turns into Highway 70 and follow the signs to Holloman AFB, approximately 9 miles.