Base History \ Arrival
---
MCRD Parris Island
Location
The USMC Marine Corps Recruit Depot (MCRD) is located on Parris Island and several smaller islands approximately 4 miles south of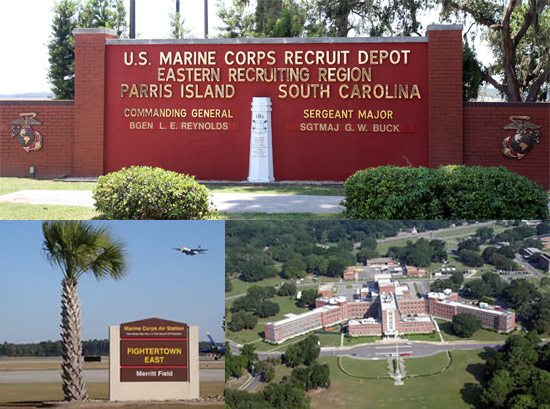 the City of Beaufort, South Carolina. Beaufort is a high cost military town, which is home to three different military installations. The primary activity at MCRD is the training of Marine Corps recruits. The facility covers more than 8,000 acres, including more than 4,000 acres of salt marsh and tidal streams.
Marine Corps Recruit Depot is accessible by traveling either north or south on Hwy I-95. MCRD is approximately 45 miles from Savannah, Georgia and 90 miles from Charleston, South Carolina. Each of these cities has airports and car rentals available to travel to MCRD PI. If driving to Parris Island please follow the signs toward Beaufort and/or Parris Island paying close attention as some of the signs are small or obstructed. Law enforcement officers patrol construction sites closely so please watch your speed.
BOOK YOUR LOCAL HOTELS HERE On-base temporary lodging at MCRD Parris Island is in The Osprey Inn and Parris Island RV Park. The closest hotels are about 5 miles north of the facility in Port Royal. More hotels and motels are about 8 miles north of the Depot in Beaufort.
History
During 1715, an Englishman named Colonel Alexander Parris purchased the large island and eight small surrounding islands. Until the Civil War, plantation life flourished here. Marines were first stationed on Parris Island in 1891, in the form of a small security detachment headed by First Sergeant Richard Donovan. His unit was attached to the Naval Station, Port Royal the forerunner of Parris Island. Donovan's unit was highly commended for preserving life and property during hurricanes and tidal waves that swept over the island in 1891 and 1893. Military buildings and homes that were constructed between 1891 and World War I form the nucleus of the Parris Island Historic District. At the district center are the commanding general's home, a 19th century wooden dry dock and a turn of the century gazebo -- all of which are on the National Register of Historic Places.
On Nov. 1, 1915, Parris Island was officially designated a Marine Corps Recruit Depot. Prior to 1929, all transportation to and from the island was by ferry from Port Royal docks to the Recruit Depot docks. In that year the causeway and a bridge over Archer's Creek were completed, thus ending the water transportation era. The causeway was dedicated as the General E. A. Pollock Memorial Causeway in April 1984.
From 1941 through 1945, 204,509 recruits were trained here. At the time of the Japanese surrender, more than 20,000 recruits were aboard the Depot. On February 15, 1949, a separate "command" was activated for the sole purpose of training female recruits. This command has since been designated the 4th Recruit Training Battalion and is the only battalion in the Corps to train female recruits. The Korean conflict began in 1950 when 2,350 recruits were in training. From then until the 1st Marine Division was withdrawn from Korea, Parris Island drill instructors trained more than 138,000 recruits. During March 1952, the peak training load of 24,424 recruits was reached. The recruit tide again flooded during the years of the Vietnam War. A peak training load of 10,979 was reached during March 1966. Today, about 19,000 recruits are trained at Parris Island each year.
Supporting Units
This is the Recruiting Depot for the USMC for all female recruits and male recruits east of Mississippi.
Base Operator
843-228-2111