Base History \ Arrival
---
Fort Drum and the North Country in the picturesque Thousand Islands Region of Northern New York State. This installation is located in one of the most unique and beautiful areas in the United States. Fort Drum is approximately 30 miles from Canada, with the Great Lakes to our west and the Adirondack Mountains to the east.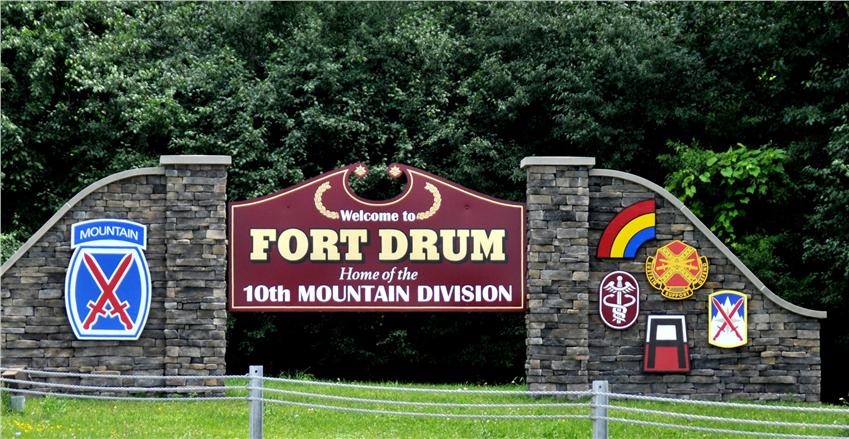 Winter and summer sports opportunities abound. The Adirondack Mountains, Lake Ontario, and the St. Lawrence River in the Thousand Islands Region are prime tourist attractions. The tri-county areas of Jefferson, Lewis, and St Lawrence surrounding the installation are rich with history and tradition. Sponsorship is available at Fort Drum.

HISTORY

Fort Drum has been used as a military training site since 1908; however the Army's presence in the North Country may be traced back to the early1800's. Presently, Fort Drum consists of 107,265 acres. It's mission includes command of active component units assigned to the installation, provide administrative and logistical support to tenant units, support to tenant units, support to active and reserve units from all services in training at Fort Drum, and planning and support for the mobilization and training of almost 80,000 troops annually. Fort Drum is currently one of the elite Army Division fighting the War on terror.

MISSION

Provide equitable, efficient and effective management of Fort Drum resources to support readiness and mission execution of combat-ready forces, while providing for the well-being and security of Soldiers, civilians and family members; improving infrastructure and preserving the environment.

Fort Drum serves a wide range of DoD personnel, families, civilians,joint services. Fort Drum engages in training pertinent to the continued effort on the global war on terror.
Directions
Interstate 81 runs just a few miles west of the Post. Take exit 48 East onto New York State (NYS) Route 342. Travel approximately 1 mile, continue straight after the stop light (intersection of Route 342 and Route 37). Travel approximately 3 more miles turn left at the next stop light (intersection of Route 342 and Route 11). Follow the signs to Fort Drum. This is Fort Drum's North Gate. You will find the vehicle registration office located on the right just prior to going through the gate.
Base Operator: 315-772-6011 or DSN 312-772-6011