Base History \ Arrival
---
Naval Air Facility El Centro is located in the heart of Southern California's Imperial Valley. It is a two hour drive from San Diego and Palm Springs, one hour from Yuma, AZ, and fifteen minutes from the Mexican border. NAF is the "winter home" of the world-famous Blue Angels, the Navy's Flight Demonstration Squadron.
Although small, NAF El Centro has a full array of support facilities: Commissary, Navy Exchange, Medical and Dental Clinics, Consolidated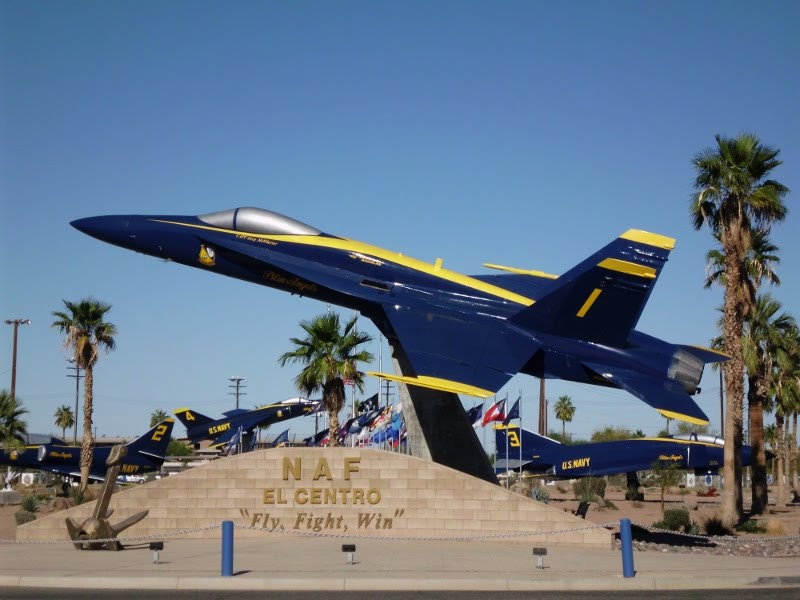 Officer/Chief Petty Officer and Enlisted Club, and a wide variety of recreational activities.
History
Naval Air Facility El Centro was commissioned on May 1, 1946, as a Naval Air Station. Prior to that, the base was a Marine Corps Air Station. Through the years, Navy El Centro has had several names: Naval Air Facility, Naval Auxiliary Landing Field, Naval Air Station, and the National Parachute Test Range.
For the first 35 years, the mission of NAF El Centro was devoted to aeronautical escape system testing, evaluation, and design. In November 1947, the Parachute Experimental Division from Lakehurst, New Jersey moved to El Centro. In 1951, the Joint Parachute Facility was established and consisted of the Naval Parachute Unit and the Air Force 6511th Test Group (Parachute). The Air Force remained part of El Centro's test organization for the next 27 years. In 1959, an ejection seat designed for pilot escape from a high-speed jet at altitudes less than 1,000 feet was successfully tested here. The Mercury Space Program parachute system, used for the first U.S. manned satellites and the Apollo re-entry system, was also tested here.
In 1964, the U.S. Naval Aerospace Recovery Facility was designated and on July 1, 1973, it was combined with the Naval Air Facility El Centro to form the National Parachute Test Range. Exactly six years later, the parachute test mission was transferred to Naval Weapons Center China Lake; and El Centro again became a Naval Air Facility.
Today, NAF El Centro provides realistic training to active and reserve aviation units and activities of the Navy's operating and training forces. Squadrons visit NAF El Centro to practice gunnery, bombing, carrier landings and air combat. For more information, visit theNAF El Centro homepage.
Mission
Our mission is to provide the highest quality facilities, services and products to the Naval Aviation community and all organizations utilizing Naval Air Facility El Centro. We provide base support to Naval Aviation Squadrons and maintain target ranges for their weapons and combat air training. We also support Marine Aviation units, air elements from the U.S. Army, Air Force units, and allied forces.
Population Served
Every month, seven to 12 squadrons and up to 1,600 personnel train here. Additionally, U.S. Air Force parachutists, U.S. Navy SEAL's, Army Green Berets, and British, French, German and Italian aviators visit for various phases of their training.