Base History \ Arrival
---
Tobyhanna Army Depot (TYAD) is located in the Pocono Mountains of northeastern Pennsylvania, in Monroe County. The Pocono Mountains span four counties (Carbon, Monroe, Pike and Wayne) and total 2,400 square miles. Major cities in the region include Scranton, Wilkes-Barre and Hazleton. The region is a short drive from New York City and Philadelphia and offers year-round activities for the entire family. Countless recreation opportunities are available at the area's seven state parks, 18 waterfalls, 150 lakes, 170 river miles and the 70,000 acre Delaware Water Gap National Recreation Area. Lake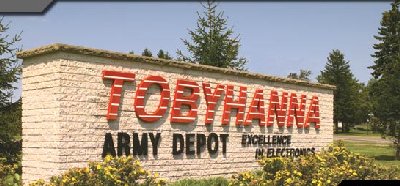 Wallenpaupack, the largest lake in the Poconos, covers 5,700 acres and has 52-miles of uninterrupted shoreline. The Delaware Water Gap National Recreation Area is home to 25 miles of the Appalachian Trail.
The region offers year-round outdoor recreation from golf, boating and fishing to hunting and skiing. The area is also home to minor-league professional sports including the AAA Scranton-Wilkes Barre Yankees and Lehigh Valley Iron Pigs baseball teams, and the American Hockey League's Wilkes-Barre Scranton Penguins. Outdoor venues and indoor theaters attract top entertainers and Broadway plays. The area hosts two NASCAR races annually, casino gambling and a wide variety of museums and historical sites. Major shopping centers are located throughout the region. Smaller shopping areas and craft and antique stores are scattered across the region. Northeastern Pennsylvania is served by an outstanding highway network that includesI-476, I-80, I-81, I-84 and I-78.
The base operator's phone number is 570-615-7000 or 800-892-0502.
History
The depot has served our nation for nearly 60 years, since opening on February 1, 1953. However, the Army has maintained a nearly continuous presence in Tobyhanna since 1912, when the site was first used as a field artillery training camp. Other uses include a Civilian Conservation Corps (CCC) camp, artillery training of West Point cadets, and in World War II as a prisoner-of-war camp and storage point for gliders used in the D-Day landings at Normandy in 1944.
Mission
Tobyhanna Army Depot is the largest, full-service electronics maintenance facility in the Department of Defense (DoD). The depot's mission is total sustainment, including design, manufacture, repair and overhaul of hundreds of electronic systems. TYAD is DoD's recognized leader in the areas of automated test equipment, systems integration, and downsizing of electronics systems. The Army has designated Tobyhanna as its Center of Industrial and Technical Excellence for communications involving electronics, radar, and missile guidance and control. The Air Force has designated Tobyhanna as its Technical Source of Repair for command, control, communications and intelligence systems.
Population Served
The largest employer in northeastern Pennsylvania, TYAD employs over 5,000 civilians and 30 military personnel. Services are not only provided to the employees and the military personnel, but to their families as well. In addition to these numbers, TYAD also services approximately 7,800 National Guard and Reserve and their families.