Base History \ Arrival
---
George Washington, himself, remarked that the city of Columbia was a well-chosen site, as he viewed the city at an early stage, staying on a bluff above the Congaree River below the confluence of the Broad and Saluda rivers. Established in 1786, Columbia was a planned city, built to be the seat of state government. A metropolitan region of over 400 thousand population, Columbia offers a diversity of experiences and attractions. This Southern city, with its blooming azaleas in the spring,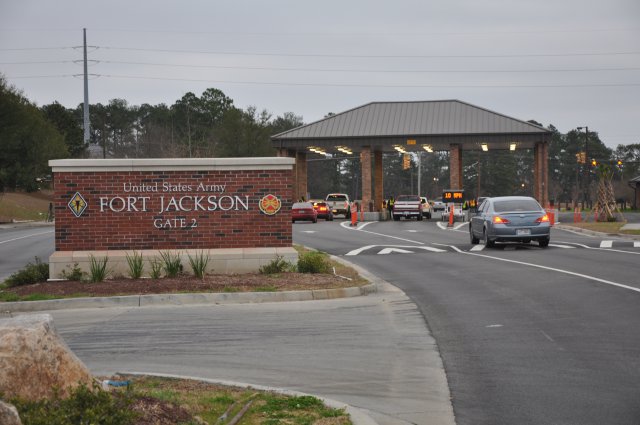 remembers its past and is looking forward to the future. Being the state capital, having a thriving business climate, and being the site of a major university downtown all contribute to Columbia being a unique and interesting place in which to work and live. Columbia displays its patriotism proudly and is glad to be the home of Fort Jackson, the largest and most active Initial Entry Training Center in the U.S. Army. Nicely situated in the center of the state, Columbia is only several hours from the Atlantic coast in one direction, and the mountains in another. For more information about Columbia, please visit the Fort Jackson website (look for "Fort Jackson and surrounding area.")

BOOK YOUR LOCAL HOTELS HERE Fort Jackson on-post temporary lodging is in Jack's Inn, Weston Lake Cabins, Dozier Hall Palmetto, Magruder Transient Area, and Fort Jackson Inn. There is one hotel just outside the main gate and another near I-77, Exit 10. Other hotels and motels are about 5 miles south of the main gate near I-77, Exit 9, Garners Ferry Road.
HISTORY

Named after Major General Andrew Jackson, "Old Hickory," the seventh president of the United States, Fort Jackson had its beginnings in 1917, as a new Army Training Center to answer America's need for trained fighting men in World War I. The installation would become the largest and most active of its kind in the world. First known as the Sixth National Cantonment and later as Camp Jackson, Fort Jackson has always served as the Army's pioneer in the training environment. Much more can be learned about Fort Jackson's history by visiting the Fort Jackson website, listed in the Contacts/Links section - and then by clicking on "Fort Jackson and surrounding are" and by clicking on "Fort Jackson History." Information about the museums which preserve Fort Jackson's history can be found at the above locations.

MISSION

Fort Jackson is the largest and most active Initial Entry training Center in the U.S. Army, training 34 percent of all Soldiers and 69 percent of the women entering the Army each year. Providing the Army with trained, disciplined, motivated and physically fit warriors who espouse the Army's core values and are focused on teamwork is the post's primary mission. That means training in excess of 45,000 basic training and advanced individual training Soldiers every year. In addition, Fort Jackson has become a significant site of professional development for Soldiers. With the downsizing of Fort Benjamin Harrison, Indiana, Fort Jackson developed a number of professional development schools for the Soldier Support Institute (SSI). The Institute include the U.S. Army Adjutant General School, Finance School, Recruiting and Retention School, the Institute's Noncommissioned Officers Academy, and the Training Support Battalion. Also, the Army Chaplain School and the Department of Defense Polygraph Institute make their homes at Fort Jackson. Fort Jackson is home to one of the Army's Drill Sergeants Schools.

POPULATION SERVED

In addition to the 45,000 or more of basic training and advanced individual training Soldiers who pass through Fort Jackson every year, permanently assigned Soldiers total more than 3600 with their more than 10,000 family members every year. Approximately 14,000 Soldiers attend courses at the SSI and other schools each year. Fort Jackson employs almost 5,200 civilians and provides services for more than 115,000 retirees and family members.
Directions from Airport - exit airport, take I-26 East (toward Charleston); take I-77 North; exit at Exit 12 onto Strom Thurmond Blvd ( a continuation of off-post street Forest Drive)...After entering Gate 2, the Welcome Center is just beyond the first stop-light on the right. Turn right into the building marked "Barker Bldg."

Directions if driving - Arriving on I-26 from the west, take I-20 east; proceed to I-77 SOUTH (CAREFUL not to be diverted to I-77 North); once on I-77 South proceed to Exit 12; proceed onto Ft. Jackson to Welcome Center as described above.. Arriving I-26 from east; take I-77 north to Exit 12; then onto Ft. Jackson to Welcome Center as described in paragraph above. Arriving on I-20 from east, take I-77 south to exit 12, then to Welcome Center, as described in above paragraph.

From bus or train station, have taxi enter by Gate 2, Forest Drive gate, then proceed as above.