Base History \ Arrival
---
Joint Base Myer-Henderson Hall
Henderson Hall is located on South Southgate Road in Arlington, Virginia on the southern border of Arlington National Cemetery,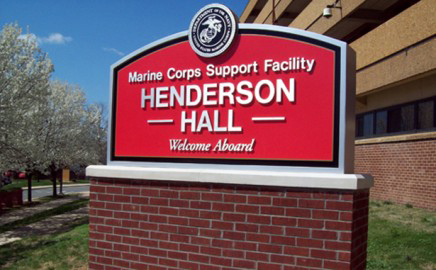 north of the Navy Annex, west of the Pentagon and right next door to Fort Myer. Henderson Hall is just minutes from the White House, Capital building, Pentagon, Smithsonian Museums and all of Washington, DC's monuments. The base operator's phone number is 703-614-7171; DSN 312-224-7171. To view a Welcome Aboard video visit this website.
History
With the expansion of the Marine Corps in World War II, and the move of Headquarters, U.S. Marine Corps to the Navy Annex Building on November 10, 1941, Henderson Hall supported Headquarters personnel. Subsequent revisions and unit redesignations occurred with the designation of Headquarters Battalion on April 1, 1943. A second Headquarters Battalion of Women Marine Reserves was organized in September 1943, to provide barracks for a portion of the 2,658 women assigned. During August 1946, a substantial number of Women Marines were released from active duty, making Henderson Hall barracks available for the billeting of male Marines. The lands associated with Henderson Hall were acquired through deeds and other actions between 1943 and 1952. The Governor of the Commonwealth of Virginia executed a Deed of Cession of Political Jurisdiction to the United States of America on February 15, 1954. For additional information, visit our installation homepage.
Mission
The mission of Henderson Hall is to provide support to Marines and government agencies throughout the National Capital Region. Agencies supported are the White House, Senate, Congress, Pentagon, Headquarters Marine Corps, Defense Intelligence Agency, and Military Attachés throughout the world.
Population Served
The population of Henderson Hall includes 2,000 Marines, 1,200 civilians, and 2,800 family members.