Base History \ Arrival
---
Location
McConnell AFB is located in Wichita, KS approximately 3 hours north of Oklahoma City and 3 hours southwest of Kansas City, MO. Wichita is the most populous city in Kansas, and the county seat of Sedgwick County. The 2009 estimated population of 372,186 makes it the 51st largest city in the U.S. Wichita is located in south central Kansas on the Arkansas River.

Wichita was incorporated in 1870, based on the success of businessmen who came to hunt and trade with native populations. Its position on the Chisholm Trail made it a destination for cattle drives headed north to access railroads to eastern markets. In the 20th century, aircraft pioneers such as Clyde Cessna and Walter Beech began projects that would lead to Wichita's establishment as the "Air Capital of the World". The aircraft corporations Stearman, Cessna, Mooney and Beech were all founded in Wichita in the late 1920s and early 1930s. Cessna and Hawker Beechcraft remain based in Wichita today, along with Learjet and Spirit aeroSystems, and both Airbus and Boeing maintain a workforce in Wichita.
Wichita has also evolved into a cultural and entertainment center. Th
e vital downtown district offers nightclubs, restaurants, shopping centers, museums and parks. A 15,000 seat arena in the middle of Wichita host a wide range of entertainment from concerts, sporting events and entertainment acts. Several universities are in Wichita, the largest being Wichita State University with an enrollment of 15,000 students.
In July 2006, CNN/Money and Money magazine ranked Wichita 9th on its list of the 10 best U.S. big cities in which to live. In 2008, MSN Real Estate ranked Wichita 1st on its list of best affordable cities.
History
McConnell's history began with the creation of the Wichita Municipal Airport in 1929. The Airport became Wichita Air Force Base on May 15, 1953. The base name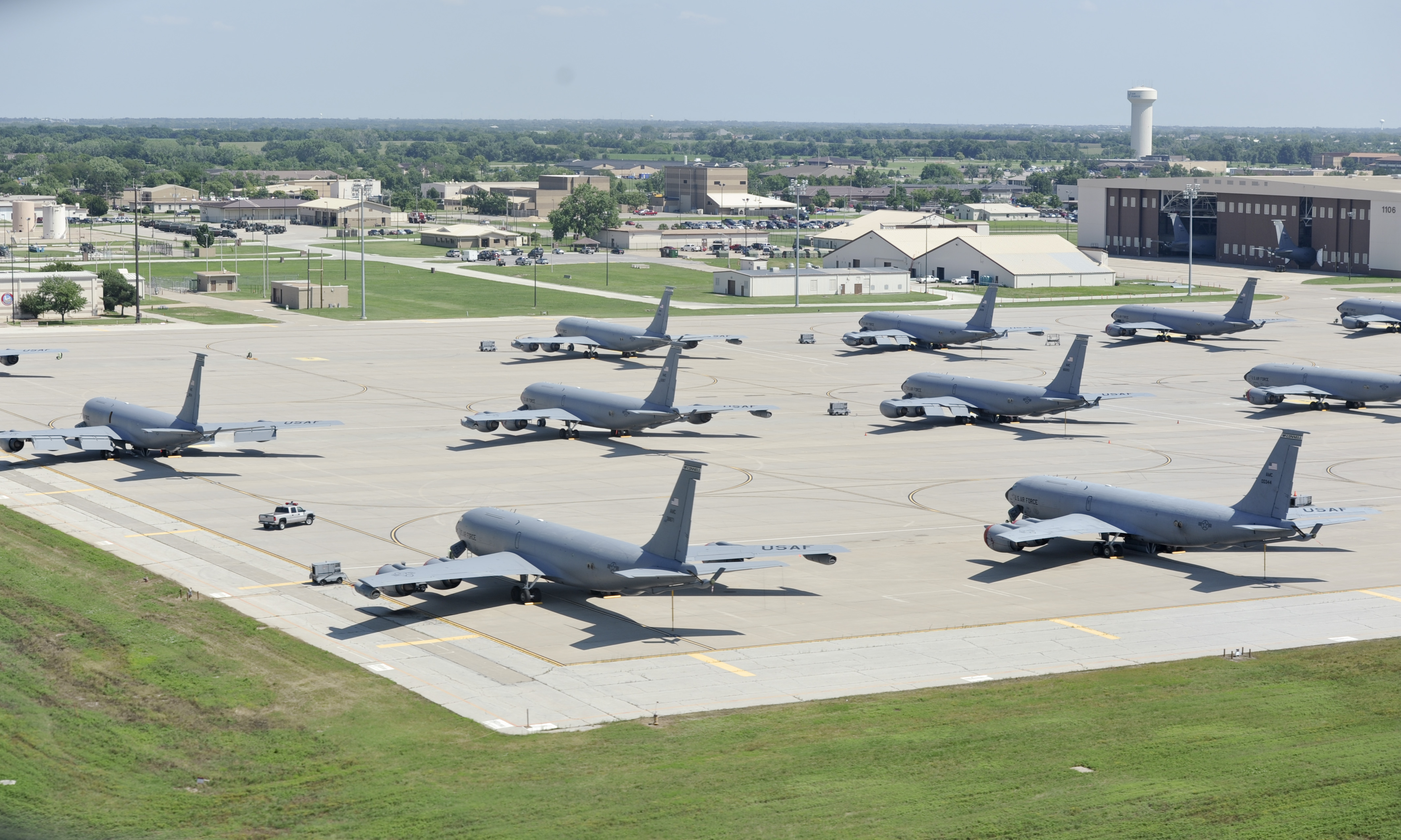 changed to McConnell Air Force Base on April 12, 1954, in honor of two of the three flying McConnell brothers, Fred and Thomas, and later for Edwin, all of World War II fame. The three McConnell brothers, from Wichita, gained recognition as the "three of a kind" in the war.
Mission
The 22nd Air Refueling Wing is the host unit at McConnell AFB, and part of the Air Mobility Command, Scott AFB, IL. The wing's primary mission is to provide Global Reach by conducting air refueling and airlift when and wherever needed. To do this, the wing is charged to develop and maintain the capability to conduct air-refueling operations supporting command objectives in any part of the world, in any condition or climate. This commitment also includes support for the Department of Defense in many contingency situations, from strategic force protection and strategic force mobility, to humanitarian assistance.
Population Served
McConnell has a total work force of around 7,153 with approximately 3,066 active duty members, 950 civilians, and around 3,137 reservists and National Guard Members. The base also has 3,220 family members and serves approximately 7,791 Military Retirees in the local area.
Directions to McConnell AFB
Driving Directions
McConnell AFB is located on the southeastern edge of Wichita. To get to the base from the North on the Kansas Turnpike (I-35), use the east Wichita exit, go west a half mile on US 54 (Kellogg Avenue) and turn left on Rock Road. Four stop lights down and base will be on your right.
From the South on the Kansas Turnpike, take the K-15 exit, turn right and go north to 31sft Street. Turn right and then left at the George Washington Boulevard stop sign. The west gate is approximately half a mile ahead.
From Interstate 135, take US 54 (Kellogg Avenue) east to Rock Road and then drive south to the east gate.
Airports
Dwight D. Eisenhower National Airport is in Wichita, located on the city's southwest side, approximately 15 miles from McConnell. Take Ridge Road to first stop light (just before overpass). Turn right then turn immediately onto left lane to access Hwy 54 (Kellogg Avenue) east to Rock Road and make a right turn going South. Four stop lights down and base will be on your right.
If you are flying to Wichita, Ks you will arive at Mid-Continent Airport. Discuss with your sponsor about getting from the airport to McConnell. Your sponsor should meet you there and provide transportation. The only other alternative is to take a cab ride to McConnell. Of course, you can put the fare on your travel voucher for reimbursement, but that will tie up your money for a period of time.
Base Decals
Base decals are no longer required at McConnell AFB, a 100% ID check is accomplished and negates the need for the decal. However, if you wish to display one on your windshield it must be kept current. A decal can be obtained at the Visitor Center located adjacent to the Main Gate off of Rock Road. A drivers license, vehicle registration and proof of insurance is required.