Base History \ Arrival
---
Location
Tinker Air Force Base and the Oklahoma City Air Logistics Center are located in the "Heart of Oklahoma", Oklahoma City (Oklahoma County), just five miles from downtown Oklahoma City (OKC). The OKC Metro area is very military-friendly and the cost of living is reasonable.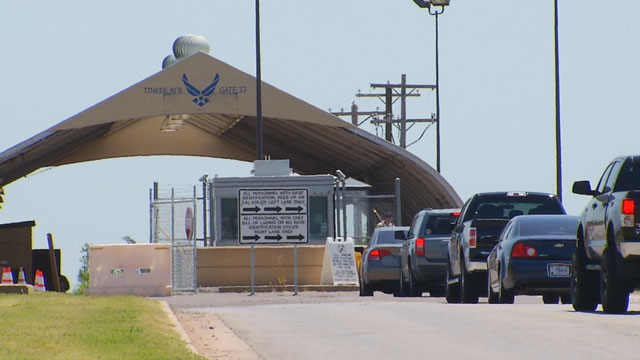 History
Beginning in July 1941, a massive construction project on the new Midwest Air Depot began south of Southeast 29th Street. The depot received a new name, the Oklahoma City Air depot and the installation was officially activated. In October 1942, it was named Tinker Field to honor an Oklahoma native, Maj Gen Clarence L. Tinker, who had lost his life leading bombers on a long-range strike against Wake Island. Immediately after the war, the depot acquired the Douglas plant, now Bldg. 3001, and received a new name: Oklahoma City Air Materiel Area - OCAMA. In 1974, OCAMA became the Oklahoma City Air Logistics Center - OC-ALC. On July 1, 1976, the 552d Airborne Warning and Control Wing was relocated to Tinker with it's 33 operational E-3 airplanes. The wing was re-designated as the 552d Air Control Wing October 1, 1991. Tinker and OC-ALC began the decade of the '90s by assisting in Operation Desert Shield and, in 1991,in Operation Desert Storm. The Navy and Air Force made history on May 29, 1992 when the Naval Strategic Communications Wing ONE relocated to Tinker AFB. Today, Tinker's economic impact on Oklahoma is more than $2 billion every year.
Mission
The Oklahoma City Air Logistics Center is the largest of 3 ALCs in the Air Force Materiel Command and provides depot maintenance, product support, services and supply chain management, as well as information support for 31 weapon systems, 10 commands, 93 Air Force bases and 46 foreign nations. The 72d Air Base Wing provides full spectrum installation support to Team Tinker and expeditionary combat capability for the warfighter. Tinker also has two tenant ACC units and hosts 2 Air Force Reserve Wings. The 552 ACW is responsible to the commander of Air Combat Command for the operations, maintenance, logistics, training, and combat support of E-3 AWACS aircraft in support of combatant commanders.
Population Served
| | |
| --- | --- |
| Population Type | Number |
| Active Duty | 8,600 |
| Family Members | 11,400 |
| Retirees | 22,500 |
| Civilian Employees | 14,500 |
| Reservists | 1,130 |
Sponsorship
Once the Tinker AFB INTRO office receives notification of your Permanent Change of Station (PCS) you should be assigned a sponsor by your gaining unit. If you are not contacted by your sponsor within 30 of assignment notification, you may contact the Airman & Family Readiness Center (A&FRC) and we will ask the gaining unit to assign you a sponsor. To contact us concerning a sponsor or any other PCS related issue, please call 405-739-2747 or DSN 312-339-2747.
Directions
Airports
Tinker AFB is located in Midwest City, Oklahoma. The location is five miles east of OKC and is along south of I-40 and to the Eeast of I-35. You will see many signs on both I-40 & I-35 for Tinker AFB. The main gate is located just south of I-40 at Air Depot Blvd.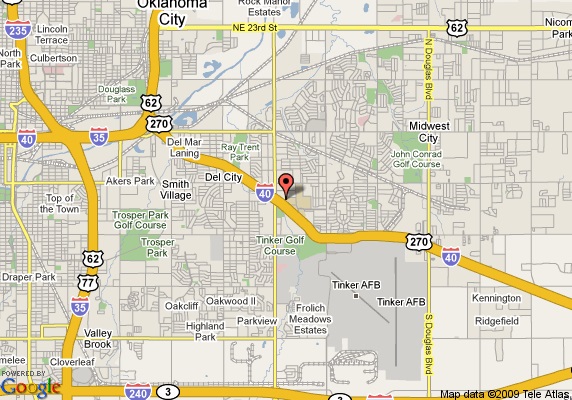 Will Rogers World Airport
Will Rogers is the closest airport to Tinker AFB. There are shuttles from the airport to Tinker AFB, but you must pay their fee, there are no free shuttles for military. Normally, the transportation fee from the airport to Tinker will be reimbursed on your travel voucher. Your best bet is to arrange for your sponsor to meet you upon arrival.
Driving Directions
Driving directions from Will Rogers to Tinker AFB
Tinker AFB is approximately 20 miles east of Will Rogers World Airport. Here's the most direct interstate route: As you exit the airport you will be going north on South Meridian Avenue. Take the I-44 exit (right turn onto 152 E (Airport Rd) to Downtown/Interstate 44), then get into the left hand lane and take I-44E/Interstate 40/Tulsa/Downtown exit (simply be in the left lane) and merge onto I-44. After approximately 3 miles you will take exit 120B (right hand lane) for Interstate I-40 East toward Ft Smith. You will go for approximately 10 miles and take exit 157B Air Depot Blvd, turn right and you are at the Tinker AFB 24-hour gate.
Directions to the Tinker AFB 24-Hour Arrival Point
Upon entering through the Tinker AFB 24-hour Tinker Gate, which is located off of I-40 or 29th St in Midwest City, continue on Air Depot to Arnold St. Turn right onto Arnold St. Continue West on Arnold Ave to the first stop light. This will be the intersection of Arnold Ave and Mitchell Ave. Turn left onto Mitchell Ave. Indian Hills Inn, the Tinker AFB 24-hour arrival point is the second left off of Mitchell Ave.
Location
Tinker AFB is only 15 minutes away from Downtown Oklahoma City and all the attractions it includes. Tinker is approximately 2 hours southwest of Tulsa, Oklahoma and approximately 3 hours North of Dallas/Ft Worth on I-35. There are numerous online maps and apps that can provide driving directions to Tinker AFB .