Base History \ Arrival
---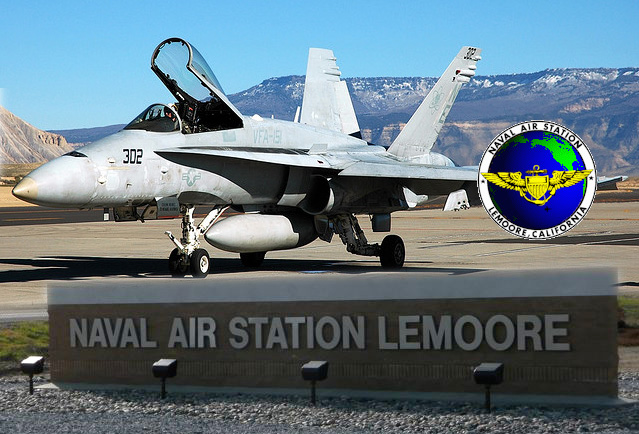 Naval Air Station Lemoore, the Navy's prime West Coast Tactical Naval Air Station. The Pacific Strike Fighter Wing with its supporting facilities are home ported here. In July 1998, NAS Lemoore was selected as the West Coast site for the Navy's newest strike-fighter aircraft, the F/A-18 E/F Super Hornet. This action brought approximately 92 additional aircraft to NAS Lemoore.

HISTORY: In 1954, the Navy searched the central California area for land to build a master jet air station - one with congestion-free air space. Lemoore was chosen because of its central location, good weather for flying, relatively inexpensive land and nearby accommodations.

MISSION: NAS Lemoore's primary mission is to support fleet carrier squadrons. The heart of the mission is the operational area. Designed to support more than 20 fleet squadrons, it serves as master training center for carrier-based strike fighter squadrons of the Pacific Fleet.

POPULATION SERVED: Naval Air Station Lemoore serves approximately 6,400 military, 1,300 civilians, and 10,900 dependents, 12,825 Retirees/Dependents, 500 Students/ Transients, and 825 Reservists.
Directions to NAS Lemoore
NAS Lemoore lies 40 miles south of Fresno in the San Joaquin Valley which stretches down the middle of California from Sacramento to Bakerfield. If you are arriving from Interstate 5, take Highway 198 East 19 miles. From Highway 99, take 198 West for 30 miles. Both highways provide direct access to the air station.
Airports
Fresno International Airport (FAT) is the closest major aiport. There is no shuttle available from the airport to the air station.
Taxi Service
Taxi Service runs from Fresno Airport to NAS Lemoore. The cost of a Taxi could easily run over $100.00. Please ensure the taxi company has base access.
Pass and Decal
Upon arrival, the Pass and Decal Office is located on the left before you enter the main gate. Window decals are no longer required to enter base. Please have your military identification accessible. If you are relocating to NAS Lemoore, please register your vehicle with Pass and Decal. The office is open Monday thru Friday, 6:00 am-4:30 pm. The office is closed SATURDAY and SUNDAY. If closed, proceed to the Main Gate and the Security Guard will assist you. Pass and Decal Telephone Number is 559-998-3386, DSN 312-949-3386; Fax: 559-998-3221, DSN 312-949-3221.