Base History \ Arrival
---
Naval Base Pearl Harbor and Hickam Air Force Base were realigned to form Joint Base Pearl Harbor Hickam (JBPHH), which became fully operational on 01 October 2010.
Navy Region Hawaii Joint Base Pearl Harbor Hickam, along with our Navy satellite installation, Naval Computer and Telecommunications Area Master Station Pacific (NCTAMS PAC) located at Wahiawa. Joint Base Pearl Harbor Hickam is located eight miles west of Honolulu, on the Island of Oahu, county of Honolulu, one of eight islands that make up the State of Hawaii. The main gates for both Pearl Harbor and Hickam are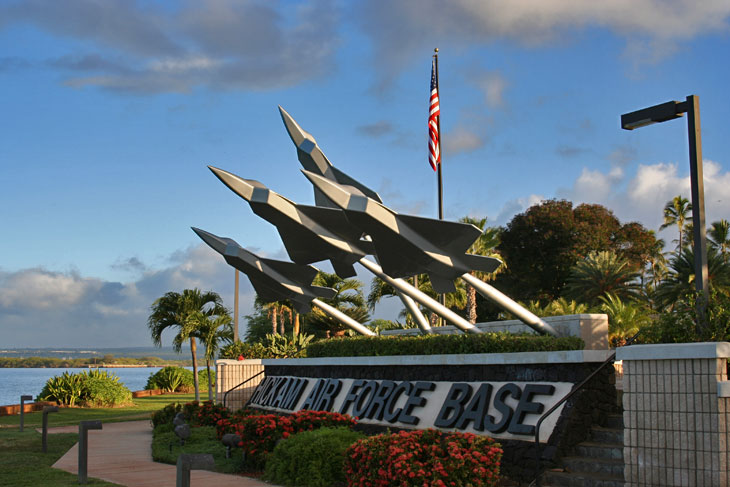 approximately two miles west of the Honolulu International Airport. The island hosts all branches of the armed forces, including the Coast Guard.
History
Navy Specific - Pearl Harbor was established as a U.S. Naval Base in 1908, and remains a vital part of the U.S. defense establishment today. Pearl Harbor is a national historic landmark because of its essential contribution to the rise of the U.S. as a major power in the Pacific and the crucial role it played in World War II, beginning with the December 7 attack. For more information please visit Pearl Harbor's homepage.
Air Force Specific - Hickam Field was named for Lieutenant Colonel Horace Meek Hickam, an aviation pioneer, killed in a flying accident at Fort Crockett near Galveston, Texas. Hickam Field was dedicated on May 31, 1935 and officially activated in 1938. In 1957, Headquarters Pacific Air Force was established at Hickam Air Force Base. The unification of Pacific Air Forces was a historic "first" in which all USAF fighting forces assigned to the Pacific and Far East areas were consolidated under one command.
Mission
Navy Specific
The primary mission of Pearl Harbor is to provide berthing and shore side support to surface ships and submarines, as well as maintenance and training. Pearl Harbor can accommodate the largest ships in the fleet, to include dry dock services, and is now home to over 160 commands. Housing, personnel, and family support are also provided and are an integral part of the shore side activities, which encompass both permanent and transient personnel.
NCTAMS PAC provides operational direction and management to all Pacific Naval Telecommunication System users. In addition to this function, NCTAMS PAC manages, operates, and maintains Defense Communication System and Naval Telecommunication System assets. It also offers a full range of ADP and Information Resource Services, Maintenance and Repair, and Communication/Electronic and Defense Message System coordination to the Navy and other DOD activities in the Pacific.
Air Force Specific
The major command is the Pacific Command. PACAF's primary mission is to plan, conduct and coordinate offensive and defensive air operations in the Pacific and Asian theaters. The mission of the 15th Airlift Wing is to enhance PACAF's power and reach by ensuring world-class en route support, maintaining operational ready forces and providing superior customer service.
Population Served
Navy Specific
JBPHH serves over 55,000 people each year, has its own police/security force and is responsible for DoD firefighters in 13 stations island-wide.
Air Force Specific
JBPHH is home to 5,435 Air Force military members who have 10,346 dependents.
Base Transportation
The free Navy Exchange shuttle bus provides services around Joint Base Pearl Harbor Hickam, on both Pearl Harbor and Hickam. The shuttle operates from 9:00 a.m. to 9:00 p.m. For more information on the NEX shuttle call 808-423-3344. The only authorized taxi service for military bases is "The Cab," 808-422-2222.
Public transportation is available from various locations on base via The Bus. For routes and schedules, call 808-848-5555; 5:30 a.m. - 10:00 p.m. HST, or visit "TheBus" website.
The Handi-Van is a public transit service for persons with disabilities who are unable to use the City's bus service, "The Bus". The Handi-Van service is generally available island-wide, Monday through Sunday. For additional information call 808-538-0033.