Base History \ Arrival
---
Fort Polk & Joint Readiness Training Center (JRTC) is home to these Major Subordinate Commands (MSC's). Joint Readiness Training Center (JRTC) includes the Combat Training Center, Operations Group; Power Projection/Units to include 4th Brigade/ 10th Mountain Division; 1st Maneuver Enhancement Brigade (MEB); 115th Combat Support Hospital (CSH); 5th Aviation Battalion; 162nd Infantry Brigade; and our dedicated, competent MEDDAC and DENTAC professionals. All committed to excellence and trust. Close to our front gate are the towns of Leesville and DeRidder, respectively located in Vernon and Beauregard Parishes. Fort Polk sits about 45 miles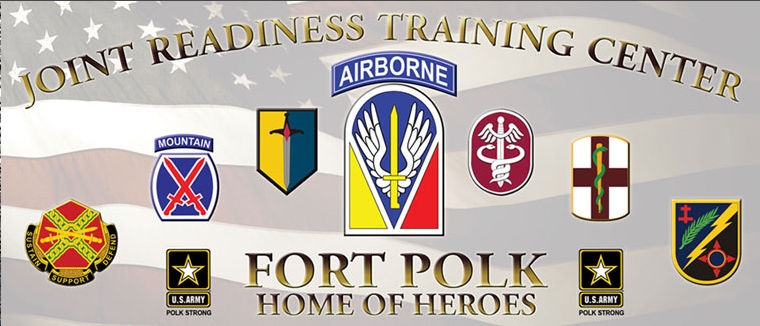 from Alexandria and 70 miles from Lake Charles. Fort Polk homepage.
Cost of Living: Vernon Parish's cost of living is 25.39% lower than the U.S. average.
BRAC Status: JRTC & Fort Polk has increased numbers of military as well as civilians and contractors. This increase of Active Soldiers and support personnel is the result of the Grow the Army plan. This has had an effect on employment opportunities as well as housing in the local on/off post communities.
Base Operator: 337-531-2911/1110 or DSN 312-863-2911
Fort Polk is located in west-central Louisiana, about 65 miles from Alexandria, 65 miles from Lake Charles, 133 miles from Shreveport, 160 miles from Baton Rouge, 240 from New Orleans, and 190 from Houston. Closer to our front gate are the nearby towns of Leesville, LA, located in Vernon Parish, and DeRidder, LA, located in Beauregard Parish. (Louisiana has Parishes not Counties as other states do).
Entering Post from U.S. Highway 171
Enter through the Main Gate (Louisiana Ave) to the fourth (4th) red light (Mississippi Ave); turn right on Mississippi Ave,( Bldg 1830, will be on your left ).
Entering Post from U.S. Highway 28
Turn left off of Hwy 28 onto Chaffee Road (approximately 2 miles to the Chaffee Road Checkpoint; approximately 2.5 miles Chaffee becomes Alabama Ave). Chaffee Road takes you through North Fort to South Fort. At South Fort, Chaffee Road turns into Alabama Avenue (One Way Street). Consolidated in and out Processing, Building 1830, is on the Corner of Alabama Avenue and Fourteenth (14th) Street.