Base History \ Arrival
---
Fairchild Air Force Base
Fairchild AFB is located in the eastern part of Washington State, in Spokane County. The base is 12 miles west of Spokane and 279 miles east of Seattle. The communities nearest the base are Airway Heights and Cheney. People assigned here enjoy a good relationship with the Spokane and surrounding communities, as well as with our Canadian neighbors to the north. Spokane's cost of living is 8.9% lower than the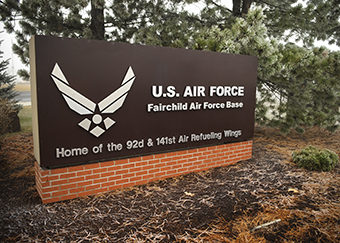 U.S. average. Off-base sales tax is 8.5%. There are several ski resorts nearby, and numerous cultural and outdoor activities throughout the year.
History
Fairchild Air Force base has been a part of the Inland Empire since 1942. With the approach of World War II, the Spokane Chamber of Commerce initiated a program luring military interests to the city. In September of 1941, Spokane citizens raised approximately $125,000 in less than a week to buy 2,400 acres of land for the base. The land was then given to the War Department and the base received its first name, the Spokane Army Depot. In 1947, the base was transferred to the Strategic Air Command and assigned to the 15th Air Force. The base took its current name in November 1950.
Mission
"Support America's War Fighter with Global Reach & Agile Combat Support" Fairchild is home to a wide variety of units and missions. Most prominent is its air refueling mission, with two wings, one active, the 92nd Air Refueling Wing, and one Air National Guard, the 141st ARW. Other units here include the Air Force Survival, Evasion, Resistance and Escape school, medical detachments, a weapons squadron and the Joint Personnel Recovery Agency. Fairchild AFB is part of the Air Mobility Command (AMC).
Population Served
| | |
| --- | --- |
| Population Type | Number |
| Officers | 249 |
| Enlisted | 1,775 |
| Guard | 1,050 |
| Civilians | 700 |
| Retirees | 20,000 |
Base Transportation
There is no government-funded base transportation on this installation. The Spokane Transit Authority Bus Route 61 stops at key locations on base. Route maps and schedules are available on the Spokane Transit website.
Vanpool and bus passes are subsidized up to $125 for all military and AF civilian employees of Team Fairchild. To receive your subsidy for a bus pass, or for more information on transportation options, please contact Fairchild's Employee Transportation coordinator at 509-247-2313.
Sponsorship
Inbound personnel may contact their gaining unit if they have not heard from a sponsor. If further assistance is needed, please contact the Airman and Family Readiness Center at 509-247-2246; DSN 312-657-2246. A sponsor package is on the A&FRC website.
If arriving by plane, coordinate with your sponsor for transportation; make sure your sponsor knows your travel plans, including airline and flight number. If arriving by car, coordinate with your sponsor on where to meet (usually Lodging); keep your sponsor informed of date and time of arrival. The 24 hour arrival point to Fairchild AFB is the Lodging Office, 300 N. Short St., 509-244-2290, DSN 312-657-2290.
Military personnel may forward their mail to: Name, PSC #1 Box 3500, Fairchild AFB WA 99011-8536. Upon arrival, pick up mail at the Postal Service Center co-located with the U.S. Post Office and BITC, 100 N. Chennault. Military or civilian members may rent a P.O. Box; call 509-244-6398.